two new PTFA events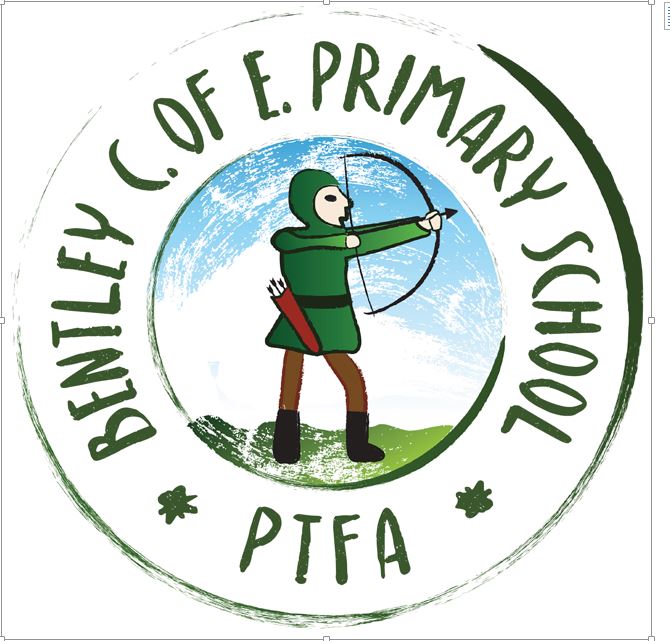 Throughout the school year our fantastic PTFA (Parents, Teachers & Friends Association) run a number of events to raise funds for the school. These can be anything from cake sales, quiz nights, and music festivals to Christmas fairs, film nights, and ice cream sales. We are incredibly lucky to have such an active parent body who not only run the events on the day, but also come up with exciting and new events to raise much needed funds. This year we have two new events planned…
Our very first Bentley Ball will be held on 29th March 2019 from 7pm and we are delighted to be hosting this event in the beautiful setting of Bury Court Barn. Everyone is welcome to join what promises to be a fabulous event. We will be kicking off with a welcome drink on arrival, followed by a delicious three course meal and plenty of opportunity to hit the dance floor and show everyone your groovy moves!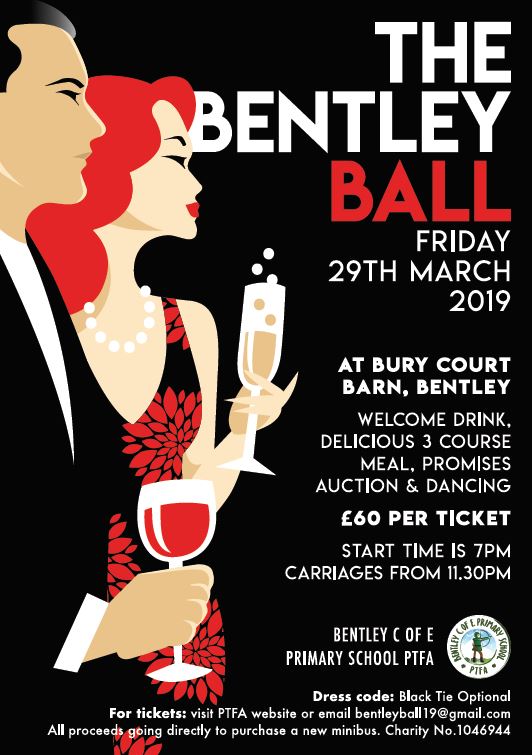 During the evening there will be a 'promises auction', and this is where we need the help of our local community. Do you have a contribution you could offer to add to our auction? This could be anything from pet sitting, car washing, or baking a cake to hair styling, a couple of hours of DIY or gardening or cleaning …. or perhaps you have a holiday home which could be used for a weekend/week or you have a company that could donate a prize? We are open to anything and everything!
Do you have a business you would like to promote? You can place an advertisement in our programme for the evening for as little as £25! Perhaps you'd like to buy a table and bring your clients along? Or even sponsor an element of the evening?
With tickets being sold already, don't miss out on this evening to remember. It's the perfect opportunity to get some friends together, and help us raise money to replace our school minibus. Having our own school minibus enables our children to enjoy additional school trips that otherwise may be prohibitive if we had to include coach hire in the cost.
If you have any offers for the promises auction, would like to advertise, are interested in sponsoring part of the event or are interested in buying tickets please email bentleyball19@gmail.com. We would love to hear from you.
Our second new event is a Family Sponsored Walk around our beautiful village on Saturday 23rd March. Starting at school at 2pm for our families with Infant children and little ones and 2.30pm for families with Junior and older children, we will make our way around the village, heading towards the station.
All participating families will be given a map and details of the scavenger hunt which will include a number of items to collect or photograph along the way. The walk will end back at school where hot and cold drinks, delicious cakes and yummy biscuits will be available.
The route is approximately three miles and, whilst on public footpaths, does go over stiles so will not be appropriate for children in buggies. You are welcome to bring dogs along, but they must be kept on leads at all times.
Everyone is welcome to join in - we just ask that you register your participation with a donation of £2 per family. You can do this by contacting the school office by email adminoffice@bentley.hants.sch.uk. This will help ensure we have everything in place to guarantee a fun, safe and successful event.
If you would like to sponsor a family taking part you can do so by clicking here.
All funds raised at this event will go towards paying for new playground markings. Our current ones are looking a little tired and desperately need renewing but the cost of £3,000 is simply outside of the school budget. Your support in this event will help us reach the target!
Everything the PTFA does is for the direct benefit of ALL of our children, to enrich and complement their education. Every penny we raise goes towards making our school the outstanding place it is and gives our children the added extras that so many other schools are unable to provide.
Mrs Katy Pinchess, Headteacher