Holocaust Memorial Day 2020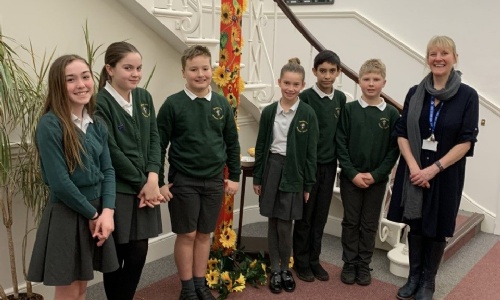 On Friday 24th January six of our Year 6 class were fortunate enough to attend a special session run by the diocese about Kindertransport. They went on a gloomy January morning to the beautiful Old Alresford Place and joined pupils from many other local schools to learn more about the experiences of children in World War II who were taken from Germany to the UK on the Kindertransport.
The session was led by staff from the Diocese office and the children knew very little about this when they started the morning; it certainly opened their eyes to think more about what happened and how they might have felt in such a situation.
This is what they said afterwards;
"I have learnt not to judge someone by how they look," Connor
"My favourite activity from the morning was making our statues which stood together," Max
"I learnt that it is important for us to learn about the past because we need to remember those people and how they suffered," Sophia
"We can all stand together like the people in the war did and our lovely school can do the same thing", Katie
"I have learnt not to judge a book by its cover and about how bad World War II really was," Holly
"I learnt that in World War II the Jewish people had to leave their homes. People wanted to save their children and sent them away to safety on the Kindertransport but did not see them again," Basit.
The children wrote a poem together;
The thing about standing together is…
Having each others' backs
It's about being equal
Respecting others
Being a team
Listening to each other
Having a friendship
and achieving more.
But the thing about standing together is having each others' backs.
On Monday 27th January it was Holocaust Memorial Day and we thought about the fact that it is 75 years since the end of World War II. We read a prayer in Collective Worship as all the Winchester and Portsmouth Diocese Church of England Schools planned to do today to reflect and think together for a better future for every child and person.
Our Deputy Mrs Miffling has planned further activities for the whole school to think about Peace and to commemorate VE Day nearer to the May Day bank holiday weekend.