This week at Bentley...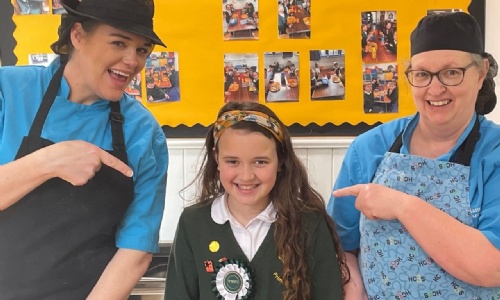 Well, the Red Weather Warning was not what we all expected as staff left school last night! We are sorry to end the half term like that, but hope everyone stays safe and the storm passes today. It has been a very long wintery half term and I do know everyone was ready for a break after all the hard work and growth of the last seven weeks. Teachers posted online learning for today. Any school sports kits or belongings in school will now have to wait for collection for the start of next half term...Mr Lucas was kindly checking for perishables this morning before preparing to lock the school before the storm.
Thank you for your participation in our second Parents' Evening meetings of the year. We hope the meetings have been useful for you to hear how your child is getting on. I feel very proud of how resilient they have been, and it has been brilliant to hear about their progress across the curriculum.
Our favourite learning memories of the week…
Year R: Our best learning this week has been practising our gymnastics shapes on the apparatus, working individually and in groups.
Year 1 and 2: Our wet and wild walk up to Pax Hill was a real highlight of the half term, which everyone enjoyed. The children were stoic despite the weather, which was very much in the style of Robert Baden-Powell, whose house we were visiting. Apologies for any sogginess but it was a great experience!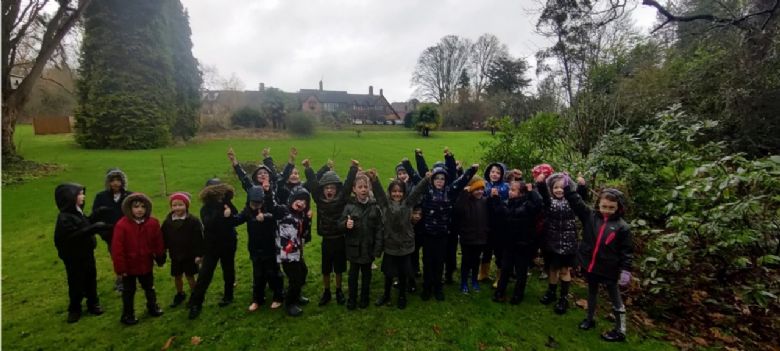 Year 3: Visiting the Sculpture park on Tuesday. We had a great morning looking at all of the sculptures and playing find the sculpture! We only got a tiny bit wet!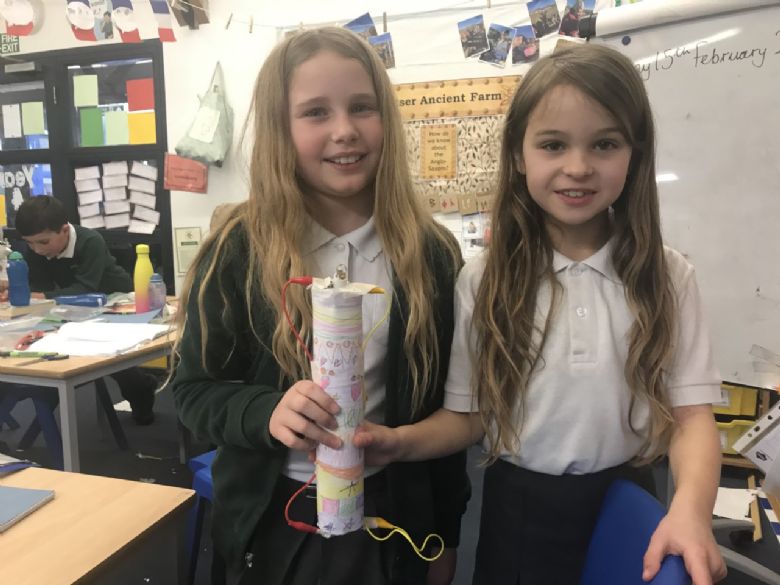 Year 4: Our best learning was a great day of designing and making torches in DT which linked work from DT, Art and Science (phew!). All children showed great creativity and resilience, as well as teamwork, to overcome problems that occurred.
Year 5: The children presented their research on local people affected by one of the World Wars, to the rest of the class. We were all captivated by the interesting stories and impressed with the high quality of the presentations in equal measure.
Year 6: This week Year 6 showed terrific effort in writing their own stories, carefully selecting the words and phrases for their impact on the reader. Some were scary and some were funny!
I wish you all a relaxing half term and look forward to seeing you back to school on Monday 28th March.
Mrs Katy Pinchess, Headteacher
Thank you …
… to the Phillips' family for the literacy resources which will be well used
… to Molly Scotton who helped Mrs Miffling put together the great reading challenge with Usborne Books
…to Dominic's grandma for the kind donation of books
… to the amazing PTFA team for helping run another great Movie Night – we raised over £300
World Book Day - 3rd March 2022
We are all really looking forward to World Book Day on Thursday 3rd March. The super cooks in the kitchen have prepared a special menu, and we hope everyone will get involved and dress up as a character from their favourite book.
Together with Usbourne Books, we have created a special sponsored reading challenge – Ready, Steady, Read - for the children. You can find out all about it by clicking here.
Goodbye Yann!
We bid a very fond farewell to our Vicar Yann in our Collective Worship yesterday. Each class had made a wonderful card for with special memories of him. We gifted him some extra smelly cheese as part of his leaving gift and wish him, and the whole Dubreuil family, a wonderful next adventure at Headley. Yann lead a prayer and blessing for the school and told all the children he may well bump into them out and about, as he is not moving far away.
The school are in contact with the Benefice staff coordinating the recruitment and it is very typical for there to be a period without a Vicar. We will keep you posted when we have news.
The 2022 Great Bentley Bake Off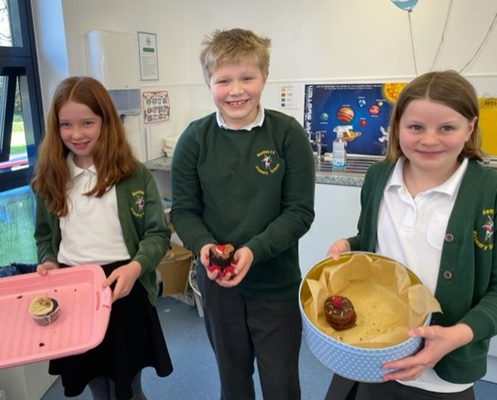 It was wonderful to see the amazing baking efforts of so many pupils on Monday morning. We were impressed with the designs, tastes and clear creativity which had gone into all the bakes. A big well done to every child (and the adult back-up team!) who got involved.
Each class conducted official judging with taste and presentation both key. The class winners were then put forward to the final judging with our fantastic Bentley cooks Wendy and Becky doing the final judging. They chose our winner due to the excellent design, superb flavour and special surprise feature (it had a secret sweet filling which spilled out when the cake was cut!).
Overall winner - Darcey, Year 4
Class winners
Amelie - Year R, Anna - Year 1, Lauren - Year 2, Ben - Year 3, Eva Year - 5, Bella - Year 6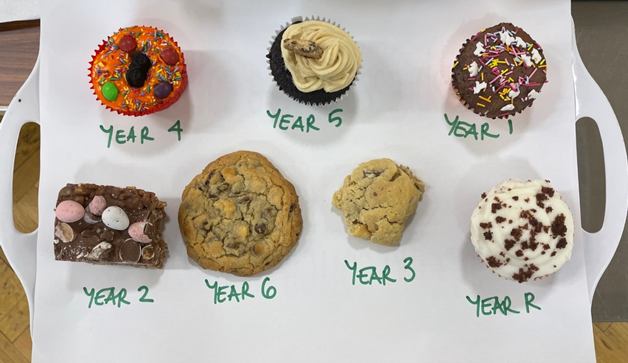 We are delighted to have so many fantastic bakers in school and it made for a lovely treat for the end of term. All the money raised for the PTFA goes towards much needed new laptops.
Governor Focus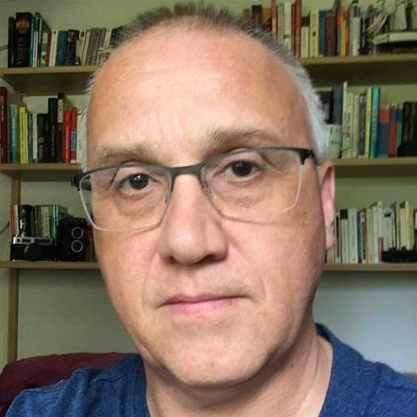 I've lived in Bentley since 2011 with my wife Helene, and our daughter Rose, who is now in year 7 at Eggar's School after many happy years at Bentley. I have been a governor since 2015 (the time is still flying by) and I sit on the Resources and Personnel committees.
We're very fortunate to have a school like ours in our community. Every child is known, valued and encouraged to reach their full potential, and having seen my daughter and her friends go from Year R to Year 6 I know how well the school prepares them for their next step in life. Bentley really does turn out great kids. As a governor I play only a very small part in that (the staff, pupils and parents do all of the really hard work) but it's a source of great satisfaction all the same.
When I'm not being a governor I work as a software engineer, and when I find some spare time I enjoy gardening, photography, playing guitar (badly) and ukulele (a bit better), and tinkering with mostly-quite-pointless technology projects.
Paul Harrison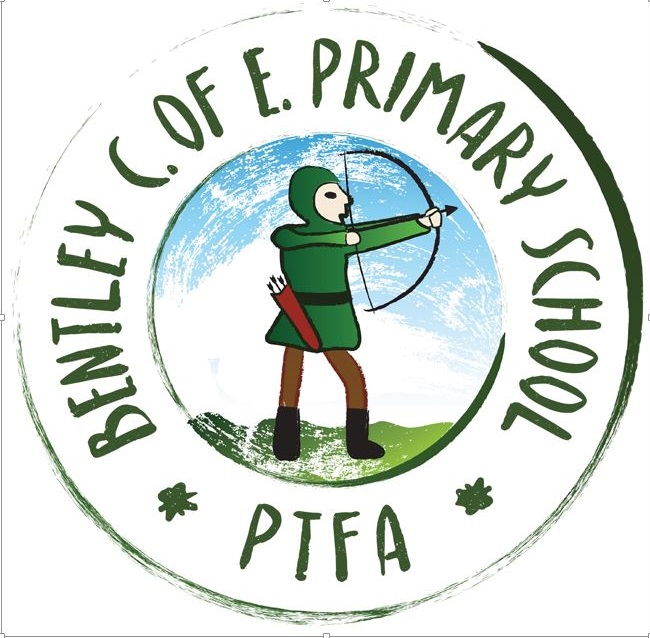 Quiz night reminder!
All you need to do is put together a team, book your places, and turn up with your pudding for the auction and your brain in gear!
Click here to find out what's happening next week and
here to get more information about what's going on in the local area