Our first day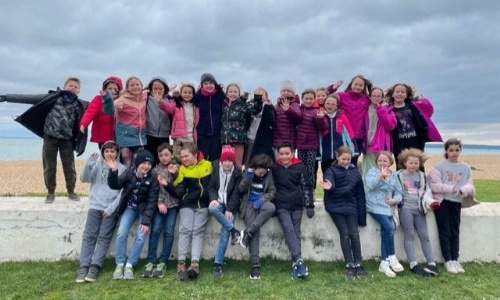 We've arrived safe and sound! We're here in Calshot and ready for our adventure! It's a bit breezy as you can see from the photo, but we are LOVING the fresh sea air blowing away the cobwebs.
Our first challenge was to find our rooms and make our beds, before meeting our instructors and heading out for a tour of the Calshot site. Groups 1 and 2 headed straight down to the beach to spend the afternoon working on the Seine netting activity. This is where you stand on the shore and throw out a big net. You then pull it in to see what marine organisms there are. As well as learning all about marine wildlife, we also learned about how pollution is damaging the sea and what we can do to help. Meanwhile, Group 3 visited the ski slope for the first time and enjoyed learning how to ski down the slope without falling over! They then got to try out the climbing wall. We were all encouraging each other to go higher – it's certainly a long way down when you're at the top!
We will definitely all enjoy our first evening activity which is a games evening. Look out for our next update tomorrow morning (we plan to post by 10am).
Mrs Ashby, Mrs Miffling, Mrs Pryce and the Calshot team