House Day - 1st October 2019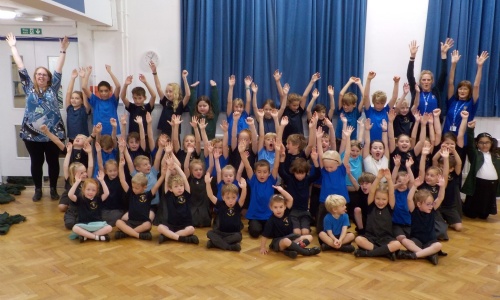 As a tremendous start to our week, the whole school split into house groups for the morning to spend some fun and reflective time together.
Junior house members buddied up with infants to play some fun pair games, including 'Two-Headed Monster', where they had to go around with their buddy talking to other pairs by saying alternate word. They also had to complete tasks like cutting shapes from paper, while only being allowed to use one hand each. These games were really difficult, but created a lot of hilarity!
A centre point to the morning was introducing the houses to their new 'champion'. Four famous Christians have been selected, one for each house. These champions are shining examples of the Christian values we show in school, particularly love, faith and courage. The children heard the stories behind the champions, who now become the new names of our houses, and wrote some amazing prayers inspired by them.
The morning was finished off with a collective worship where the house captains introduced their champion to the rest of the school and chose a prayer to share from the ones that had been written.
Our new house names are:
Red - Wilberforce - named after William Wilberforce, an MP who campaigned to abolish slavery.
Green – Nightingale - named after Florence Nightingale, the famous nurse who cared for soldiers of the Boer War and introduced cleanliness to hospital wards.
Yellow – Tutu - named after Desmond Tutu, the South African bishop who spoke out against apartheid.
Blue – Kolbe - named after Maximilian Kolbe, a Franciscan monk during WW2 who hid Jews from the Nazis and was sent to a concentration camp himself where he stood in for a condemned man.
The children are so proud of their new names, because of the amazing people they represent.