The BIG Summer Raffle 2021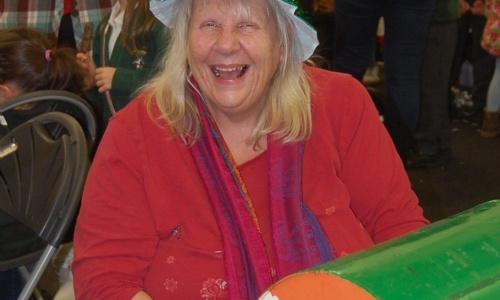 This Raffle is being held in memory of Jo Dobson. Jo sadly passed away earlier this year. She was the beloved Nanny and Guardian of one of our Year 5 pupils. Jo was a very well known and much loved member of the Bentley community. She and her husband Brian moved here in the summer of 2016 ready for the start of school. As a former teacher of pupils with SEND, Jo immediately got involved in our PTFA. She was our Secretary until the Pandemic and also our Number 1 money counter after big events! Jo was like a Grandma to Scarlet's whole class who were hugely fond of her. Anyone who attended a school play or PTFA event over the last six years will have met Jo. With her infectious laughter and great passion to support good causes Jo will most certainly have sold you a raffle ticket – or two!
Jo was also the Chief Officer for Bentley elections. She always had a kind word and a listening hear to support others and her wisdom has helped many Bentley parents put life into perspective. She was a huge supporter and hard worker for many charities, but in particular the local group at Save the Children. Her work make a huge difference in the lives of the vulnerable and she was truly a Good Samaritan of our times. She was always making a difference for others. This raffle is our chance to give a little back in her honour as Jo absolutely LOVED the fun and random win of a raffle!
Money raised from this end of term raffle will be split between the two charities; our school PTFA and Children In Need. Money raised for school will go to buy much needed equipment to help pupils with anxiety and sensory needs.
We have a phenomenal number of prizes so PLEASE get involved and buy a ticket (or two!) in aid of two great causes, which were both incredibly dear to Jo. Thank you for your support and please return all ticket stubs to school by 9am on Thursday 22nd July.
Raffle prizes;
Jump vouchers for Gravity Force in Camberley
Jump vouchers for Gravity Force in Camberley
Jump vouchers for Gravity Force in Camberley
Passes to the new 'Giant soft play and outdoor adventure park' at Country Market Bordon
Passes to the new 'Giant soft play and outdoor adventure park' at Country Market Bordon
Passes to the new 'Giant soft play and outdoor adventure park' at Country Market Bordon
Millers Ark Farm tickets
Tennis gift pack; Wimbledon Gin, balls and napkins
Coffee Van gift basket
Strimmer worth £300 donated by Mid Hants Mowers
Who Wants to be a Millionaire? board game
Board Game compendium
£50 voucher for 'The Lion and The Bear' toy shop in Farnham
1 x 8 bottles of red wine
1 x 8 bottles of red wine
1 x 8 bottles of rose white
1 x 8 bottles of wine
1 x 4 bottles of fizz
1 x 8 bottles of white wine
1 x Sports lovers' pack (beer and snacks box)
Dancing girl bag of goodies
Tea for two pack
Candles and 'bath heaven' big bag of goodies
Min raffle box of yummy scrummy goodies
Safari themed gift bag
Brain gym quiz fun and male grooming pack
Cook's delight gift bag
Sporty Spice gift bag
1 x mini chocolate hamper
1 x mini chocolate hamper
1 x mini chocolate hamper
1 x mini chocolate hamper
1 x mini sweetie hamper
Bag full of beauty products
Handmade bear
Fluffy bear
Soap and Glory pack
'Keep on humming' game
Star Wars Trivia game
Mini Foosball set
Joke Wars Game
Portable blender to make smoothies on the go!
Lip salve tin
Grooming gift pack for men by FcUK
Nivea pack for men
Spa LUXEtique bath pack
Handwash duo set
Brain Box Quiz for football
Radley purse
Ben Sherman Manicure set
String Art pack
Mosaic Art pack
Spiderman puzzle
Boden bangles set
Play crockery, cookery set and wooden food
Charades for Kids
Voucher for a Luxury Pedicure at Beauty box
Bateaux London: Voucher for a Classic Sunday Lunch Cruise for 2