Sports Day - 8th June 2022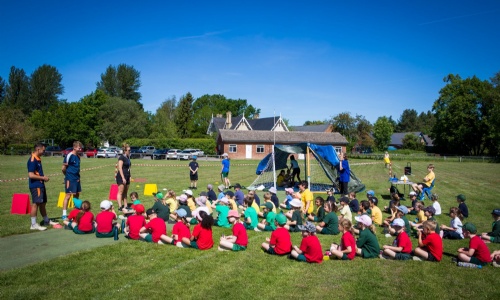 We are so pleased to be able to invite parents for Sports Day again this year and look forward to your support and community partnership at this super whole school event. Children definitely need their PE kits in school on Monday and Tuesday to run heats ready for Wednesday, but we will send all PE kits home back home on Tuesday afternoon. The children will need to come to school on Wednesday in their school shorts, white socks and trainers and their house colour t-shirt. It doesn't have to be one with the logo embroidered on it – it can be any plain t-shirt (no logos please) in your house colour. The children won't need their book bags, but will need a water bottle, a sunhat and have suncream applied before school. They may order a school picnic lunch on the day – ham or cheese – or can bring their own healthy packed lunch from home.
The children will take part in the usual carousel of field event activities first thing in the morning followed by a short break to refresh before coming out onto the recreation ground at 11am for the track events. Parents are invited to come along and watch (and cheer!)
We aim to finish the track events with a community 'Runtastic' around the recreation ground. We would love everyone to join in whether running, jogging or walking - so don't forget your trainers as well as your picnic lunches! We will finish with a family picnic and children will be dismissed by their teachers before lunch so you can eat together. Our Bentley children really put their all into the event and are usually extremely tired, so on this one off occasion we are happy for them to go home with you after lunch. If your child is remaining at school for the afternoon, they will spend a relaxing afternoon doing fun tasks after their energetic morning. CMSports football will run as usual, but there will be no Afterschool club on this afternoon.
If you are planning for your child to remain at school for the afternoon, please let us know by clicking here.