Wednesday - morning update!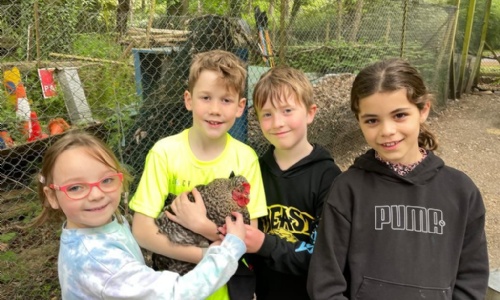 Mrs Pinchess arrived as everyone was getting ready for breakfast after a good night's sleep. The weather was a little grey and drizzly on her journey but with typical Gordon Brown luck it is dry and clearing nicely at the Centre - a perfect temperature for a busy fun-filled day ahead!
A ton of Rice Krispies and cornflakes were consumed at breakfast with lashings of milk and a vat of orange juice, plus another ton of toast. Some impressive plastering skills were on show as toppings were added! The teachers could barely restock the giant toaster to keep up with demand!
Teeth brushed it is now time to feed the animals. We studied the information carefully to make sure we got the right food to the pigs, donkeys, goats, chickens and rabbits!
As soon as they are all fed (and cuddled!), we will be getting ready for our first activity of the day.
Check back here later for more news and pictures!