Friday - morning update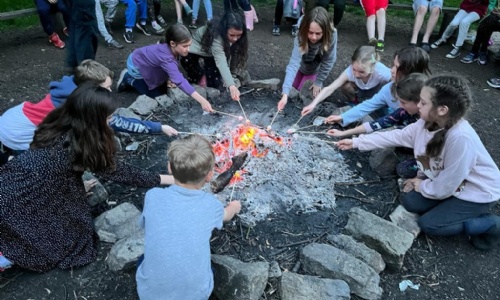 Everyone has woken up to the start of another beautiful day after last night's campfire - and a good night's sleep. All the fresh air and exercise are certainly helping with sleep and hearty appetites!
The two classes have had breakfast and will return to the dorms to finish packing before they start their final morning of activities. Year 3 are going to be having a session of Environmental Art and Year 4 have the low ropes and assault course to tackle.
They will all look forward to seeing you at pick-up time at 12.30pm when they can introduce you to their favourite goats, chickens and bunnies! There will be an opportunity to pop into the dining hall for refreshments before you leave and, of course, visit the tuck shop for a pocket-money priced souvenir, so please bring some cash.
Please do take the time to seek out the teachers and Gordon Brown Centre crew to thank them - it means a lot to the hardworking (and sleep deprived!) staff for pupils and parents to say thank you face-to-face.
It's important you do a quick check for belongings with your child before you leave - it is a long drive back and there are more bookings coming later today so items could get lost. Everyone needs to be off site by 1pm.
Expect your child to be tired, need a good wash and possibly a little grumpy after the many highs of the residential (all normal!). We look forward to hearing all the stories and adventures back at school on Monday morning.