Day Two - snowboarding, shooting & the peg pole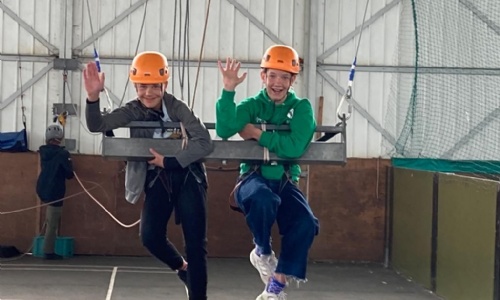 Year 6 were fuelled well for their first full day of activities and have had great fun, working well as a team and learning some brilliant news skills.
Group 1 headed off to the Sunderland Hangar to tackle the low ropes course after getting tips from Group 2 and 3 on how best to succeed! Groups 2 and 3 headed down to the Sopwith Hangar to get kitted out in their wetsuits and life jackets for their first taste of water sports here at Calshot – kayaking! Everyone thought it was great fun and were pleased no one fell in. They thought the wetsuits were a bit tricky to get on though! Mrs Miffling, Mr Goddard and Mr Fay are sure they'll get the hang of it by the end of the week.
After lunch (hot dog and chips, with jelly for pudding), another afternoon of adventure awaited, but the wind had got up so water sports were put on hold. Instead, Group 1 tried their hand at peg pole, then shooting and Groups 2 and 3 went to the shooting range first, then the ski slopes for snowboarding. Last year, Year 6 had a taster of the ski slope on two skis and all were a little bit anxious about how they'd fare with only one board strapped to their feet! However, in no time at all, the children were whizzing down the slope and giggling if they fell, only to get straight back up and try it all over again – well done for your resilience Year 6!
Dinner is already anticipated and we look forward to a games evening in the Schneider Hangar with our instructors. We're hoping the weather stays nice later on, so we can make the most of the beach by playing our games outside.