Day Three - Cycling, Swinging & Windsurfing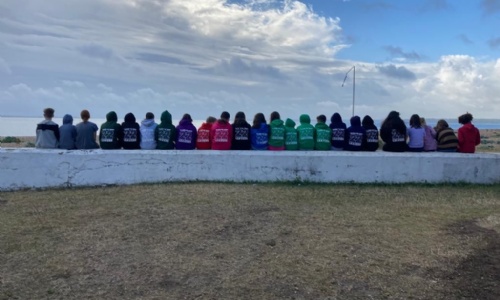 Whilst Group 1 were busy flexing their vocal cords and muscles, Group 2 and 3 headed back out to the water for a morning of windsurfing. They too had to flex their muscles as the boards are actually quite heavy! All the children had fun practising sitting, lying, paddling and standing on their board before hoisting the sails and letting the wind do all the work. Part of the fun is falling in, but we don't think anyone fell in on purpose...!
Lunch was definitely needed after a busy morning and another tasty meal awaited us in the dining hall. After a quick play on the beach, Year 6 got themselves ready for their next afternoon of activities. This time, it was now the turn of Group 2 and 3 to perfect their cycling skills in the velodrome and Mr Goddard may have had a go too! They also experienced the dizzy heights of the team swing in the Schneider Hangar, whilst Group 1 headed to the shooting range and then the ski slope for snowboarding.
This evening's activity sees Year 6 taking part in an epic engineering challenge. We're hoping we can build on the skills we learned last week during Mr Goddard's bridge building challenge in Design Technology!