teamwork, initiative & the macarena!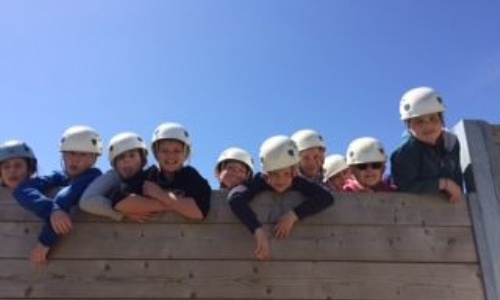 On the last full day of Calshot Year 5 continued to enjoy their activities and time together.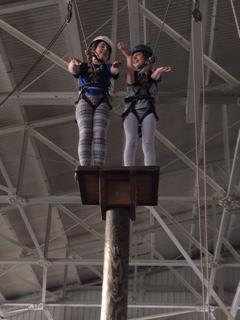 Mrs Rushin says that she is hugely proud of the children and how well they have bonded together over the week. Perhaps, unsurprisingly, being away from digital technology with no homework and LOTS of activities, challenges and fresh air seems to have been a brilliant experience! Back at home we might be missing THEM but there have been no tears, lots of smiles and very little mention of US apparently. Well done Year 5!
Today's activities led themselves to developing initiative, team work and great listening skills as they had to work as a group and support one another. The highlight of Mrs Rushin's group in 'Peg Pole' was a couple of our intrepid climbers performing the Macarena - go girls with a great head for heights!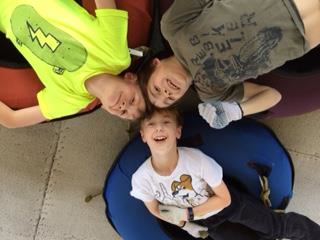 Ringo was reported to be lots of fun and two more groups headed off for a great day in the New Forest for traffic surveys and measuring trees to work out their age. The oldest tree they measured was 434 years old!!
It was a cracker of a day weather wise and Mrs Miffling tells me that by her watch no one is wearing the same outer clothes so (hopefully) they will return with suitcases ready for the washing machine when they arrive back TOMORROW. We expect them back at 3pm but will text out once they are on the road and have a more accurate ETA. If previous years are anything to go by do expect them to be very tired but happy - after collecting luggage and thanking the three super teachers who have looked after them all week please be ready to whisk them off for some R&R at home! For those of you whom we have not seen all week come and see the photo board in the playground at pick up as we have more pictures to show you what they have been up to all week.
Factual error from Tuesday - Apparently they don't have hot chocolate before bed at Calshot now but a drink and a biscuit!