Hampshire food fare - 3rd Place!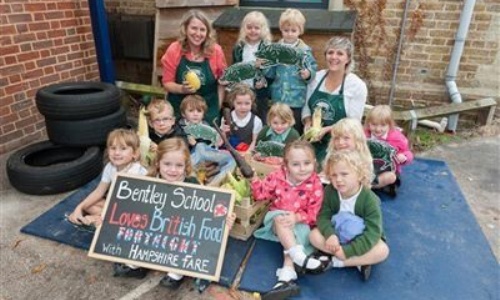 In September we held a Hampshire Fare day at school to educate children about food production and local produce.
We entered the event into the British Food Fortnight's competition to find the best celebration of British Food held during the two week period. It is a National competition run in association with The Telegraph and sponsored by the Co-op, which acknowledges the most imaginative and inclusive celebrations of British food held during September's national food celebration - the British Food Fortnight.

We were overwhelmed to learn this week that we came third!

The winners were chosen by a panel of judges led by The Rt Hon Andrea Leadsom, MP, Secretary of State for Environment, Food and Rural Affairs; Breige Donaghy, Director of Delicious Food, Co-op Food, Chef Raymond Blanc, OBE and Alexia Robinson, Founder of Love British Food. Together they were looking for events that strengthened the local community, educated people about British food and eating locally, and supported the economy.

Raymond Blanc commented on our event at Bentley School: "What a wonderful event for all the children at Bentley Primary School. As you know, I am a huge advocate that we teach our children, from a young age, about their food – how to plant, nurture, what to create. If you ask me, this type of event should happen in every school, at least once a year. Well done to you and I'm sure the Apple Dapple Cake was delicious!"

The competition was won by The City of Bath with the town of Emsworth coming second. We could not compete with them in terms of the scale of events so are really delighted with our third place!