This week at Bentley...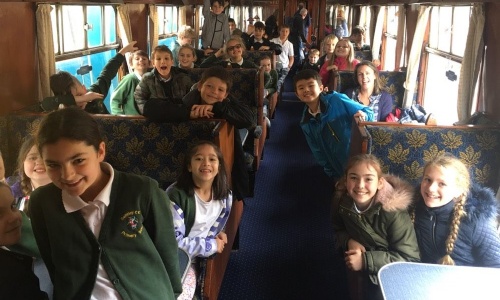 Message from Mia in Year 3 in her Promises Auction role as Headteacher for the Day
Hi,
I am very happy to be the Headteacher at Bentley Church of England Primary School today! I have enjoyed seeing everyone's work and I can report that children were working hard today. They really like maths and they were doing great problem solving. The children were speaking together, using coins and using patterns to help them to work out the best answers. Well done to all the children working hard!
I was really happy to see that the children get on with one another. I noticed that all the classrooms are tidy and have lovely displays. Well done to all the teachers and support staff for doing a great job!
I hope that everyone enjoyed playing with the skipping ropes at lunchtime today.
Best wishes,
Mia, aged 8½
Weekly letter from the (other) Headteacher
Wow – what a week of rain we have had! It was a very good decision by Miss Kirby as our PE Leader to postpone Sports Day until next Wednesday and we have all got our fingers crossed that the weather perks up for it on Wednesday and the School Fair on Friday. I hope that you will be able to join us for these two very special school events. It is worth noting that all the plans for Wednesday have entirely shifted so there will be no clubs running after school that day, house colours to be worn etc. All the information can be found by clicking here.
PROMISES AUCTION
It has been lovely to have a 'co-headteacher' today with Mia having her Promises Auction day treat. She has greeted people at the gate, set a special maths themed activity for the whole school, conducted lesson observations across the whole school and talked about strategic long term planning (she is in favour of more art lessons).
We aim to honour all the staff led 'promises' within the academic year so if anyone has paid for their prize and is unsure how to organise any 'promise' not yet had, then please send us an email to the office so we can link you together.
SCHOOL FAIR
Our super Year 6 Class Reps Steph Bryan and Charlotte Day have coordinated some great new ideas for the Pirate Fair next Friday. This will be running from 4-8pm and everyone in the community is welcome to come along and join in the fun. We are encouraging family participation with costumes and of course with volunteering. Please click here to access the PTFA website to sign up or pop into the school office – the more the merrier – to make this a really fun event for all of our children.
Dress code is 'Pirate' but this can be as low key as jeans/shorts and a t-shirt! For those adventurous sea farers please get stuck in and we will be VERY impressed by your creativity with eye patches, sea charts, mermaids, parrots. Please remember that parents and carers are in charge at PTFA events and the grown-ups are responsible for all dangerous pirate weaponry such as cutlasses and canons!
The other newsworthy 'events' of the week were an accidental fire alarm set off by a delivery man on a rainy day and the electrical outage for most of the day on Wednesday. Lastly our poor Mrs Drew has been covering the office brilliantly all year and she keeps us all organised and on the right track but she has been unwell for the last two days. Oh dear! Get well soon Mrs Drew.
A huge well done to the terrific Bentley staff and children who got on with all the rain/darkness/random lunch – true resilience in action J
FATHER'S DAY
Thank you to the PTFA for shopping and organising 207 amazing gifts for some very special dad/grand-dads/uncles this weekend. Every pupil has a gift to give to the special gentleman in their lives alongside the card they have made in class so help them to dig them out of book bags before Sunday night!
A big thank you to Emma Refausse and Lora Bowden as Year 4 Class Reps for coming up with thoughtful gifts and organising both Father's Day and Mother's Day for the children. These were all provided free of charge as a very thoughtful 'give back' from the PTFA this year. Every single child has been involved and a big thank you to Mrs P and afterschool school club elves for all the wrapping and to the teachers for helping with cards and distribution at the end of such a busy week.
Have a good weekend and let's hope for it being MUCH drier week ahead!
Mrs Pinchess and the Bentley School Team
WEAR YOUR HAPPY CLOTHES DAY – TUESDAY 18TH JUNE
On Tuesday all children are invited to bring in a donation for the school fair in exchange of a uniform free day! They can wear whatever they like but we have chosen the theme of 'wear your happy clothes' as part of our resilience and Heartsmart work to highlight how important it is to mark the happy moments. For some children this may be that they come into school in their favourite dressing up clothes, their most 'comfy' clothes, their PJs or a special sports kit. Other children may want to make an old t-shirt into a 'happy' shirt by drawing their favourite people/places/things onto it! For some children coming into school means wearing their school uniform and that will make them happy – there is no wrong or right other than to bring in a donation!
Suggested donations;
A bottle of wine or similar
A prize for the raffle e.g. a pamper goody box, a special
Chocolates or sweets
A prize for a child – a good opportunity to recycle any unwanted gifts or to buy a small toy that a child would love
SPECIAL CHORISTER EVENT
We were fortunate enough to have a wonderful choral recital in school on Thursday which was led by Robert Lewis, Director of Music at the choir at St. Thomas-on-The Bourne. They are an amazing choir who have released a CD, "On Christmas Night", worked with professional orchestras and solo artists in concert, and recently recorded the soundtrack for the Channel 4 drama "New Worlds".
They have both a boys' choir and a girls' choir which serve the church and sing the services, both of a very high standard. A big thank you to Nancy Stuart-Bruges who put Robert in touch with us. The children were awestruck by the beauty of the singing and it was a real 'magical moment' Mrs Miffling reported. A huge thank you to Robert and the amazing singers – you made our day!
If your child was inspired then get them involved in singing at choir next year at school or look at local choirs beyond school life. Years 4, 5 and 6 were given flyers from Robert so keep us posted if your child gets involved. We would highly recommend the Farnham choir and you could look at Robert's choir too! At Bentley our staff think singing is good for the soul and helps to keep you happy when the going gets tough – we have several amazing choir members on staff!
PTFA NEWS
I am absolutely delighted to be able to announce that we have a new PTFA Parent Lead for 2019-20. HOORAY! I know that you will join me in welcoming Kathleen Proud into her new role which will start in September. I know that Kathleen is already known to many of you and she has some great ideas to bring to the PTFA's work next year.
It will be really important that Kathleen has a great team of class Reps working with her and a big thank you to those current class reps who have been able to let Mrs Pinchess know the fabulous new volunteers for 2019-20.
If you would like to get involved please let us know if you could help! We would still appreciate a parent taking on the treasurer role which is one which can be done off site. See Mrs Pinchess if you can help.
BENTLEY FETE
The Bentley fete on the recreation ground is a much enjoyed annual event and one which is open to everyone. Later this term we will have a special assembly from the Bentley Flower show committee for our children to encourage them to participate. There are many different competitions which you can join in and we wholeheartedly recommend getting involved with the event.
All Bentley pupils will be completing a homework task this term which can then be entered into the flower Show childrens' competitions. Some teachers have already set these and given further detail so please follow their instructions accordingly.
| | |
| --- | --- |
| Year R | An international themed collage |
| Year 1 | Model castles (no bigger than a cereal box) |
| Year 2 | Model beach huts (no bigger than a cereal box) |
| Year 3 | A Roman style mosaic |
| Year 4 | A design for a Viking artefact |
| Year 5 | An Egyptian style mask |
| Year 6 | A recycling WW2 sewing challenge |
SLEEP RECOMMENDATIONS
A parent asked us about sleep recommendations for each year group. We asked the school nurse team and they say that each child and family is different but they suggested using this website for good advice. We hope that it helps.