This week at Bentley...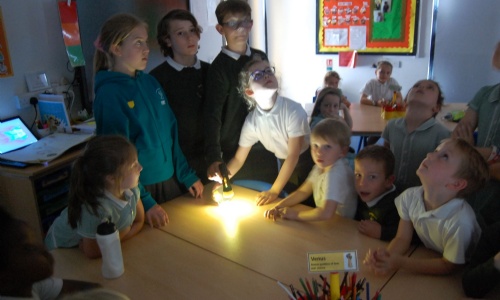 It was lovely to see so many people in school this afternoon for our Open Day. It is a lovely time to reflect on your child's progress over the year. As children have been preparing for this with their teachers this morning there have been many comments in "I can't believe how much I have improved!" as children have reviewed their own books and selected particular favourites pieces of learning to share with their special grown-ups today.
Governors request that you complete our annual survey which will be distributed by the teachers. These can be handed back to the class teacher into the office this afternoon or before next Tuesday when they will be collected and collated. We appreciate your feedback.
It has been a super week with two special whole school learning days which have been much enjoyed by everyone. We hope you had a chance to look at the Science work on display today which reflects some of the interesting thinking that was going on across the school on Tuesday. Thank you to Mr Goddard for leading, planning and resourcing the experiments. A big thank you to the PTFA for the funding towards this enabling the day to be free to every child.
Yesterday our well-being day has certainly been a highlight for the staff and children. Again, a big thank you to Mrs Vogel as PSHE leader for her organisation and coordination of the sessions. Thank you so much to Sara Wood for the super yoga sessions.
This is what the classes have said have made them happy this week…
Year 6 are delighted by their SATs results. A big well done to each and every child. We are really proud of you too!
Year 5 have been reflecting on their personal achievements over the year. Mrs Krempel and Miss Wiggns are delighted by how their independence and teamwork have flourished in school this week. Great work!
Year 4 really revelled in the peace and self-reflection yesterday. They impressed the staff in being willing to try a new challenge in the yoga and many of them reflected how much they are made happy by enjoying nature. Very self-aware.
Year 3 are feeling really happy because; we like spending time with our friends, we enjoy learning (especially when it's my favourite lesson), when I beat my own personal best, when we play sports together and when I am with my family.
Year 2 have been very creative in their seaside poetry writing this week. They are looking forward to their last school visit to Southsea next week!
Year 1 have really enjoyed reflecting on their own progress over the year. They are all extremely proud of their own progress and can't wait to share their favourite pieces with you this afternoon!
Year R have wowed us with their super hat designs all week – really being creative and enjoying their learning through play, individually and cooperatively.
We are ALL looking forward to a terrific last week together before the summer holidays. Keep resilient everyone – we are nearly there! I know that my own resilience habits have slipped – early nights, healthy food and time doing things I enjoy are all on the plan for this weekend. Hooray! I hope that these are on your schedule too.
Have a good weekend.
Katy Pinchess, Headteacher
Whole School Photograph
Due to a technical issue at the photographer's, the whole school photograph proof is only coming home with the children today. We will have a limited number of mounted prints for sale at the school office for £17.50 each by Wednesday next week or you can order online here for delivery to school in September.
Don't forget…
… sun screen and hats every day next week
… yummy breakfast food and drinks being sold in aid of Kaira Konko on Wednesday from 8.30am
Well done to…
...the super mini-Olympians who have been representing us at the CMSports Friday evening sessions this term - Poppy, Sophie, Gemma, Izzy, Tilly, Dominic, Darcey and Gabriel. Mrs Vogel was our teacher ambassador cheering them with their families. She reports that we came fourth out of all the schools attending. Good team work :)
...Alison Dombrick our super school cook for attending the 'Finishing Touches' baking competition for school caterers'. She achieved a Bronze award for her vanilla and strawberry cheesecake and a Merit for her biscuit selection. Well done! She is competing in the New Forest Show this summer – good luck!
...the fabulous gardening Year 1 children and volunteers of Bentley who won a lovely cup at the Binsted Village Flower Show last weekend. Amazing! 2nd prize in the carrot class, 2nd prize in the potato class and 1st place in the fuchsia class. Great congratulations! Please save the date and see some of their amazing work on display at the Bentley Flower Show on Saturday 20th July.
...Vanessa and Janet who came to talk to us all about the Bentley Flower Show this morning. Lots of children are excited about their super designs so please check the pink leaflets which have been sent out (more on the spinner) if you want to enter as that needs to be done by parents.
...our super team in the school kitchen who once again achieved a rating of 5, the highest rating for Food Hygiene, when Environmental Health came in for a surprise inspection this week. Well done ladies! ​​
Settling Up
A little reminder to check www.scopay.com to ensure your child's account is fully paid up before Friday next week. If this is going to present a problem, please do get in contact with the school office as soon as possible.
Governor News
We held our last meeting of the academic year last night. At our meeting we said a big goodbye and thank you to parent governor, John Ormond, co-opted governor Sara Crane, Staff Governor Sonia Siers and Foundation Governor, Ady Blizzard. We were delighted to welcome our new clerk Judith Araque and also four new governors who will be joining our leadership team; parent governor, Steph Bryan, co-opted governor Josie Elliott, staff governor Natalie Drew and foundation governor, Trevor Nixon. Welcome to you all and thank you so much for volunteering.
At the meeting we discussed the progress and outcomes of the school and reflected on what has gone well and areas where we think we can improve. These will all lead into the new School Development Plan which will be written at the start of the year.
Outcomes against the four 2018-19 targets were discussed and it was agreed that very good progress had been made.
More data will be shared through the DfE but we wanted to share some headlines with you from our Key Stage 1 (Year 2) and Key Stage 2 (Year 6) outcomes. We are hugely proud of the hard work and effort of the pupils, who have been taught so very well by the staff across the school. Thank you to everyone at home for supporting through regular homework, great attendance and the great partnership between home and school. These results are made up of Reading, Writing and Mathematics outcomes where children have achieved EXS (Expected Standard or 'age related expectations').
PTFA
If there is any parent or volunteer who has an outstanding bill to be paid please can any receipts these be handed into the office as soon as possible next week, so we can complete our final accounts for the school year – and announce the AMAZING outcomes next week! A huge thank you to Jo Guppy and Jo Dobson who have continued to count and bank over the whole year. It is a time consuming job and we are HUGELY grateful to you for doing it. Also to Natalie Drew and Tracy Tewkesbury who have also supported our PTFA enormously too and are both busy adding, collating and totalling the accounts – thank you!