This week at Bentley...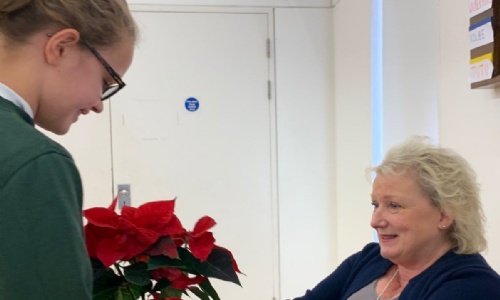 We hosted a delightful assembly and coffee morning today to wish our former Office Manager Sharon Gallagher a wonderful retirement. Thank you to everyone who came along to wish her well, who sent cards and donation towards her vouchers. Sharon was overwhelmed by the love and friendship from the Bentley community. She and her husband Pete asked me to pass on their thanks and to say how beautifully the children sang in assembly and how impressed they were with their behaviour.
We had some silly fun this morning making a little video of our super new minibus which arrived on Monday. We will let you see our efforts next week so look out for an email! The children and staff were really impressed with how swish it is and we can't wait to go on more school visits and sports fixtures to show it off in the wider community!
It has started to feel a little bit festive and there has been a lot of singing and beautiful artwork being made this week. Do come into school now that clubs have ended to admire the children's work in a whole school Nativity story on displays boards around the building. To help you find your way here is the sequence;
By the front door Year 6 used collage and some festive sparkles to create the wonder of the Annunciation Matthew 1:23
Opposite the Rainbow Room door are sketched the family of Mary created by Year 5 Luke 1:26-66
Opposite the girls toilets Year 4 have depicted Herod and the call for the census Luke 2:1-3
In the breakout area heading towards the courtyard is painted the journey to Bethlehem created by Year 3 Luke 2:1-5 and the stable scene painting and collage by Year 2 Luke 2:6-7
Track back to Year R and you will find the shepherds opposite the First Aid room Luke 2:1-14
Lastly the visit of the Magi has been created in eye catching collage by Year 1 outside their classroom on the wall facing the courtyard Matthew 2:1-12
A big thank you to those who have been in touch regarding our request for help in last week's newsletter, it is much appreciated. For those of you who wish to make a charitable donation via a business account then the best way to donate is via the Wonderful website. No donation can be too little and every penny will be used effectively. The offers of volunteer help and parent skills are also very much appreciated and we have already allocated some support to classes from offers made.
I wish you a happy start to Advent and I hope that we will see many family members and friends over the next three weeks as we head towards Christmas, a particularly special time at our school.
Katy Pinchess, Headteacher
Wreath Making
There are still places on the Wreath Making workshop on Thursday 5th December. Expert tuition from Sophie and Sara will see you leaving at the end of the evening with a beautiful wreath or table decoration to adorn your home. There are mince pies and nibbles along with mulled wine or fizz included in the very reasonable £30 per person. Click here to book or email bentleyschoolptfa@gmail.com if you aren't registered on the PTFA website.
PTFA Christmas Excitement
We are all getting very excited about next week's super Christmas Fair. The class reps have been working hard to ensure that all the children have a brilliant time. A big thank you to everyone who is volunteering at the Fair and to EVERYONE in advance for donating gifts, bottles, pamper items, non-perishable and in-date food items, raffle prizes and anything suitable for the 'children's hamper' next week for our mufti day donations on Tuesday 3rd December. No matter how big or small your donations we will certainly use everything to create our amazing Christmas hampers.
There will be lots of fun games and activities as ever, and we would really appreciate it if your child could have small change - 20p, 50p, £1 coins - in their purse or wallet to ensure that we don't run out of change. There will be plenty available for the grown-ups too, with the gardening team's stall, apple juice, Cook's Christmas baking, Christmas raffle and the wonderful gifts at the Eco store. Please be aware that the pony rides are now sold out, but ensure you have noted the time you need to take your child for their ride and are ready to pay, so that they do not miss their slot! There is also the 'secret sale' which takes place in the dining hall where children may go along to buy a lovely wrapped gift for a grown-up.
We still need your donations of teddy bears for the tombola (clean and in good condition, please!). You can drop them at the school office anytime from Monday morning until Friday at 9am.
Infants may be collected from class by their grown-ups from 2.15pm to go to the Fair, Juniors will be able to join in the funat 3.15pm.
We look forward to seeing you there!
Bonfire Night
We have added up all the costs, counted and banked all the money (Thank you Jo Dobson & Jo Guppy) and are completely delighted to confirm we made over £2,200 in profit. That's more than £500 more than last year! Astounding! Thank you to everyone involved.
Thank you…
…for all the donations for the costume/Christmas jumper sale - we made a £30 profit from the sale!
... to everyone who made, bought or sold cakes at the Year 4 Cake Sale this afternoon - a staggering £221.45 will be going straight to the class to spend on whatever they wish. We are pretty sure that's a record for a cake sale - well done Year 4!
Music at Bentley
We are really pleased to announce that our popular Orchestra will return in January after a short break this term. We have sent out invitations to pupils and have asked parents to get in touch as soon as possible so we can reserve the highly sought after places. Do also please get in touch if your child plays the keyboard, violin, recorder, oboe or flute confidently and you are interested in them being auditioned by our Orchestra teachers, Mark and Christine. Playing in a group adds a new dimension to their skills and we all enjoy hearing them playing every Wednesday before school as their confidence blossoms!
Music has long been a real strength at our school, with many parents supporting their child through lessons. We are incredibly fortunate in having dedicated music teachers who teach with passion and enthusiasm to inspire the next generation of young musicians. If your child is a confident reader and wants to take up an instrument then we would encourage them to think about individual lessons, on top of their class music lessons, where they learn to play tuned instruments such as the glockenspiel and the ukulele, as well as how to use their voice in singing. We host lessons for; piano/keyboard, violin, oboe, recorder, flute, guitar and the group lessons of iRock.
Funding for Classical Music Lessons, Instruments and Courses (UK)
Individuals of school age, teachers and schools will soon be able to apply for a grant of up to £2,000 towards classical music lessons, instruments and courses throughout the UK. The funding aims to inspire and encourage a new generation of classical musicians and composers, and help children afford a classical music education, no matter what their financial background. Decca, the biggest classical record label in the UK is supporting the launch of the new Universal Music UK Sound Foundation bursary – the Decca Bursary. Applications for awards will open in the New Year.
We do not yet know the criteria for this funding but if you think that your child would benefit from lessons but you are unable to fund this currently, please get in touch with the office – you may write by email or address an envelope as Confidential. All communications are dealt with by our office team and will be passed to the Mrs Pinchess confidentiality who will look out for financial support as it becomes available in the new year.