This week at Bentley...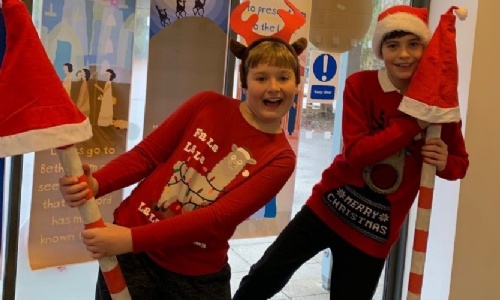 We are all getting very excited for the Christmas Fair this afternoon, plus there has been singing galore and rehearsals being squeezed in around all the everyday lessons…we are getting very festive!
A huge thank you to all the fabulous PTFA involved in the planning, prepping and running of all the stalls and activities, making today so successful. Whether you have been prepping in advance or volunteering on the day your support is truly appreciated. Another big thank you to those who will be tidying up and counting the coins later on and to Kathleen Proud for her amazing leadership throughout.
In assembly the children were all so excited and it is such a special event for them.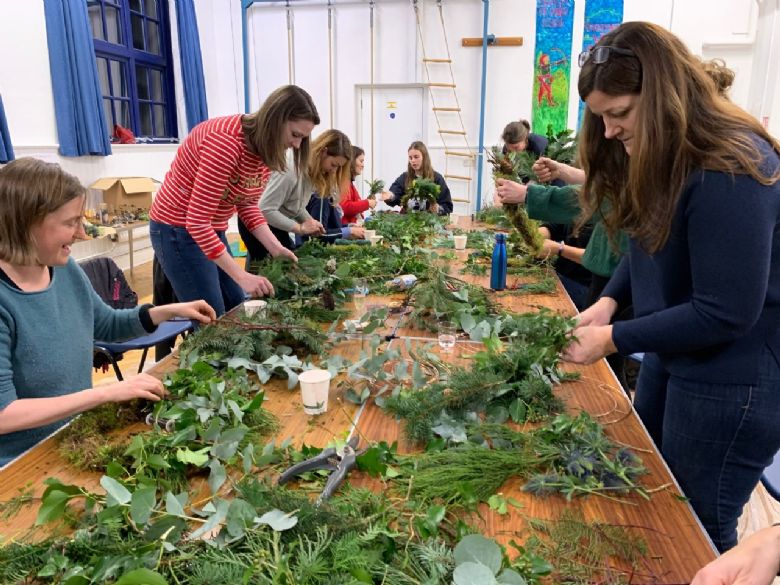 Thank you also to the Christmas Wreath makers last night who were inspired by Sophie Handa and her team to create some beautiful decorations – we hear that Kirstie Allsopp would have been proud!
In the classes this week…
Year R learnt about repeating patterns in maths and then designed their own Christmas versions
Year 1 had a wonderful afternoon of Christmas crafts and Mrs Vogel says a big thank you to all the grown-ups who came along to help
Year 2 have taken their responsibility as the eldest infants very seriously and they have worked hard on their lines, their acting, singing and dancing in preparation for next week's Nativity – we can't wait to see it!
Year 3 are proud of their learning in Computing with their PowerPoints this week. This week they were learning how to import pictures.
Year 4 have linked RE, geography AND maths as they traced their own places of birth linked to their Nativity display – have a careful look at the letters to see each child's journey.
Year 5 have been busy writing their own blogs to summarise the story of their great book this half term, 'Cosmic'.
Year 6 have brought aspects together from their learning about the Greeks this term, with powerful story telling in their dance presentations.
Have a great weekend.
Katy Pinchess, Headteacher
A plea for tissues…
We have used our last few boxes of tissues this week for many sniffy noses. We would really appreciate the donation of a box of tissues from each child to be given to the classes to minimise the germs over the winter season. They don't need to be fancy and you can pick up a box for less than a £1. Thank you in advance!
December - Year R & Year 4 January - Year 1 & Year 5 February - Years 2, 3 & 6
A reminder…
… to ensure your child's clothes are all named as our lost property has an increasing amount of clothing items without a home to go to! At the end of this term all unclaimed items will be recycled
Recycling to support the school and other charities
A reminder over the festive season that we collect and recycle many items in school;
Collect clean plastic milk bottle tops (turned into outdoor furniture)
Rip off stamps and bring them into school (passed to charitable organisations)
We would love your old batteries and foreign coins and notes
Recycle any old clothes, curtains and material in our bin by the Year R playground
Pond Update from the Parish Council
During the weekend the excavator working to dredge the pond was broken into on site. The offender/s unbolted the security fencing to get access to the machinery. Fortunately, there are no valuables left on site and the engine has an immobiliser so they were unable to start it, but they did steal a drum of fuel locked inside the cab and they had thrown things around. The police have been informed, but the Parrish Council want to make people aware and, if needed, please report any suspicious behaviour around the pond area to the police.
Do you live in a Radian home?
If you do then please consider letting the school know as we have been alerted that Radian have some community grants, which we could apply for to support your child and also to benefit the school.
Thank you to…
…the Red Box Project for the donation of sanitary products. Our older girls know where these are kept and can help themselves. What a great community idea.
…the Ince family for the donation of books
... the Smith family for the dressing up clothes and Chinese New Year treasures
Click here for this week's reminders…