This week at Bentley...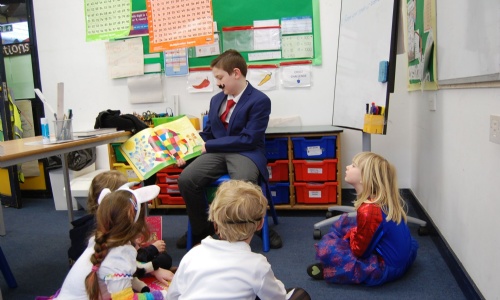 It has been lovely to see the sunshine again today after so much rain on World Book Day. Staff and parents bravely face the downpours and the outfits were absolutely terrific as everyone represented their favourite books and characters. The library has been replenished with great book reviews to share our favourite books and in the classrooms there was a brilliant door decorating competition.
Year R represented the lovely Eco themed book 'Susty' which was donated to each of them by Merlin Entertainment
Year 1 used 'Dinosaurs from Head to Toe' for a super scene.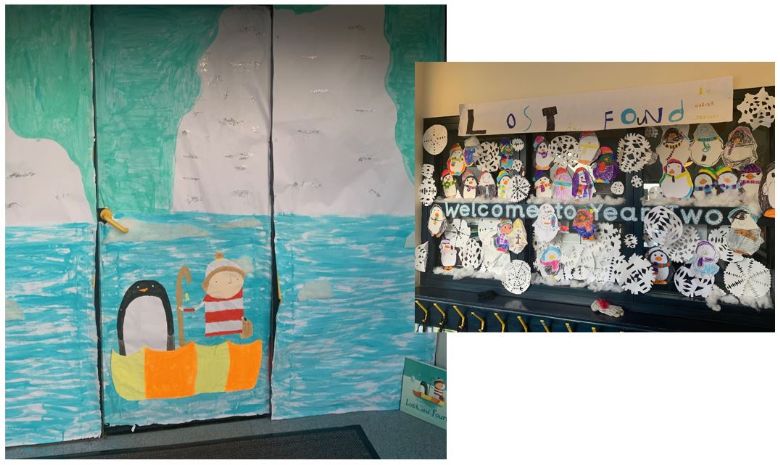 Year 2 were the winners with the picture book 'Lost and Found' full of penguins.
Year 3 recreated a wonderful volcano scene from the 'Firework Maker's Daughter'.
Year 4 used a non-fiction text for their inspiration with 'Under Water, Under Earth'.
Year 5 created a brilliant jungle scene to represent 'Running Wild' their class reading book
Year 6 recreated a watery 'Floodland' scene with some canny paper folding.
Enjoy spending the £1 World book Day vouchers!
I hope to see lots of you here tomorrow for our PTFA Family Fun Events.
Mrs Katy Pinchess, Headteacher
THANK YOU TO…
… the Nimmo family for the Pritt Sticks
… the Eagles-Bates, Bowler and MacKenzie Treacher families for the books
JUDO HEROES
Bentley were once again very well represented at the Southern Schools Judo championship competition held at Queen Mary's College, Basingstoke at the weekend.
Max and Noah, both Year 3 picked up Silver and Bronze medals respectively, Matthew in year 4 took Gold in his weight and also received a trophy for the best throw of the day, and Cam in Year 6 also won Gold for his weight.
Jason, who teaches Judo before school on a Monday morning, was very impressed with all the children who entered.
...And swimming heroes
Our swimming team were amazing at the Taro Leisure Centre in Petersfield earlier this week when they won their qualifier! Ella, Harry, Imogen, Lucas, Oliver and Sophie from Year 3 and Alex, Ben, Isla, Nicholas, Olivia and Sophie in Year 4 will go on to represent Bentley at the Hampshire Games Finals at the Aldershot Garrison in June, alongside our Hockey and Gymnastics teams.
Well done to all of the children for taking part - their individual and team performances were second to none. Mr Goddard, who accompanied the children, was really proud of them all! Thank you to all the parents who were able to go along and support.
RELATIONSHIPS AND SEX EDUCATION (RSE)
The Department for Education has announced changes to RSE. These changes will come into effect from September 2020 and all schools will be required to comply with the updated requirements. This means we will be reviewing our RSE curriculum and policy so we can be sure our RSE provision is appropriate for all of our pupils.
Join us on Friday 20th March from 8:45am - 10am in the dining hall to view teaching resources, planning, pupil's work and have the opportunity to speak with the children about our new interactive RSE and PSHE resource, 1decision. Tea, coffee and biscuits will be available.
SPECIAL NEEDS NEWS
At our school we cater for a wide range of pupils appropriate to a mainstream school setting. Some children may qualify for personal funding to support them which is called an EHCP (Educational Health Care Plan) and 2.9% of pupils in England have one of these. Within every school there are many more children who have some type of additional need and in England this is listed as being about 15% of pupils and at our own school this is currently 12% of our school population. For children with additional needs teachers have specific targeted plans to support their progress which are agreed with parents on a termly basis on top of the two parent evening meetings held each year. There are national expectations and we have localised support in place from Hampshire with a raft of external agencies and health advice to help each pupil.
There is currently a hold across the whole of Hampshire in applying for new EHCPs due to a backlog in requests which is being dealt with by the Educational Psychology team who are involved with every new plan. Unfortunately all schools' pre-booked days with the Educational Psychologist have been put on pause until this backlog is dealt with, which looks to be until May at the earliest. This is hugely frustrating for us in school but the decision has been made to ensure that the needs of our most vulnerable pupils are being addressed. If you feel that this will affect your child then please contact Mrs Pinchess by email to discuss this and to see what might be possible in the meantime.
At the moment we do not have a Special Education Needs Coordinator (SENDCo or SEND Leader) due to our previous SENCO moving to new job at Christmas. The Governors' Personnel Committee have plans within our succession planning to recruit a new SEND Leader for September. Their role is very much taken up with the administration and coordination of annual review meetings for those children in receipt of an EHCP. In the meantime, Mrs Pinchess is coordinating the paperwork and external agencies whilst teachers and LSAs continue to be the people whom parents can speak to for advice and day to day support. As Acting SENCO Mrs Pinchess is available to advise teachers or parents, should there be a specific concern, but as with all issues in school the class teacher is the first point of contact with Mrs Miffling, our Deputy Head, or Miss Kirby, Infant Leader, as the next point of call.
WORLD BOOK DAY VOUCHERS
Every child came home this week with a Scholastic catalogue and their World book Day voucher. If you would like to use your voucher to order from the Scholastic catalogue you may bring in your order for us to place in school with correct cash or cheque (sorry but no credit card details unless you process this yourself at home). You may also use the voucher in book shops and there are special £1 books available too.
VEG POWER
We have signed up with the kitchen for a new, fun initiative to get children to eat more vegetables. This week was Pea Week and some of the children have been using the colouring-in sheets and talking about their 'Veg Victories' in Pick and Mix time today.
There is a host of information online at www.VegPower.org.uk and lots of great images on Facebook, Twitter and Instagram if you'd like to find out more. Next week's veg to be defeated is sweetcorn!
GET INVOLVED IN 5p FRIDAYS!
The PTFA have launched a new fundraising initiative – 5p Fridays! We are asking the children to bring in as many 5ps as they can find (and you are willing to donate!) to add to the jars in the classrooms each Friday morning. At the end of the school term the children will be lining up all their 5ps and the class with the longest line will receive a special treat! We hope by choosing a coin of this value will enable every child to take part. The money raised from this will go towards new playtime toys.
FARNHAM FAMILY CIRCUS
We are delighted to be partnering with Hedgehogs Farnham to help promote their Family Circus on Sunday 5th July which will take place on Farnham Heath End School's sports ground.
Come and join us for a fantastic family afternoon of exciting and spectacular entertainment. Grounds open at 12 noon for you to enjoy the delicious food and drink available from the stalls and take part in several other games stalls. The Big-Top opens at 13:30 and the Circus ends at 4pm.
A family ticket is £36 (2 adults + 2 kids or 1 adult & 3 kids) and individual tickets are £10 each.
Tickets are very limited and we are just one of a number of schools selling them, so whilst July is a long way off, don't delay in getting your tickets by clicking here. Event tickets will be issued nearer the time. We only need to sell 50 tickets to become a beneficiary of the event, which means a proportion of the profits will be paid to the PTFA, so please support if you are able.

According to the NSPCC, around half of parents don't know what the age restrictions are for the many different social media platforms.
The majority of platforms say the minimum age is 13, but there are others with higher minimum ages – WhatsApp is officially 16+. Click here for some very useful guidance
THE LIBRARY SERVICE
As you know at Bentley we use our Library Service Level Agreement very well to inspire our young readers. The link with our Hampshire library service enables us to have new and specific books, for all children to access high quality books within a tiny village setting where we do not have a library to walk to. This school service forms part of the Hampshire library service for all of the public to use.
There is currently an open consultation about the library service moving forwards in Hampshire with two options to save costs mainly around the option to close ten libraries or to minimise the hours of all libraries within the County. There are a lot of materials around the options and the Libraries are keen for you to go online and take part to give your views as parents, Hampshire residents and school staff. Please click here to give your views