This week at Bentley...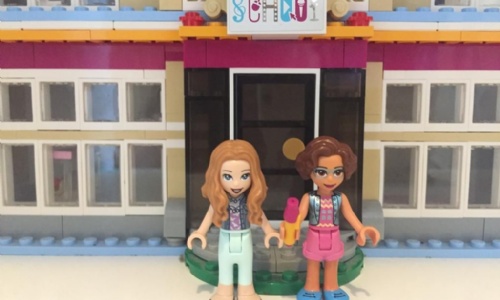 Thank you to the parents who have been in touch with so much support, appreciating that the current plans for the 1st of June are difficult and not ideal for any of us. We know many of you are feeling anxious about sending your children back into school whilst others are heartbroken they are not coming back now. We appreciate that many of you are juggling work pressures on top of the lockdown expectations and we are well aware of the impact on all of our children; for those in school and out, this is not 'normal' by any means.
At school we are following the government issued guidelines from the DfE and ensuring safe guidelines are met for the planned – possible – return on the 1st June. At this stage it is still unclear whether or not we will open for wider numbers of children on the 1st and I suspect we may not know if this until the weekend before. We will send text to all staff plus parents in Yr R or with Key worker children on Sunday 31st May so you are clear on Bentley's plans.
In the meantime we are working hard this week and over half term to put in place further measures and some difficult decisions have had to be taken in order to ensure that we can meet the needs of our pupils and ensure safe working for the adults in school. I know we have support from our school community and we will continue to review advice in line with what our school is able to offer.
I will note that all correspondence from the DfE, County and Diocese it is very clear that EVERY school is different and I know this will cause confusion and frustration for us all as we hear mixed stories over the next weeks from the media, or friends with pupils in different schools. Some Local Authorities are not currently opening at all; some are opening with a different roll out; and others again will have different staffing and building aspects which allow them to welcome back more year groups. For us at Bentley the high number of key worker children is the key factor in us being unable to offer places for Year 1 and 6 currently. Key worker children are all eligible for a full time place back at school on the 1st June and we urge parents to get in touch with school about your requirements as soon as possible, and by Wednesday 27th May at the latest.
For many of our community this weekend brings some time off from work and school as we head into the May half term. I am glad to say that staff are also having a break. Like many of you their working week has changed considerably as they juggle full time parenting, home schooling, and even extended grandparent childcare for his key worker children in the case of Mr Goddard. The workload and professional expectations are still there, but the working day has changed with staff doing their school work around these other necessary duties. We have a skeleton team in over the half term break and I thought that you might like to know what is keeping the teachers 'going' at the moment!
Over half term…
Mrs Rushin is really excited that Chichester Harbour is now open for sailing! She is taking her boat down at the weekend and getting out as much as she can - the weather is looking perfect.
Miss Hand is looking forward to turning off her computer, going out on her bike and exploring new places near to where she lives. She recently discovered a field, hidden by trees and saw a family of deer.
Miss Smith has become a home owner over lockdown and her plans for half term are continuing with her home renovations ready to move in.
Mrs Vogel is looking forward to having some long lie-ins and reading her book in the sunshine. There's lots of work to be done in the garden for which she will take the important role of supervisor!
Mrs Scott-Bromley is looking forward to spending her birthday with her family, who she keeps catching whispering together about secret and exciting plans!
Mrs Miffling is looking forward to some nice walks over the half term holiday and sitting in the garden (hopefully in the sunshine) reading her book.
Mr Goddard is going to be enjoying some time away from school and family duties with some lovely long bike rides.
Miss Kirby is hoping for good weather for horse rides, some decorating and virtual family and friends time.
Miss Wiggins is really looking forward to getting on her long awaited new bike over half term. She also has plans for some garden designs!
Mr A will be busy with his University course work and will be trying to fit in some nice walks in between job hunting for his first teaching post for September.
I am looking forward to some SLEEP without dreams of risk assessments. Also a catch up on some family time with a movie night and popcorn.
Whatever your plans I hope you have a good half term and we will look forward to seeing you in June – be it virtually or in person.
Mrs Katy Pinchess, Headteacher
Click here for the link to this week's assembly from the St Mary's team;
Words from Jeff Williams, Director of Education for Winchester and Portsmouth dioceses
This is Mental Health Awareness Week as we are thankfully, daily reminded on the radio, TV and Social Media. How timely as well – with our School Leaders grappling to come to terms with government guidance and expectations regarding the broader provision from our schools, potentially at some point in June. [Schools] juggle pressure from parents, communities and government, while carrying the ethical and moral burden of weighing the impact of increasing broader school provision, and how this may impact positively and in other ways with children and our amazing teachers and support staff.
The recently-shared Mental Health Foundation survey presents what many of us know is stating the obvious: two-thirds of us acknowledge that when people are kind to us, it has a positive impact on our mental health. Being kind to others, is also good for oneself – another fact we probably know. Our immune system is positively impacted; kindness produces endorphins, the brain's natural pain-killer; our stress levels are reduced; our energy levels are raised; our heart improves – figuratively and physically! Oxytocin, our 'kindness hormone' isn't there by chance – it is there for personal and communal benefit. Equally, we have evidence that kindness is contagious – as is demonstrated by the contagious aspect of support that has risen while we are in Lockdown.
But what drives us in random and intentional acts of kindness isn't primarily or even tangentially personal gain and benefit. Our values and belief basis is something that is our foundation stone and moral compass. Serving The Common Good, we forget to articulate so often, but it is a primary commitment and purpose of so much of what we do and who we are – Biblically grounded and driven.
A short video I recommend that you may find informative and affirmatory is found by clicking here
Thank you
We are very grateful for the kindness of strangers this week. We have had a delivery of four face visors made by an anonymous local person ready for when we come back to school. We have also been promised hand sanitiser and more visors from other local people. This is very much appreciated as we have many of these items on order but have not yet received everything.
A huge thank you to Wine Rack Farnham for the delivery of face masks, hand sanitiser and face shields for all our staff – we are very grateful.
We would also like to say thank you for the cards and messages this week for Teacher Appreciation Day. Chocolate and biscuits are great comfort in our staffroom, but your thoughtful words, encouragement and prayers at this time are most appreciated. School has stayed open since 20th March and getting used to the necessary changes has been tough at times, as we have switched nearly every 'norm' to a new normal. It is brilliant to know that so many of you understand and appreciate what we have been doing to help our pupils and what we are facing next.
Fantasy Castles
Year 1 have been writing fantasy castle leaflets this week, then they hosted their own banquet. The guests at the banquet turned out to be spies and attacked their castles, so the children had to post a rousing speech to their people to help them fight! There were so many super speeches posted onto Seesaw - Mrs Vogel loved them! Ivy's work in particular deserved to be shared!
Lovely postcards
Mrs Pinchess says a big thank you for all the super 'Virtual Gordon Brown' postcards from Year 3 and 4. There was one with no name on it so Mrs Pinchess could not reply to say thank you. It was drawn on grey card and has a secret smiley face on it. If you drew this then please let the office know!
Goodnight Mr Tom
Year 6 have been studying Goodnight Mr Tom by Michelle Magorian this half term. It is the story of Willie Beech, a young boy evacuated to the countryside during the Second World War. The children were tasked with creating their own movie trailer. Mrs Miffling and Mrs Rushin were completely wowed with all the trailers, but Olivia's work stood out in particular and they wanted to share it with everyone.
Lost phone?
A phone was handed into school which had been left in the Rec car park. Please contact school if you are missing it with the make and model details so that we can reunite it with its owner.