This week at Bentley...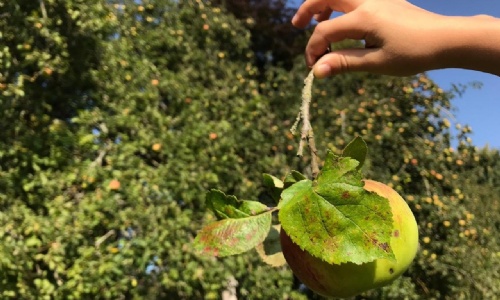 What a beautiful week it has been! Years 3 and 4 classes all very much enjoyed their apple picking sessions this week and collected LOTS of apples to make our delicious 2020 apple juice which is now already available for purchase. Thanks to Cress Mizen for her PTFA leadership of this annual treat and to Lucy Slater and family for letting us come to the orchards.
Thank you to all the parents who have taken the time to stop and pass on their many thanks to the staff for the set up and smooth running of the drop off and pick up systems. Whilst most of us get vexed at times with the many new processes, at school we are fulfilling the expectations set for us by the DfE and the changes are there in case there is a local change so that our school running and keep safe. Thank you so much for your support with this. Please ensure that you stay on the path rather than walking on the road wherever possible to ensure safe passage for all users of School Lane.
The news has been full of national frustrations with the testing system this week. A reminder that if your child has COVID symptoms then it is required to self-isolate for 14 days as a family. We need to know if your child is off and unwell or off and self-isolating by email (at any time) or by phone call between 8.15-8.45am. This allows us to ensure that we can send out daily class work for those who are not unwell but are self-isolating. We do not expect poorly children to be doing school work!
In the classrooms this week
Year R have been reading their first words using their phonic sounds…'dad, mat and sad'. Great work children!
Year 1 have been transported back in time to the Victorian era and they worked out facts about Florence Nightingale by looking at old photographs.
Year 2 have been innovators in their super writing about the three Billy goats Gruff.
Year 3 wrote brilliant character descriptions of Little Red (an African version of Little Red Riding Hood) using thesauruses to find synonyms and adjectives.
Year 4 enjoyed being water molecules as they acted out States of Matter in Science
Year 5 used expanded noun phrases to make their letters more interesting for their readers.
Year 6 have been history explorers and were shocked to hear about the brutal side of the Greek City States!
Enjoy the autumn changes this weekend!
Mrs Pinchess, Headteacher
COVID UPDATES
Government advice is;
Please help us at school by updating us about any household symptoms and any closures with clubs attended outside of school.
We are very restricted on any adults coming into the school building. Thank you for supporting our new systems for getting the community on and off site. Please ensure you walk on the pavement at drop off and pick up times as walking in the road is stopping traffic.
MESSAGE FROM THE CHAIR OF GOVERNORS
Dear Parents and Carers,
A brief message from me on behalf of the governors to say how pleasing it is to see the school community back to normal working order, albeit a slightly different working order to what we have been used to. We would like to extend a big thank you to the entire school staff for making this possible, but also to you as parents and carers who have been so supportive throughout this difficult period.
The governors have continued their work both during the lock-down and the school holiday and this week are restarting their regular committee meetings in preparation for the first Full Governors Meeting for the term and as always, we are keen to hear from you. During the coming weeks we will be using the newsletter to remind you who we are and talk a little about our roles on the governing body, which cover a wide range of skills and experience. Governors serve for a specific period of time, usually four years and are appointed for different reasons, Parent Governors are elected by the parent body, Co-opted Governors provide specific areas of skill or knowledge and Foundation Governors support our position as a Church School. We also have two governors who represent school staff views and we can also occasionally appoint Associate Governors who contribute to our work but do not have the same voting rights. Some of our current governors will be stepping down as they complete their terms in the coming months and so an election will be taking place towards the end of this school term.
I'm sure we all share the desire to see the end of this dreadful pandemic and the far-reaching effects it has had and will continue to have on so many people and institutions. Our school has taken a huge financial knock due to extra Covid provision and this is one of the major issues governors will be facing in the coming year. However, we are confident that with support and determination we will make a robust recovery and enable the school to concentrate on new and exciting projects and improvement.
D A Ibbotson, Bentley CE Primary School, Chair of Governors
DONATIONS TO THE SCHOOL FUND
When you next log on to Scopay you will notice a new item - Voluntary Contribution to the School Fund. We are hoping all our families will be able to donate a little (or a lot!). This money goes directly into the school funds and will be used for the benefit of all our children.
PTFA News
Mrs Pinchess would like to invite you all to our Virtual PTFA AGM on Thursday 24th September 8-9pm. Our amazing Chair Mrs Proud has got some great new ideas for virtual fundraising and wants to get every family involved to suggest ideas and support the school fundraising this year. Do come along to hear more.
Apple picking news
Year 3 had an amazing first apple pick on Monday. It was a beautiful day and they picked an amazing total of 248.5 kg which made 60 litres of juice. Year 4 then followed for another session and they picked 286 kgs which is currently being turned into more juice! We now have lots of apple juice to sell and the great PTFA held a very socially distanced 'pop up shop' today.
Thank you to Cress Mizen and Mrs Forbes for collecting and delivering all the apples and juice for our community. We are really grateful and can't wait to taste the 2020 apple juice!
YEAR BOOK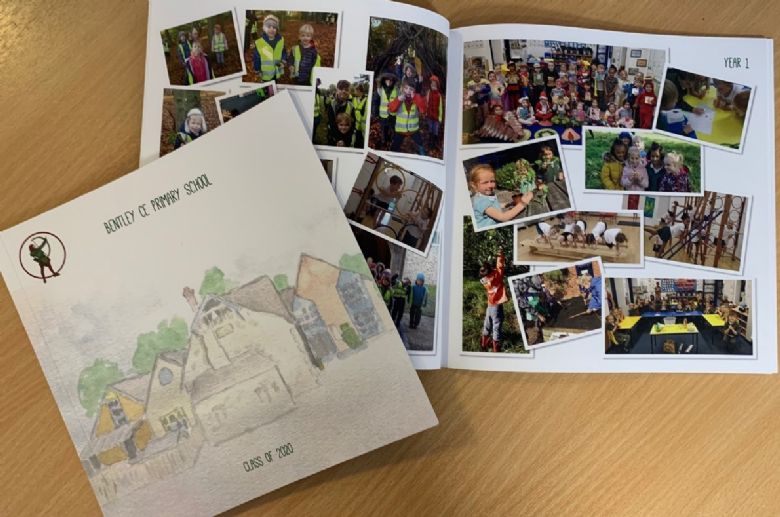 At the end of the summer term we created a Yearbook - it is a lovely keepsake from a very unusual year, with lots of photos and smiles reminding us of so many HAPPY memories. If anyone would like to purchase a copy for £5 each, please log on to www.scopay.com. We only have a limited stock, so don't delay ordering yours.
THANK YOU…
… for all the offers of tissues. We have plenty for now but will let you know once stocks run low again.
… to Sara Wood for offering to donate £10 to the school fund for each treatment booked by a friend of the school. Sara offers fantastic massage and reflexology treatments – contact her on 07970 729738 to make your booking.
HOUSEKEEPING
If your child's pick up arrangements need to change, please put a note in their reading record instead of calling or emailing the school office, but do remind your child to tell their teacher to check their book as only Year R and Year 1's reading records are checked daily.
If you are happy for your Junior child to leave school independently, please ensure you have emailed the school office with permission for them to do so.

With the new school year well underway, we will be revisiting online safety in classes, but here's a reminder of the key things to stay safe…
Children – Always tell a trusted adult if you see something that worries or upsets you, or someone contacts you and says things you don't like
Parents – Children can seem to be complete experts with the technology they are using, but cannot always make the right decisions about what is appropriate and what is not. We must monitor our children's activity online and be ready to step in to keep them safe.
And a note about Social Networking Platforms – do you know the age restrictions? Have a check on the NSPCC website https://www.net-aware.org.uk/networks/?order=title
There are lots of fun games and activities, along with advice, on the website: https://www.thinkuknow.co.uk/
LIBRARY BOOKS
We have a huge number of library books checked out before lockdown which have yet to be returned. Please have a rummage around at home and if you find any, return to school as soon as possible. All classes visit the library every Tuesday so please note this on your calendars to return books weekly so your child can exchange their book for a new one!
SECONDARY SCHOOL CHOICES
We are in the season when many of our local secondary schools are having 'Virtual Open Mornings'. These are usually aimed at Year 5 and 6 pupils and their parents in preparation for thinking ahead. We have great links with many local secondaries and are happy to give advice or top tips about where might be right for your child. You are very welcome to arrange a phone call with Mrs Pinchess to have an informal discussion. We can advise you on the processes and have good experience in supporting parents to help all our Year 6 pupils to find the right school for them. Please ensure that you have let us know of any applications as we will always be contacted for references, reports and safeguarding information. We charge £10 per application in advance for the administration of independent school applications this as we have to pay for photocopying and recorded postage.
The vast majority of Bentley pupils move onto our local secondary school Eggar's. Other local state secondary schools which Bentley pupils have gone to are; Amery Hill, Bohunt, Oakmoor, Perrins and TPS. Independent secondary schools where Bentley pupils have gone in recent years include;
(Mixed) Churcher's, Lord Wandsworth College, Frensham Heights, St Edmund's and Alton School
(Girls) Farnborough Hill, St Nicholas', Royal High School and St Swinthun's
(Boys) RGS, Salesian
(SEND) More House and Stepping Stones
Help shape the way we travel in Hampshire
A new survey has been launched by Hampshire County Council to get a better understanding of how people feel about walking and cycling in their local areas.
The Active Places Survey aims to gather people's opinions and experiences about what it is like to walk, scoot, cycle and use a wheelchair, mobility scooter and/or pushchair in Hampshire. This is not just about Active Travel for pleasure but as a mode of day-to-day transport e.g. getting to work, the shops or school.
Please take the time to complete this survey as a parent or carer, or with your child.
To accompany the survey there is the opportunity for participants to send photographs illustrating how they feel about Active Travel in Hampshire.
Click here to see this week's reminders and here to see what's happening in the local area