This week at Bentley...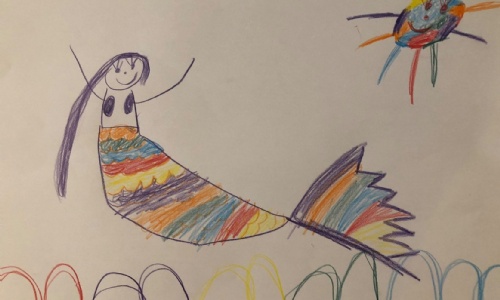 This week we have welcomed four more pupils to the school despite being in lockdown! A very warm welcome to our three new lockdown families who join our community in such unusual times. We look forward to meeting you in person, but have been so pleased to see all children joining in with their classes already.
This week we have achieved the milestone of 100% of families at home uploading work on Seesaw and Tapestry. Way-hay! Thank you to all staff and parents for the hard work to achieve this. A tremendous piece of work to ensure children from all families have equity in teaching and learning. We continue to work hard 'behind the scenes' to develop our Remote Learning. After half term we will offer two short live lessons for each class each week with class teachers. Year 4 will be piloting the Google classroom platform recommended and provided to us by the DfE. Other classes will use Zoom initially before we can assess how easy this platform changeover is for children, staff and parents. This will not replace Seesaw and Tapestry which are both working well in many ways.
Only one week until half term…keep going everyone! In school we are very hopeful for the 8th March date being possible for whole school opening, but of course, we all await scientifically informed government decision making on this. Prayers, fingers crossed and much hope are all required…
Mrs Katy Pinchess, Headteacher
Thank you….
… to Tim Maxwell for the fascinating talk on being a lawyer specialising in art – we loved learning about your fascinating job today.
…to Sara Wood for the excellent Yo-Chi well-being techniques - click here to view
PARENT Talk
We have another engaging talk scheduled next week when Jenney De Sousa will be telling us all about working as a Brand Manager for Transport for London. Please join us at 2.30pm next Friday.
Please let us know if you, or another family member, have an interesting job experience or hobby to talk to the children about. We love hearing from our community and it is great for the children to hear about the world and different jobs.
School Lunches
For those children in school next week, there is a change of menu, including yummy pancakes for pudding on Tuesday! Please download the menu from the foot of this page.
READING, READING, Reading
As we often say in school the way to become a great reader is to 'read, read, read'. We know with everything so topsy turvy with home learning and school being so different that we have not all been using the reading logs at home. PLEASE could all families start to use the Reading Records again this week (or continue if you have been using them all the way through – well done!). We encourage all Junior children to log their own reading each day and then an adult to sign the book once a week. For juniors and confident readers we expect them to keep reading out loud at least twice a week. For Infants please log each day as they read aloud to you and note any tricky words or sounds to come back to the next day.
There are still four weeks left to take part in Hampshire Library Service's Winter Reading Challenge. To complete the challenge, children read or listen to any four books by 27 February. Go to the library website to register and record your reading. You can also sign up for the Ready Reads scheme to receive a selection of books, chosen by library staff, each month.
Teachers are posting school work with phonics and reading. I know teachers have signposted ways to access books online and we also recommend audio books. Reading recipes, magazines or comics and any favourite home stories are all good. Reading TO children is great as children can enjoy much longer stories and we highly recommend reading on Zoom or on the phone to members of the family you can't see in person at this time. Next week we will also re-post our teachers reading favourite books which were recorded in the first lockdown.
Thank you for your fantastic support with your child's reading. World book Day is coming up on the 4th March so please let us know any fun you may have had with reading at home to inspire us all!
Staff Wellbeing
It has been a difficult time for us all in lockdown and staff at Bentley are no different to anyone else in having 'ups and downs' with our ability to cope. People come to work in a school as somewhat of a calling; to work with children is not for everyone and requires patience in the bucket load and a real desire to teach! The Bentley staff team are known for being kind and resilient, but this half term has challenged many of us with our own mental health.
When a child at home or school is struggling this really affects us and whether children are in school or at home you can be sure their teacher and LSA are thinking about them. All staff are working in creative ways to support children with their learning at home and trying to make this as easy as possible for our many parents, each with different concerns and their own issues to face. When a parent is angry or upset, this affects us. We see school staff can be often be in the firing line from adults at home who are struggling with the lockdown in different ways. Worrying about your child being sad, struggling in their learning or missing their friends is entirely understandable. All of us at school would like nothing more than to have everyone back together, but in the meantime we need to work in partnership between home and school to support children.
We believe if adults are doing well then the children will flourish. As school staff we always make every day a fresh day. We work hard to have a positive attitude and ensure we deal with difficult situations with emotional intelligence – treating others as we would like to be treated ourselves.
Here are some things we do to support school staff with their mental health…
All staff have Performance Management meetings three times a year with a line manager. As part of this staff all created an additional well-being target to think of themselves first and look after their own health.
Since last week school staff have been taking part in voluntary Lateral Flow Tests for COVID. It isn't any fun (as many of you have experienced yourselves!) but we are all doing it twice a week to reduce risk for our community. We very much hope vaccines will follow soon for all staff, but especially for those staff who are more vulnerable to COVID due to health conditions.
We try and laugh together and have fun. This has been challenging since last March as we cannot meet in person. Keeping ourselves safe in order to keep our school going is our priority. We have a silly WhatsApp group to share jokes and memes at home. It is called 'In Appreciation of Joe Wicks'!
To ensure good ventilation from COVID we have lots of windows open which can be very cold, plus we are trying to get outside for learning whenever it is possible. We purchased all staff a warm fleece or coat to look after them. Lots of them bought themselves one too as they look so smart. We feel proud to work at Bentley CE Primary! The children have said "You look like us now". Go Team Bentley!
We have appointed staff to keep the staffroom full of biscuits each week. A happy school staff certainly works at its' best with a good balance of carb/sugar/caffeine! We have managed to resist breaking into the PTFA 'booze cupboard'…to date! ;)
What you can do to help…
If you are emailing staff or ringing in with something you want to get off your chest, please think about how you word yourself. We do want to know about problems but having an aggressive diatribe is not good for the mental health of our team.
Please tell us what is going well, as well as what you don't like! The positive messages we have had are all kept in a special folder and they REALLY mean a lot. We are working hard to support each child and miss seeing them all. Hearing from our families makes our day.
If you fancy brightening up the coffee break for the staff team then please feel free to drop off a treat for our team to share – it would be MUCH appreciated. Be it a chocolate biscuit from Lidl, Sainsbury's or Waitrose it all seems to disappear fast! If it is a homemade cake on a Monday you will achieve epic hero status!
At our Parents 'evening' phone calls next week, please help staff to support you at home productively by completing the school feedback form in advance. We cannot change government directives. We are trying hard to set independent work but primary aged children all need adult supervision. Individual teachers cannot change the system, so focus on the needs of your own child as teachers will too.
Keep being the positive, caring Bentley community of parents, children, governors and staff working together to support everyone in our school community. We are in this together and will come out of it together. In the words of Captain Sir Thomas Moore, "We will get through it in the end but it might take time, but at the end of the day we shall all be OK again… the sun will shine on you again and the clouds will go away". Let us all try to be more 'Captain Tom'!
Parent's Evening
Your child's Spring Term 'Short Report' will be emailed to you today – you'll need to have this to hand ready for parent's evening telephone calls next week.
Please ensure you have returned the Parent Feedback form ready for your phone call – you can complete one electronically by clicking here. Teachers will have a tight turnaround for their phone calls and completing the feedback form will help to use your time wisely.
If you have yet to book your telephone call with your child's teacher, you can do so by clicking here. You can book a five to ten minute slot to speak to your child's teacher from Monday to Thursday, 4pm – 5.10pm. If you are having trouble accessing the Scopay site, please call the school office as soon as possible and they will make the booking for you. Bookings remain open until Sunday 7th February at 7pm so please ensure you have made your booking and returned your child's feedback form by then.
SAFEGUARDING
We have been asked to highlight the Hampshire Education road safety advice to parents to review as appropriate with children at home - please download the information at the foot of the page.
First News
The electronic copy of this week's children's newspaper can be downloaded from the foot of this page.