This week at Bentley...
There has been a lot of thought and prayer in school this week. As it was a year on from the start of the COVID pandemic we have all been reflecting on the loss of life, both here in the UK and globally. Our children paused in Collective Worship in reflection. Our head boy and head girl have tied a ribbon around our special chestnut tree to remember those who have died.
As parents and staff, we have been working hard to get all children to get back into good school routines. I am so proud of them all for pulling together and helping those who may be tired or finding the return to 'normal' a little bit harder. Their friendship and love for one another is a real testament to their strong values.
We have surveyed the children across the school and the vast majority are very positive and they are clear in telling us that friendship, school staff and learning are helping them to feel 'normal' and happy. Whilst most worries have disappeared now, they have shared their concerns with us about their families' health, their parents' jobs and well-being. Many of them articulated their hopes that COVID will soon cease to be a concern. I am so pleased that school remains a safe and happy place for us all, and would ask parents to be very aware of the ongoing COVID expectations laid out below.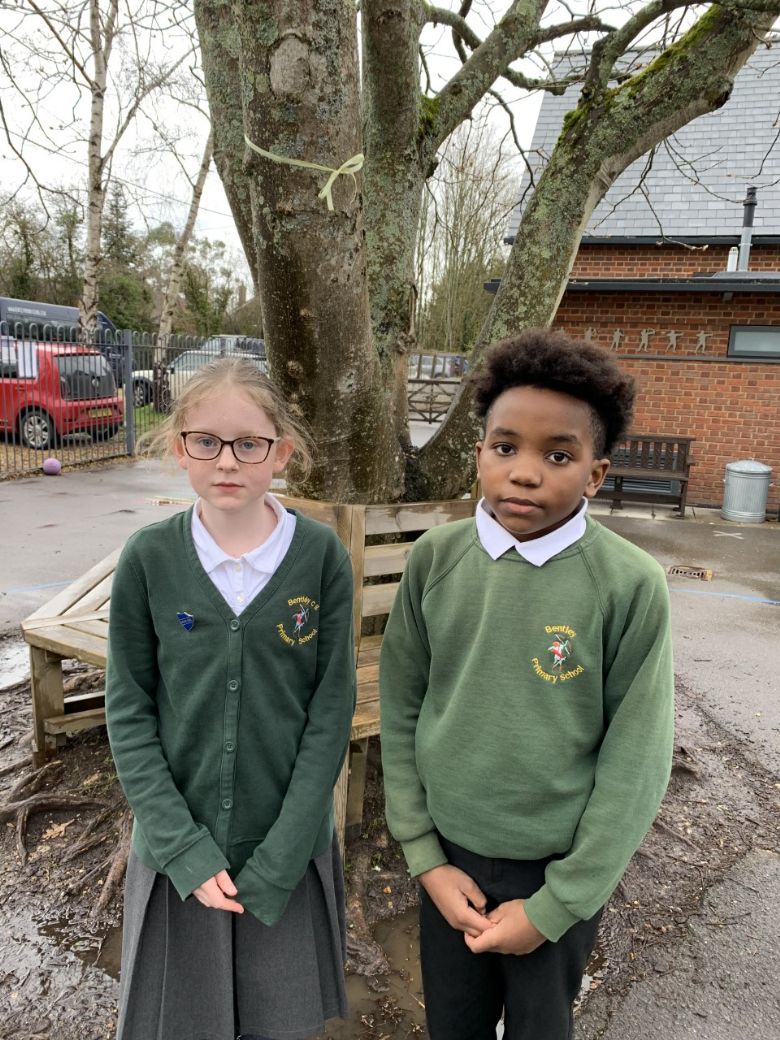 We have returned to 'normal' expectations with homework and staff have still been posting work and news on Tapestry and Seesaw;
Yr R have some lovely photo updates this week so you can see what they have been enjoying at school. Please send Miss Smith a post over the weekend to share any news!
Yr 1 have weekly spellings posted. Look out for a VERY EXCITING email this Sunday!
Yr 2 have spellings and homework on Seesaw. Mrs Vogel is really enjoying all the homework photo posts so keep them coming please.
Yr 3 had a brilliant Iron Age Day today and there are photos for you at home to get a glimpse of all the historic experiences they enjoyed!
Yr 4 have their super Granny's Handbag poems on Seesaw for you to admire their decoration, handwriting and presentation skills
Yr 5 have a class team photo to share
Yr 6 have been doing a great job with their homework tasks. Ask them to show you which piece of work they are most proud of.
An absolutely MASSIVE thank you to everyone who has supported our fundraising for Kaira Konko. We have nearly doubled on the target we set which is truly amazing. Please see more detail below! Your generosity will make a tremendous difference to the lives of many in The Gambia.
As we head towards our last four days of school and the Easter holidays are looming, I wish you all a lovely weekend - whether you may be marking Palm Sunday, honouring Passover, celebrating Holi, or just 'being'. Our thoughts and love are very much with those in difficult times. Please let us know if we can help. I would ask you for your love, care and prayers for Jo Dobson, Anthony Proud and both their families at this time. We are praying for a speedy recovery and for those in hospital caring for you.
Mrs Katy Pinchess, Headteacher
COVID UPDATE
As you are all aware we expect any member of our school community to self-isolate and get a test if they have COVID symptoms. If we then receive notification of a positive case where a child or adult has had face-to-face contact within school then we have to alert all parties to self-isolate as required by Public Health England. This remains the case in school term time, but also for six days after we break up for Easter to maintain the school's role in contact tracing. This timing allows for any positive coronavirus (COVID-19) cases to be identified and for relevant contacts in the school to be traced.
If a pupil (or any member of their household), member of staff or visitor to school develops symptoms and they then test positive, you must contact the school in term time by emailing the school office. From Friday 2nd April we require you to ring or text our school mobile on 07519 146 546 with your child's name, class and the details of whether you are self-isolating with symptoms or have a positive COVID case confirmed. Mrs Pinchess will have the phone at home and check it for calls and messages between 10am and 12pm every day up until 9th April.
Should you have to self-isolate, or have a positive case confirmed after 9th April, then please email the school office. Whilst we will have passed the point where new cases require the rest of the whole school bubble to self-isolate, it will be useful to know for our planning for the start of the new term.
All our staff are continuing to do twice weekly testing at home throughout the Easter holidays to ensure a safe learning environment. We are delighted more than half of them have now had their first vaccine and positive news that vaccines are continuing to be rolled out for all adults. Whilst this is great news, we do all still need to follow the government guidelines; remembering to wash hands, wear face masks and continue to social distance and keep to the legal expectations. Whilst we hope to hear positive news to confirm the 'Road map' towards restrictions being lifted by the summer, it is important to note we are still in a pandemic and need everyone to continue to work together.
A Gift for The Gambia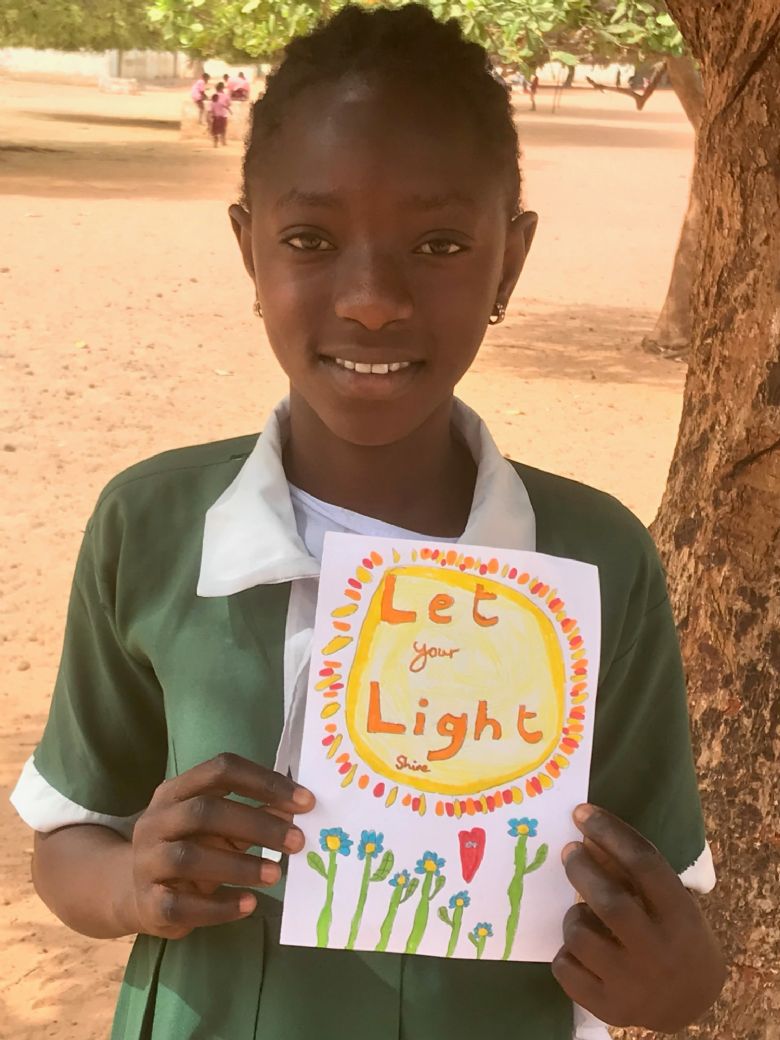 The children looked fantastic in their bright colours on Tuesday for our Kaira Konko day – and the sun shone for us giving us all a real taste for Spring… and brighter days ahead.
We have been completely overwhelmed by the response to this fundraiser for Kaira Konko. To date we have raised almost £1,900, which will go to provide schooling for Infant and Junior children, purchase new sports equipment and pay for many school lunches for the children at the Sitahuma School, along with pens, pencils and exercise books funded by our Kaira Konko day at school. It will also support their gardening project and the Mother's Group soap making venture.
Thank you so much for all your very generous donations – they will make the world of difference to our friends in The Gambia. There is still time to donate via this link should you wish to do so.
Thank you…
… from the residents of Pax Hill and Bentley Lodge care homes to the children and staff involved for the beautifully worded prayers. The service is available on the
…to Reverend Scott-Bromley for her super talk this afternoon about being a vicar.
Need some extra help?
We have been fortunate in being able to signpost support for Families who are struggling financially or children who are eligible for Free School Meals. The Alton Foodbank will be re-opening and we are able to issue vouchers should these be needed over the Easter holidays or in the future. Please get in touch before the end of day on Tuesday 30th March if these would benefit your family.
Anyone for SCHOOL UNIFORM, Coffee OR Cake?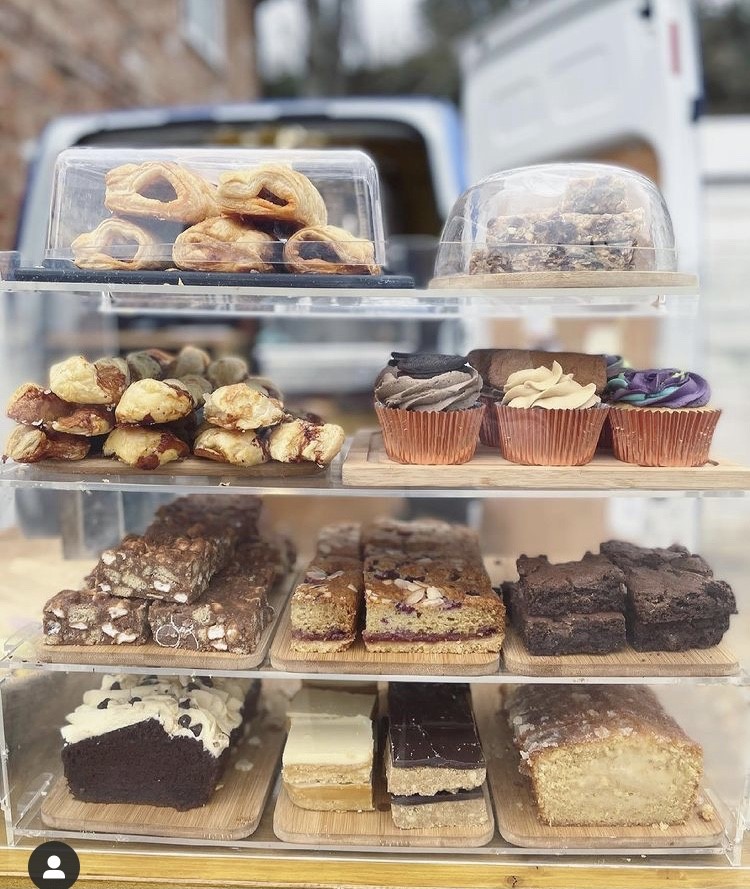 Fantastic PTFA member Sian Stratton-Brown is going to host a school uniform sale at the PTFA shed on Thursday morning from 8.30am. Please come along with your cash to buy items ready for the summer term. We have a wide range of items and they are priced very reasonably to help the family budget! We want all children to be ready and smart with full school uniform again by April 19th, so come and make your purchases in preparation!
Mrs Rhodes has arranged for The Coffee Can, a mobile coffee shop, to come and park on the back playground at drop off on Thursday and sell delicious hot drinks and sublime cakes and pastries. Amy set up her mobile business a few months ago as the café she worked in closed due to the pandemic. She will be opening the van from 8.30am so once your children have been dropped off, you can head round to the back playground to choose from the yummy delights on sale. You can pay in cash or by card. Your support for her fledgling business would be hugely appreciated.
Strides Against Stress
Teaching during this pandemic has been challenging - trying to create new ways to engage and support children virtually was not easy – but we are incredibly lucky to have such a strong and supportive team at Bentley. Sadly, not everyone in education is so fortunate and many professionals are struggling – scarily around 84% of teachers describe themselves as stressed out. Mental wellbeing for teaching staff is paramount – as a nation, we need our teaching staff to be at their best to give our children the best education - they need and deserve to have teachers who are well enough to keep showing up for them - both physically and emotionally.
So…in typical Bentley fashion we have decided to do something about it. We have created a team 'Get a move on' as part of the 'Strides against Stress' campaign. Many of our staff members have joined the team and pledged to walk or run at least one mile each day during April. Please click here to visit our sponsorship page set up by our own exercise ambassador, Miss Wiggins. The money raised will help increase awareness of the stress educators can experience and provide mental health and wellbeing services for them. Please help us to support this great cause.
Stations of the Cross
This year on the last day of term before the Easter holidays Bentley CE Primary School invites you to our retelling of the Stations of the Cross.
The Stations of the Cross is a traditional way of telling Jesus' story from being condemned to death and His journey while carrying the cross to His crucifixion and death. At Bentley we like to add an additional station which celebrates Jesus' resurrection.
Over the next week the classes will be learning about the 15 stations that make up the story and will produce artwork in response. Each class will create art for two stations and these will be set out in a trail for you to follow around the school grounds (weather permitting).
We last did a retelling of the Stations of the Cross four years ago, and I know how proud the children were to show off their artwork and how much the parents who saw the trail enjoyed it.
The trail will be open at the end of the school day on Thursday 1st April. Please collect your child as usual from the playground and then go around to the Year R gate to start the trail. At the end of the trail you will leave by the staff car park gate. This will enable us to have a covid-safe one way system.

CHILDREN – Social networking apps and messaging can be a quick and easy way of keeping in touch with your friends during the Easter holiday. Be respectful online and use your devices responsibly. Think about what you are sharing online and who you are sharing it with.
Avoid over using your devices – there is a wonderful spring-time world to discover, so turn your computer/tablet off and do some different things!
PARENTS – Over the Easter break, the Internet can be welcome company for many children, parents and carers. Holidays can be great to catch up with friends online and download the latest apps and games. Take the lead and make time to talk to your child about their life online and remind them of safer ways to behave. Review privacy settings and Friend Lists.
Talk to your child about safe sharing and model safer behaviour online yourself, by paying attention to what is being shared online and with whom.
Perhaps most importantly, relieve boredom by getting out and about and leaving devices at home.
Click here for more information about keeping your children safe online.
ACAN – Alton Climate Awareness Network
As you know, Madame Jones works with our Eco Warriors in school to increase awareness of how we can protect our amazing planet. She is involved with ACAN – the Alton Climate Awareness Network – who have produced a Schools' Newsletter which contains some great ideas for an eco-friendly Easter. You can download it from the foot of this page.
Click here to find out what's happening next week and
here to get more information about what's going on in the local area