This week at Bentley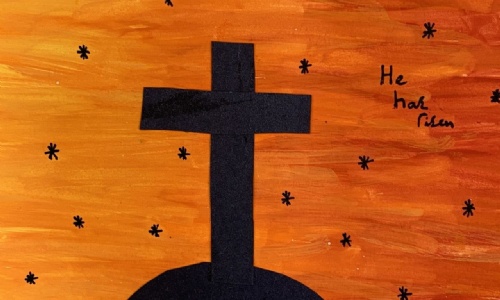 We have been extremely busy in school preparing for the most important event in our Church School year. Lent reflections were led for our upper Juniors as usual by Yann and Gemma, but by Zoom this year – you can watch it here! We also lucky enough to be sent the brilliant Signposts Easter performance, shared via Youtube this year. We have had more typical Easter work happening in classrooms too, with beautiful Easter cards being made, the Easter story being retold and Stations of the Cross being discussed and created. We hope that many of you will be able to see these on site after school today.
As ever, our School Values shine strongly in the most testing of times. I think the children have done so very well in coping with all the changes this term and in coming back with COURAGE. It has been very much like September with re-inductions and reminders on expectations. A huge thank you to all the adults involved in supporting children with LOVE at school and at home. Finally, our value of COMMUNITY has been vital this half term as we negotiate the changing COVID expectations with grace and thoughtfulness to one another and in our reflections on the impact of the pandemic over the last twelve months. Thank you Bentley for all you support and in pulling together.
I know we are all excited to finally see family and friends after the lockdown. Let's hope the weather forecast improves to help us enjoy our outdoor reunions! Please see the COVID section below for more information.
I wish all of you a happy and relaxing Easter break.
Mrs Katy Pinchess, Headteacher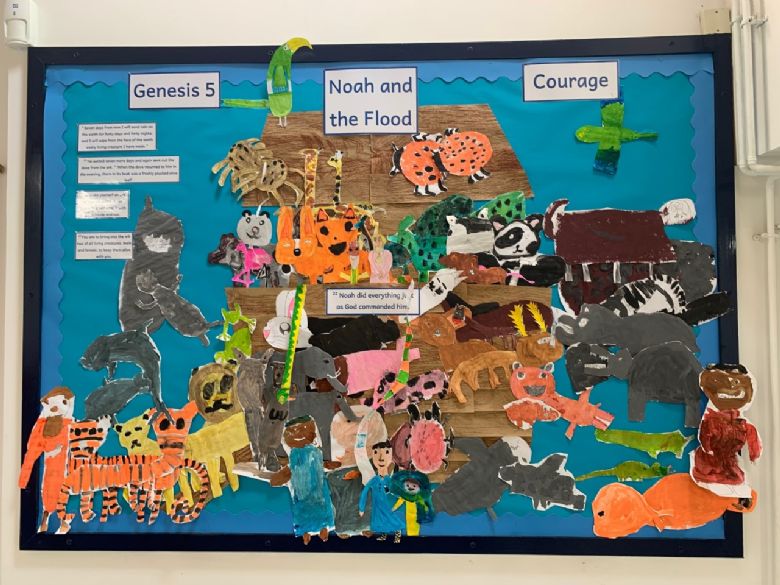 COVID UPDATE
As you are all aware we expect any member of our school community to self-isolate and get a test if they have COVID symptoms. If we then receive notification of a positive case where a child or adult has had face-to-face contact within school then we have to alert all parties to self-isolate as required by Public Health England. This remains the case in school term time, but also for six days after we break up for Easter to maintain the school's role in contact tracing. This timing allows for any positive coronavirus (COVID-19) cases to be identified and for relevant contacts in the school to be traced.
If a pupil (or any member of their household), member of staff or visitor to school develops symptoms and they then test positive, you must contact the school in term time by emailing the school office. From Friday 2nd April we require you to ring or text our school mobile on 07519 146 546 with your child's name, class and the details of whether you are self-isolating with symptoms or have a positive COVID case confirmed. Mrs Pinchess will have the phone at home and check it for calls and messages between 10am and 12pm every day up until 4th April in case we need to get in touch and ask any bubble to self-isolate in the holidays.
Should you have to self-isolate, or have a positive case confirmed after 4th April, then please still email the school office to let us know. Whilst we will have passed the point where new cases require the rest of the whole school bubble to self-isolate, it will be useful to know for our planning and risk assessments for the start of the new term.
All our staff are continuing to do twice weekly testing at home throughout the Easter holidays to ensure a safe learning environment on our return. We do not yet know how the opening up on some restrictions will affect schools and so, frustratingly, we cannot plan in detail for the summer term yet. This means all our current COVID plans will be in place on the first day of term to allow governors and staff to consult on any changes in line with the information at the start of term.
Recovery Curriculum
Our partnership work at home and in school has really supported children over the last year. Since our full return to school on March 8th, we have conducted assessments in reading and reasoning to check on progress. Whilst the vast majority of children dipped in their outcomes over lockdown, this is not a huge shock as they have been living through such different times. They have wowed us in celebrating many positives about the last twelve months. 'Spending more time with my family' has most certainly been the highlight for many Bentley children and in the questionnaire feedback this term children told us how proud they are of their parents for key worker roles or for adapting to work in the pandemic.
We are now seeing some great developments as children have settled back into normal school life. Our excellent teaching team are focusing on areas and targets for their class and for each child using the assessments and ongoing feedback. We would like to reassure parents that children are making good progress. The pandemic has affected different children in different ways, and our focus at Bentley is on both academic and well-being needs. We are impressed with how our Bentley children are working and they are doing their very best. Well done children!
Uniform
Please ensure that all children have smart school uniform ready for the start of the summer term. A reminder of the expectations can be found here. A reminder that only black leather type shoes with closed toes are approved. Please check trainers for size too as there has been many a growth spurt since December 2020!
All children need a sunhat or sun cap. There is no requirement for these to be the Bentley uniform type but they must be named. At the risk of tempting fate, please stock up on suntan lotion (the 7 hour type is perfect) and label sun glasses if these come into school too.
All children will need a plain or school uniform styled House colour t-shirt for the summer term. Please ensure no logos (other than the Bentley archer!).
Juniors School visits in the Summer Term
Unfortunately, the news that residential visits are allowed again has come too late for organisation and payments for this academic year. Teachers have been working hard since last summer to plan day visits and each junior class has been sent details of these today to help your budgeting. Children who are eligible for Free Schools Meals may access a discount and please do get in touch as soon as we return to school next term if finances are a barrier, as we may be able to seek some financial support.
The plans involve a great range of curriculum opportunities and we very much hope all children will be able to take part. We will be seeking your support with minibus driving so please let us know if you are able to help!
Infant teachers will also be in touch after the holiday about details for their class visits this summer.
A big thank you to Mrs Miffling, our deputy headteacher, who has been working with our residential centres since last summer to plan, re-plan and set up these special opportunities for all of our children. We have all toes and fingers crossed that the restrictions lifting will continue to allow all our hard planned visits to go ahead.
Thank you…
… to the Mizen family for the delicious chocolates and to Gemma in Year 4 for the beautifully decorated Easter cake. Both were MUCH enjoyed in the staffroom and neither lasted long! Yummy!
…to the lovely 'Coffee Can' van for visiting our little school today to give parents and staff a special Easter treat!
…to Sian Stratton-Brown for supporting many families by running the PTFA uniform sale today.
Well done …
…to everyone who took part in the Eco Super Hero challenge across all our Alton Schools. Bentley had the most applicants of all the schools, which reflects a real commitment to environmental issues. Madame Jones and her team of grown up Eco warriors had a very tricky job in judging all the many entries! A particular, well done to Arthur in Year 2 who won a prize for his super entry of The Nose Sniffer. His class gave him a huge round of applause when they heard of his success :)
Does your child love ArT, craft and colouring?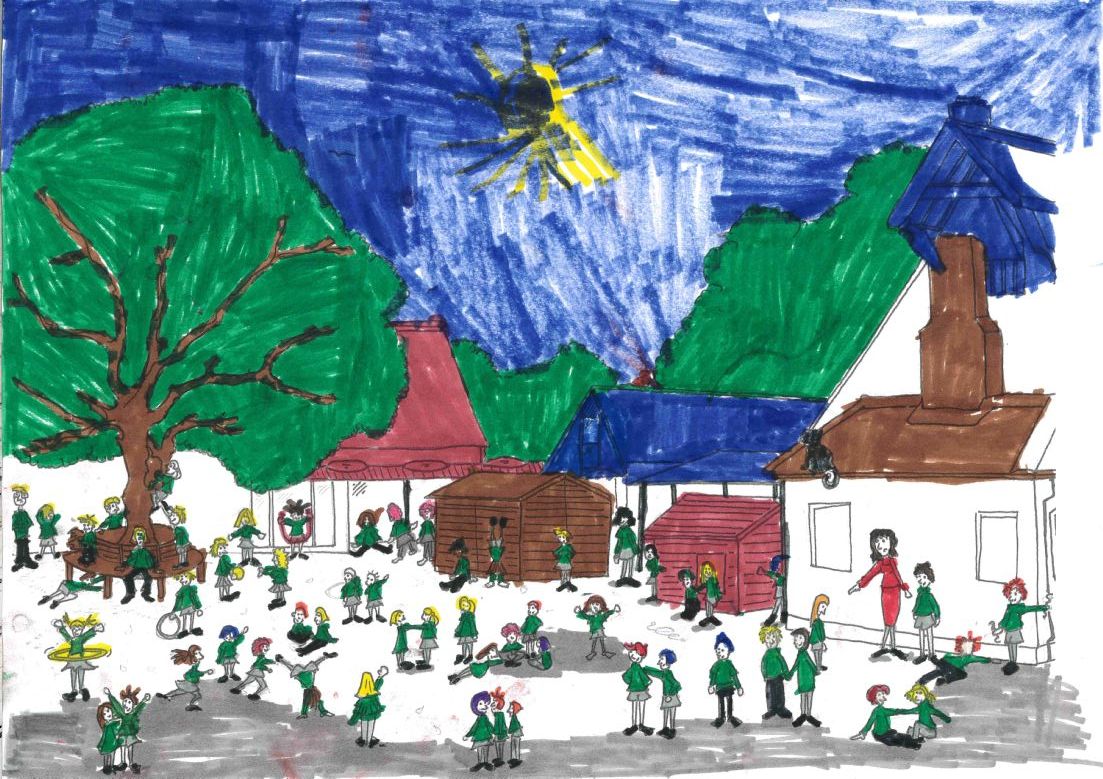 A reminder that the Froyle Ark project is now up and running. If your family would like to create an animal, insect or bird this Easter holiday the Froyle Parish would love to add it to their Noah's Ark. See the website for more information.
One of our very talented parents has drawn a super picture of the school at playtime and we would love your child to colour it in over the Easter break and bring it back to school on Monday 19th. There will be super prizes for the best one in the Juniors and the Infants. This is Ivy's interpretation. You can download the line drawing from the foot of this page.
School Lunches
The school lunch menu changes from 19th April – you can download a copy from the foot of this page. Lunches remain at £2.50 per day for all Junior children and these should be paid in advance via your www.scopay.com account. Lunches to half term will be £72.50.
Well Being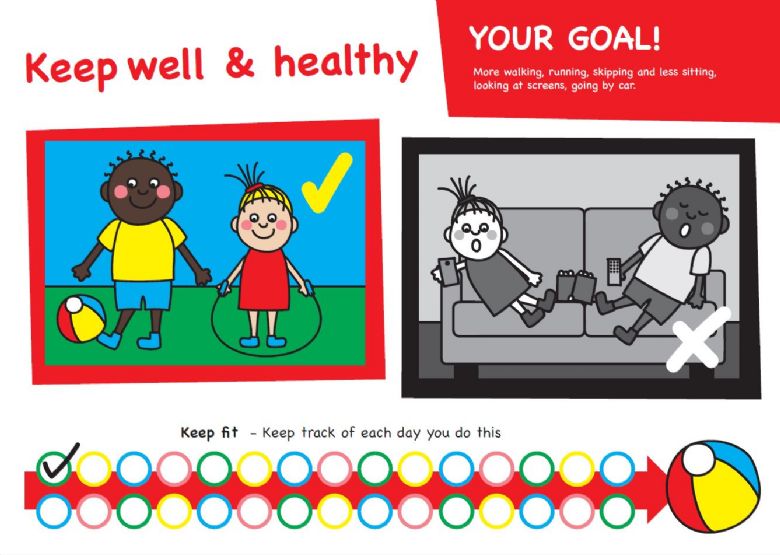 Keeping fit helps us to feel energised and ready for anything! Choosing a sport or activity you love will make sure you keep it up. Screen time is fun but being outside in the fresh air is even better.
Summer Term Clubs
Exciting information about teacher-led clubs will be sent home on Monday 19th April – please ensure you get your completed request forms back to us by the end of the school day on Wednesday.
Strides Against Stress
Teaching during this pandemic has been challenging - trying to create new ways to engage and support children virtually was not easy – but we are incredibly lucky to have such a strong and supportive team at Bentley. Sadly, not everyone in education is so fortunate and many professionals are struggling – scarily around 84% of teachers describe themselves as stressed out. Mental wellbeing for teaching staff is paramount – as a nation, we need our teaching staff to be at their best to give our children the best education - they need and deserve to have teachers who are well enough to keep showing up for them - both physically and emotionally.
So…in typical Bentley fashion we have decided to do something about it. We have created a team 'Get a move on' as part of the 'Strides against Stress' campaign. Many of our staff members have joined the team and pledged to walk or run at least one mile each day during April. Please click here to visit our sponsorship page set up by our own exercise ambassador, Miss Wiggins. The money raised will help increase awareness of the stress educators can experience and provide mental health and wellbeing services for them. Please help us to support this great cause.
Sitahuma Update
I have been in touch with the Kaira Konko charity in regard to the phenomenal fund raising support from our Bentley community. The total stands at an amazing final total of £1918.12. The trustee and founder Marion Christmas asked me to pass on a huge thank you to everyone who bought 'Gifts for the Gambia' and to all the children for joining in with our fun bright colours dress down day. The trust met this week and the money has come in at a difficult time where funds had run out for school lunches. Our donations will help children at Sitahuma by paying for school lunches next term which will make a HUGE difference.
Our ongoing Running challenge total of Runtastic miles stands at 1,589 - we are well on our way!
All things Eco
Plastic-Free Schools Award
This term the Eco-Council met in their separate bubbles to discuss the exciting Plastic-Free Schools Award. We completed the first step of the award by looking at the issue of plastic pollution or litter within school. We went on a walk and found that the worst place for litter was in the 'woods' with the playground being tidy because the children are generally pretty good at using both the rubbish and compost bins. Our next job is to hold an assembly next term to invite other children to help join our 'Trash Mob' which is a litter pick – Surfers Against Sewage have supplied us with sacks and gloves and we have litter pickers in school so we are definitely well-prepared!
Fabulous Nature
This week all the children once again wowed Madame Jones with their love of nature in their termly environmental lesson. With wildlife as the theme, the children learnt all about the importance of biodiversity before exploring what they can do to support wildlife (and biodiversity) on their own doorstep – e.g. in their garden or whilst out and about. In KS2 we watched this WWF video about how to encourage garden wildlife with ideas like planting flowers and feeding the birds.
Bentley Love Nature Challenge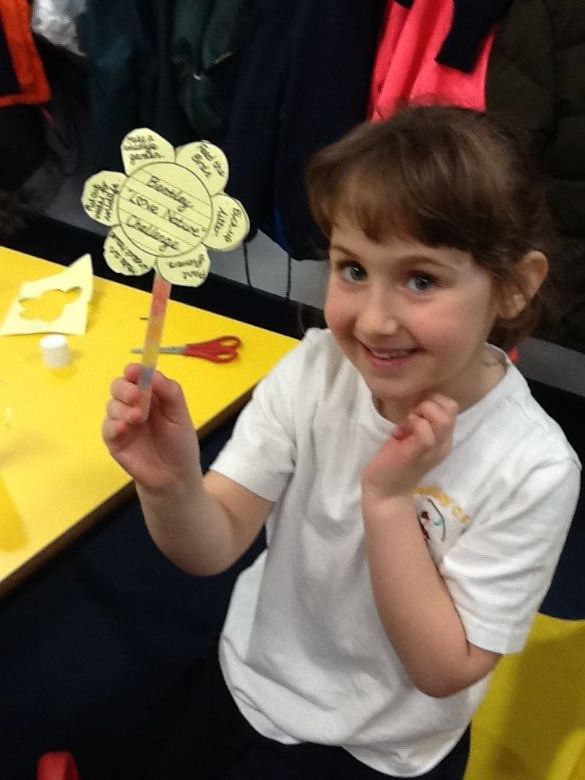 Finally, all the children were introduced to the Bentley 'Love Nature' Challenge (look out for the flower in your child's bookbag). This Easter activity aims to encourage the children to show their love for nature by completing the following six nature-loving challenges (Year 5 and 6 have chosen their own challenges):
Feed the birds.
Plant flowers
Make a wildlife garden.
Build an insect house e.g. bug hotel.
Put out water for wildlife.
Pick up litter.
It would be great if you could support your child(ren) with this at home if you are able to. Your garden doesn't need to be huge – it could just be a wildlife-friendly pot! Here are a few links to great websites to help your family show love for nature this Easter:
Wild about Gardens (Wildlife Gardening Tips) - click here
RSPB (Spotter Guides) - click here
Seek App from WWF (brilliant app for spotting nature) - click here
Keep Britain Tidy – sign up here for the Great British Spring Clean
Thank you for your support with this – I look forward to hearing about the children's wild adventures and would love to see photos after Easter.
Madame Jones & the Eco Council
Click here to find out what's happening next week and
here to get more information about what's going on in the local area