This week at Bentley...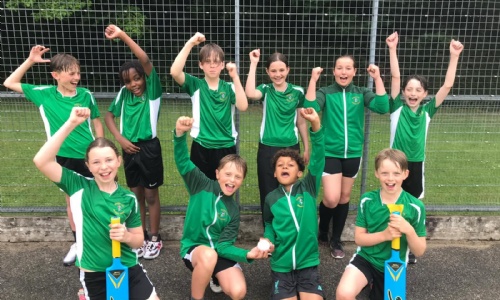 Well what an exciting day we have had today with 'Break the rules' day! Despite the soggy weather, the children (and staff!) have had a blast and a lot of laughter has been heard across the school with silly name changes and disruption galore. Well done to all parents and carers for creatively stepping up with hair and fashion support. It is fair to say that this has been a day of celebrating childhood and the uniqueness and fun of each child. Their positivity and enjoyment of every day is a real example to us as grown-ups!
"He called a little child to him, and placed the child among them. And he said: "Truly I tell you, unless you change and become like little children, you will never enter the kingdom of heaven. Therefore, whoever takes the lowly position of this child is the greatest in the kingdom of heaven". Matthew 18:1-5
Well done Bentley children! I am also VERY happy to report the AMAZING fundraising of over £550 from raided piggy banks means we can go ahead and book in the contractors to come and refurbish the hall this summer. Very exciting news.
In more serious news, we have had staff, children and parents self-isolating over the last fortnight and several local schools have had to shut bubbles again, due to the new variant. Sadly, the Prime minister's announcement on Monday means that we need to stick to all the same Covid measures in our current Risk Assessment, but we have our fingers crossed that we can have some additional outdoor events in the last week of term. Please ensure that you keep us up-to-date about any self-isolation requirements and immediately let us know about all test results so we can keep our whole community safe.
We know that many events are having to be halted or adapted in light of the Covid news this week. We understand that the Move Up day for the Alton Secondary schools is unable to go ahead on the 6th July due to pupils gathering from so many different schools for such an event. Please keep us posted with any other changes and be mindful of the Covid expectations. All children are expected into school as usual on the 6th July and we have already planned for this.
Let's hope the rain abates before Sunday to celebrate Father's Day. Enjoy the weekend whatever you may be up to…it's back to normal on all rules on Monday!
Mrs Katy Pinchess, Headteacher
Thank you...
...to Ursula Phillips for her good deed
…to Cook Alison and our super office staff for sorting out lunch options to try and suit all the MANY different food requirements in school….it is much appreciated as full tummies make for happy learners!
Government Covid Advice
The new COVID-19 variant (known as Delta) spreads more easily than the other variants that were previously most common. To help stop the spread, you and your family should:
Get both doses of the vaccine when you are offered it, and encourage others to do so as well
Participate in surge testing in your local area, whether you are vaccinated or not
Self-isolate immediately if you have any symptoms of COVID-19 (a high temperature, a new, continuous cough or a loss or change to your sense of smell or taste) or if you've tested positive for COVID-19.
The government has announced a 4-week pause at Step 3. Step 3 restrictions remain in place, and you should follow the guidance on this page, which explains what you can and cannot do.
It is expected England will move to Step 4 on 19 July, though the data will be reviewed after two weeks in case the risks have reduced. The government will continue to monitor the data and the move to Step 4 will be confirmed one week in advance.
However, some restrictions will change on 21 June. From 21 June, there will be changes to the rules on:
weddings and civil partnership ceremonies and wedding receptions or civil partnership celebrations
commemorative events following a death such as a wake, stone setting or ash scattering
large events pilots
care home visits
domestic residential visits for children
Wrap Around Childcare
We are currently looking at our wrap around childcare provision and would like to understand what our families want and need for the forthcoming year. We have set up a very short survey which we would appreciate everyone completing who may have a need next year. Click here to find the survey. It will be available until 9am on Wednesday morning.
WELL Being Award
We are delighted to announce we have received the Well Being Award for schools. Mrs Vogel's sterling efforts to demonstrate the school's eligibility for this award culminated in a superb presentation to the panel on Monday and we are delighted with the result. The process of preparing for the award has shown just how much we already do for the well being of pupils (and their families) and staff and also prompted new initiatives going forwards. Staff care and thoughtful planning was highlighted in the Wellbeing Award feedback. The assessor notes "The staff team is a real strength of the school" and that the Personal, Social, Health Education curriculum is a "particular strong point of the school with the focus on resilience and life skills to meet the pupils' needs. The emphasis on children's emotional literacy has reaped considerable rewards for pupils and staff alike".
Cricket Success
Miss Wiggins is delighted to have some great sports news to report with cricket being the big news for this week. She was very impressed by the dedication and prowess shown by all the children who took part in the 'Time to Shine' Cricket lessons with Alton Cricket Club over the last few Mondays. Well done everyone!
Sports Ambassador Will reports on a special out of school event this week;
"On Tuesday six Year 6 pupils and six Year 5 pupils went to a cricket festival at Jubilee Playing fields…and came second overall! Our best game was against Selborne School which we won 263 to 232. I would like to commend Isaac in Year 6 as our best player of the afternoon as he scored the most runs out of everyone in the whole tournament! Also, across our players the bowling, throwing and hitting were all great and we got many wickets, a lot of catches and loads of 6s! The teamwork was great"
On Thursday Bentley played again in the Hampshire cricket tournament for the Hampshire county qualifier. Unfortunately, the Hampshire Games are unable to go ahead this year but Bentley played with their usual team spirit and great attitude, winning the event overall by just one run!
Miss Wiggins says, "It was a nail biting final match and I was so proud of our fantastic team who represented Bentley magnificently. All the children have been so enthusiastic about our cricket session and the training too. I am looking forward to the KS1 multi-sports event next week too".
IN MEMORY OF JO DOBSON
As we have mentioned we had plans to celebrate the life of Jo Dobson in school. If you are new to the school may sadly not have been lucky enough to meet Jo at school but you may have met her as the head of the Bentley polling station or around the village. Jo was a wonderful, warm person who was a terrific supporter of charities and a great member of our Bentley PTFA.
Mrs Pinchess discussed our plans with Brian and Scarlet and we are delighted to announce 'The BIG summer Raffle 2021 in memory of Jo Dobson". Money raised from this end of term raffle will be split between the two charities; our school PTFA and Children In Need. Money raised for school will go to buy sensory equipment.
Now we need some help please as we really like to have 50 prizes to get the whole of Bentley buying raffle tickets!
We need;
One or two parent volunteers to contact local business and shops to see if they might provide vouchers or prizes before 9th July.
We would love any larger raffle prizes please. Be creative – what is in new condition but unwanted by one family may be the perfect raffle prize for another!
We will hold a special Non-uniform day on Thursday 8th July where children may wear their own choice of clothes in exchange for bringing in a donation (this could be a bottle, sweets, pamper items, gardening items, new toys etc). As usual, we will be very clear to children that this does not need to be a giant or expensive item. We will put things together to make up hampers so PLEASE do not feel under pressure financially. Every little bit comes together to make a BIG difference.
Lastly, Brian passes on huge thanks for the community support in fundraising. It means an awful lot and he has plans on how to use it carefully to honour the donations made. Should you wish to make a donation to this, set up by Bentley neighbours, the link is still live;
The link is here: https://gofund.me/372599d2
Harry Potter Book Night Quiz
As you all know we are huge fans of reading here at Bentley and the Harry Potter books have long been a popular choice in the library. There is a special event (in person and online) which children may be interested in. Winchester Discovery Centre are inviting everyone to join them on Thursday 24 June, either in person at Winchester Discovery Centre or via Zoom, for a spellbinding FREE quiz evening for all ages to celebrate Harry Potter Book Night. Wizarding attire encouraged! Click here to find out more.
How do you travel to school?
Members of our Governing Body are working together looking at the traffic issues around the school and they have put together a quick survey for parents. Whether you walk, drive, scoot, skip or cycle - we would love everyone to get involved. The survey, which can be found at this link, is open until 9pm on Sunday 27th June.
Lost items
If your child is missing something lost in school please send them to look in the Lost Property box. We try very hard to match NAMED items with pupils so it is always worth re-checking names on everything which comes into school. A very kind neighbour rescued two very muddy cardigans left on the rec for two weeks! They were washed and returned to school but had no names in them. Please let the office know if they might be yours!
Old coins
Please check through coins before sending them into school as we have had over £8 in old coins to recent school events and charity collections and these are no longer valid.
Click here to find out what's happening next week and
here to get more information about what's going on in the local area