This week at Bentley...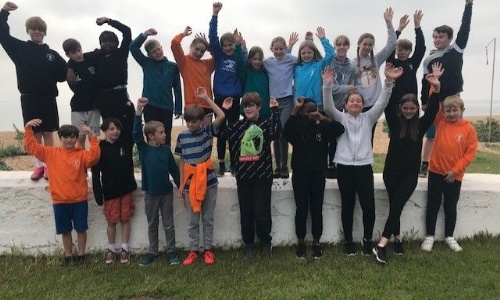 It has been a lovely day in school with our new Year R children coming for a showround with their special Year 5 buddies. We also had a Zoom meeting with parents to say hello and talk about school life. It has been so nice to be able to resume some more 'normal' aspects of life albeit creatively due to Covid restrictions!
At the other end of the school, our super Year 6 pupils are not able to take part in face-to-face Transition until the summer holidays due to Covid but they are fully enjoying the special end of year activities which the teachers have planned for them. They have been growing before our eyes this week; in height, confidence and maturity. From design technology activities, to water sports to climbing challenges, they have really impressed us by their teamwork and great attitudes. Well done Year 6!
Having reviewed the last three weeks of term with School Council yesterday I can tell you all it is going to be busy and a lot of fun! We have charity activities every Thursday, an INSET day, French day and a special STEM project all to squeeze in. Please do keep a careful eye on the dates at home and we will endeavour to keep the children on track with reminders too.
We have been incredibly lucky with the weather this week, but many of the children have struggled in the sunshine without a sunhat or cap. With such changeable weather - there are many rain clouds showing on the forecast for next week - please keep a light raincoat (with a hood!) AND a sunhat or cap in your child's bag at all times because we always go out for playtimes when possible.
Lastly, we continue to hear news of Covid cases leading to closures of classes and schools locally. Please continue to follow the guidance and if one member of the family is having a PCR test remember that all members of the family need to self-isolate until you get the result. We appreciate this is frustrating, but the expectations for this have not changed since last March.
Whatever you're up to this weekend, have a super one!
Mrs Katy Pinchess, Headteacher
Thank you...
...to the Alton Lions who have bought us a set of beautiful reference books about animals and the environment
…to Dave Ibbotson, Jan Elliott, and Sian Stratton-Brown for giving up their time to drive the minibus for various Year 6 activities this week and to the Anfield family from The Hen & Chicken for their very kind pizza making session for Year 6 this week. The pizzas were all reported to be really delicious!
Best Club Ever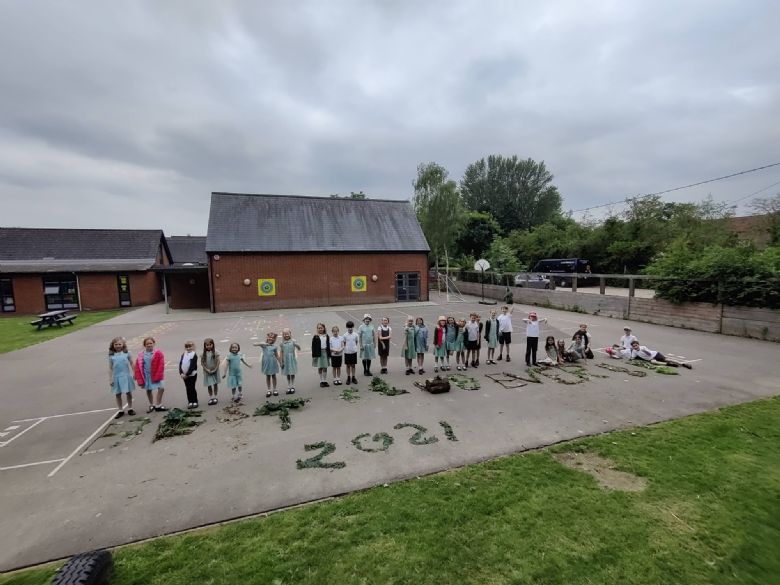 The Best Club Ever was aptly named by Mrs Pinchess as it quickly became the fastest filling teacher-run club ever! Over the past 10 busy weeks, the children have been turning their hand to a variety of activities from sweet making, clay craft, photography, musical expression and forest schools. Mrs Miffling and Mrs Vogel have run the club and had a blast doing it. Their favourite moment was when they had finished making the peppermint creams and were tidying away with only seconds to spare before pick-up time, when one child politely asked "Are we were going to add the peppermint?" Whoops! Teamwork was the name of the game with our last session where we made this giant art-attack style picture out of things we find in nature.
Library News from Mrs Morris
The most borrowed books from the school library this year were:
1. The Kitten Nobody wanted by Holly Webb
2. Dog Man and Cat Kid by Dav Pilkey
3. Rising Star by Linda Chapman
4. Snowy Dreams by Linda Chapman
5. Brick Bible: The New Testament by Brendan Powell Smith
Year R borrowed the widest variety of books. Mainly fiction picture books, many were only borrowed once during the year. Of those that appeared more than once Aliens in Underpants by Clare Freedman claimed the top spot.
The top choice in Year 1 was The Encyclopedia of Dinosaurs closely followed by anything transport related. The most popular fiction book was I Will Not Ever Never Eat a Tomato by Lauren Child.
Linda Chapman was the favourite author in Year 2 claiming all of the top 5 picks for that year group with her Secret Unicorn series.
14 of the top 15 most borrowed books in Year 3 were non-fiction. Books about animals were particularly popular with those containing tigers being highly sought after.
In Year 4, the most popular author was Dav Pilkey. His new Dog Man series were probably the most requested books of the year. Other favourites were David Walliams ad Andy Griffiths.
Good Night Stories for Rebel Girls was the most borrowed book in Year 5. The most popular author for this class was Liz Pichon with the Tom Gates series.
Year 6 have their own fiction area in the library and fiction formed the vast majority of loans for the group. The top choice was Bodyguard: Hostage by Chris Bradfield. Other popular choices were Anthony Horowitz's Alex Rider and Jim Smith's Barry Loser.
As we head towards the end of the school year, this Tuesday will be the last day for borrowing a new library book. Please could we have all books back in school by Tuesday 13th July.
Charity events every Thursday this term
We have spoken with the children about these events, all of which are entirely optional. We appreciate three in a row is not ideal, but the children have been very keen to support these causes.
Thursday 8th July - Wear home clothes in exchange for a raffle prize donation
We told you about this on 18th June and are running an end of term raffle in honour of Jo Dobson. The profits will be split between buying sensory equipment to support children at Bentley and to Save the Children. Thank you so much to those people who have handed in or notified us of some great prizes already. In speaking to the children we explained every donation will be welcome and we will create baskets and hampers from these. Brilliant donations include; bottles of wine, a box of chocolates or some fancy biscuits, some pamper products or hobby items (e.g. games, gardening accessories). We are very happy to accept – and recycle - unwanted gifts, but no out of date produce or opened packets please!
Thursday 15th - Fun & Fitness
Miss Wiggins is taking on a great challenge for charity on the 17th July. She is completing the Snowdon Triple Challenge aiming to beat the average time of completion which is 8 hours – Miss Wiggins is aiming for 5½/6 hours!
She will start with a cycle ride of 13 miles with a 300m ascent, followed by the run/hike to the summit of Snowdon and part way down, finishing with a 3.5-mile kayak around Llyn Padern lake.
She is completing this challenge to raise money for Rethink Mental Illness which is a charity to help support adults who are in crisis or struggling with their mental health. Miss Wiggins says "Covid-19 has played a huge part on adults Mental Health, and it is important to support everyone around us, we are all a team!" If you would like to support Miss Wiggins please visit her Justgiving page by clicking here.
On Thursday 15th July Miss Wiggins will be hosting a 'Mental wellbeing fitness party' for all the children. They will experience what a real 90's throwback fitness workout is like, with lots of fun and fitness. We would appreciate a donation which your child/children can bring in and put in Miss Wiggins' bucket before they take part.
Thank you for your support.
Thursday 22nd Pop-Up Shop for WaterAid
Our super volunteers will be running a pop-up shop selling fabulous books and toys. If your child would like to visit the shop, please send them into school with a bag and some money (only silver coins please, and maximum of £1 per child). Buy some great books to read or fun toys to play with this summer and all the money raised will benefit WaterAid - click here to find out more about this lovely charity.
Diary Dates for the rest of the term
Monday 5th - Boppin – small demo for parents on front playground at 3.45pm. Masks and social distancing please, donations for the second hand uniform sale welcome all week - thank you for your support
Tuesday 6th - Move-Up morning in school - children will spend the morning in their new classroom with their class teacher for the next academic year
Wednesday 7th – House t-shirts needed for PE with CMsports
Thursday 8th – Home clothes (own choice) in exchange for a raffle prize to support Save the Children
Friday 9th - INSET day – no school, last day to order photos
Monday 12th - House Quiz – please come to school in house colour t-shirt (with skirt, trousers, or school shorts), End of Term reports sent home
Tuesday 13th - Juniors STEM (Science, Technology, Engineering & Maths) day
Wednesday 14th - Second hand uniform sale - everything 50p, from 8.30am on the playground, French day – wear red, white and blue to school, PE kit (with white t-shirt) needed back in school
Thursday 15th – house t-shirts needed for Fun & Fitness charity event, please bring some coins to donate to Rethink Mental Illness, Infant STEM day, Full Governing Body meeting at 6.30pm
Friday 16th - Water fight! This is our last PTFA fundraiser of the year; suggested donation is £1 per child. Come send your child to school in uniform with extra clothes and shoes which you don't mind getting wet in a bag (e.g. shorts and t-shirt plus shoes which can get wet) and a towel plus any water pistols or shooters
Thurs 22nd - Books and Toys Pop-up Shop for Wateraid. Please bring a bag and some money (only silver coins please and maximum of £1 per person), last day of After School Club, Year 6 Leavers Event Evening – details to be confirmed soon!
Friday 23rd - Last day of term. Coffee van on site before school, no book bags but please bring water bottles. Attendance Awards, STEP and Reading Awards. Break up at 12pm
Thinking of returning to your role as a healthcare professional?
This message goes out to all parents, carers and members of the local community who may once have been a healthcare professional such as a nurse or midwife and now considering a return. Returning healthcare professionals have a key role to play in ensuring patients and service users have access to experienced and well-trained care staff equipped with the right skills. Health Education England (NHS) provide funding to support the pathways to return and are keen to support or answer any questions you may have if you are considering returning to perhaps nursing, midwifery or If you trained as an allied health professional (AHP) or a healthcare scientist (HCS) but have since left the profession. Please do contact them for more information on: 01865 932097 or email returntopractice.se@hee.nhs.uk
Click here to find out what's happening next week and
here to get more information about what's going on in the local area