This week at Bentley...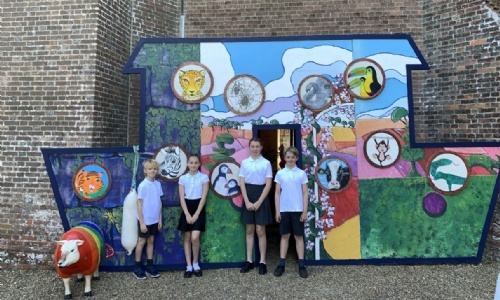 The school staff are looking forward to seeing your friendly faces at the Welcome BBQ today. We have great organic meat sausages and burgers (sourced from the super Country Market butcher), stacks of rolls and condiments, plus vegetarian and Gluten Free options too! Please do come along and feed the family, catch up with friends old and new, plus support our PTFA. We will see you between 4-7pm – bring a positive attitude, a raincoat/umbrella and we'll all be fine!
It has been a super first 'full' week and children are well settled and into routines which is great. It was brilliant to see most of you virtually on the Meet the Teacher zooms this week and we hope these helped you to get a view of life in the classroom and expectations for the year ahead. Year 2 will have their session with Mrs Vogel next Thursday at 4pm.
I had the pleasure of taking four of our super Year 6 leaders out to visit the wonderful Froyle Ark at St Mary's in Froyle this week. It is a super child centred experience and easy to pop to after school today or tomorrow before it is taken down. Highly recommended!
Great learning in the classes this week;
Year R have had their special induction sessions and we look forward to seeing them all in together next week!
Year 1 have been doing some great investigations work in science and sorting groups in maths
Year 2 started a new Billy goat's Gruff learning journey in English. They have written lots of great sentences, worked on descriptive language and enjoyed the role play huffing and puffing!
Year 3 began learning about skeletons and bones in our science topic. They really enjoyed relating this to their own selves and also other animals.
Year 4 are REALLY excited about swimming next week and also enjoyed learning new skills with shading in art.
Year 5 have been very successful in their number work, developing and enhancing their skills with rounding up and down.
Year 6 have enjoyed their new history topic and are learning lots about Ancient Greece.
Mrs Katy Pinchess, Headteacher
Labelling
Thank you to everyone who has taken the time to label all school uniform, it makes a huge difference in helping return lost property items. A reminder to remove any names from the second hand uniform and add your child's name so we can return these too!We have had a flurry of unnamed Tupperware, especially the little boxes for snacks, which can sometimes be left on the playground. Please label these too.
ClubS
This week we shared the details of Clubs run by external providers and the opportunities to learn musical instruments and we are now able to confirm which Teacher-led clubs will run this term.
Monday
Sports club with Miss Hastie Years 2-4
Harry Potter Club with Mrs Pinchess Years 1-6
Board Games with Mrs Vogel Years 1 & 2
Tuesday
Art club with Mrs Ashby Years 3-6
Team Sports with Mrs Rushin Years 5 & 6
Thursday
Mr Goddard Chess club Year 2-6 (Morning Club - 8.00am – 8.45am)
Homework Club with Mrs Rhodes 3.15-3.45pm
Magical Sparkle Club (Art and Nature) with Mrs Scott-Bromley Years 1-3
Friday
Choir with Mrs Miffling Years 1-6 (Morning Club - 8.00am – 8.45am)
We will be opening an online form on Monday for you to let us know which Clubs your child would like to take part in.
PTFA
We are looking forward to seeing you at the BBQ later. A reminder for September dates;
10th Welcome BBQ
22nd AGM 8-9pm on Zoom all welcome to attend
24th Cake sale Yr 6
We are also going to hold a Site Improvement session on Saturday 18th September as the weather this year has led to our site becoming somewhat over run with weeds and bramble vines. All families are welcome, please bring your own gardening gloves etc (snippers, secateurs and own gardening bucket/bag would be very useful). Even if you can volunteer for just 15 minutes it will make a big difference!
Click here to sign up and let us know what time you can come, who will be coming and what equipment you will bring. If you have a trailer or larger vehicle and can offer to do a run to the tip afterwards we would be really grateful – remember to book ahead in advance.
Kathleen Proud, Chair
Click here to find out what's happening next week,
here to get more information about what's going on in the local area