This week at Bentley...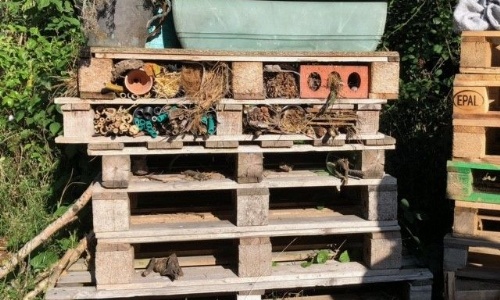 As I have been bringing together thoughts and ideas for this week's newsletter, I realised there is a real theme for this week about 'Pupil Voice'. This is something we care very much about as a staff and we have many ways in which children share their thoughts, emotions and ideas with us at school. We have pupil groups such as the School Council, ECO Council and other special responsibilities. We have 'HAS' (Happy, Angry, Sad) books where children can draw, write and record their feelings). We prioritise listening to our feedback from our children, both as staff and governors. This helps us to try to address any concerns, but also ensures we collate feedback and reflect upon it at all levels so we remain truly child centred in what we plan.
Next week the children will be choosing the charities for the school year in our annual vote. Nominations are already in and the pupils have wowed us in recent years with their 'Courageous Advocacy' by choosing charities which really matter to them, rather than picking gimmicks or fun activities.
Here are some more feedback and reading from a national focus on the voice of the child which you may find interesting;
The new Children's Commissioner undertook a nationwide survey and you can read the results by clicking here.
A special book has been complied recounting the views of children throughout the Covid pandemic. Sales of this book support CAMHs and you can find out more about it here by looking on the flyer at the foot of this page.
Finally, there is a great opportunity coming up for our children with biannual elections for the Hampshire Youth Parliament. Whilst only our oldest pupils are currently eligible to stand for election it is certainly something to be aware of for the future and to engage children in finding out more. Our Bentley pupils are such great ambassadors with a fierce sense of right and wrong – I very much hope to see them seeking these types of positions of responsibility to represent all Hampshire children. There's lots more information on the flyer at the foot of this page.
Mrs Katy Pinchess, Headteacher
NEW MENTAL HEALTH RESOURCE
There is a further update to our wellbeing support pages with an excellent book of ideas called 'The Little Book of Sunshine'. This is a welcome book of many ideas, contacts and suggestions to help everyone to support positive mental health. As we suddenly seem plummeted into grey, cold weather this is certainly worth a look for every family as we all need some extra ideas and help at times. You can download the book from the foot of this page
Apple picking
Each year we are incredibly lucky to be invited by the Slater family to come and pick apples at Orchard House. These are then pressed and turned into delicious apple juice which we sell at school and in local stores. Last year's bumper crop raised over £2,000 for the PTFA.
We are delighted to be invited again this year and next week sees Years 3,4 and 5 walking up to the orchard and spending an hour picking apples off the trees and collecting windfall. This is such a great community project for the children to be involved in!
If you would like to donate any apples from your own trees – or indeed would like us to send a team to pick them for you – please do get in touch. You can leave your apples in the staff car park or we are very happy to collect your apples if you are unable to deliver them to school.
Harvest Festival
We are absolutely delighted to be able to invite parents into school to share our Harvest Festival collective worship on Thursday 7th October. Infants – 9.05am and Juniors at 9.30am.
Only one member of the family is able to attend – please let us know if you are planning to come along by clicking here . (Please note these plans may be required to change nearer the time.)
We would welcome your donations of dried or canned items (please do check for expiry dates!) – all donations will be given to the Alton Food Bank who provide wonderful support for local families.
Thank you for your support.
Census Day - Thursday 7th October
The school census is a statutory census which takes place during the autumn, spring and summer terms. It collects information about individual pupils and about the schools themselves, and includes the number of Infant children for whom we provide a school meal. This information is used to set funding limits for the forthcoming year.
Census day this term is Thursday 7th October and our super cooks will be offering a menu of Margherita Pizza, Fish Fingers and Chips or a Cheese Wrap to the children.
If your Infant child does not take up a free school meal on this date, we will not receive any funding for their meals for the remainder of the year. We hope you will help us by encouraging your Infant child(ren) to have a school lunch on Thursday.
Buzzingham Palace
Years 1 and 2 are making super progress on the bug hotel - aptly named Buzzingham Palace - in the school garden. Nice work KS1 team!
After School Club
We are aware parents have been struggling to book their children into After School Club and will be increasing the capacity of After School Club from Monday. Please visit www.scopay.com to make your booking in the usual way.
Click here to find out what's happening next week and
here to get more information about what's going on in the local area