This week at bentley...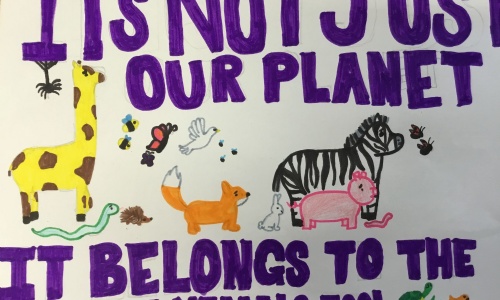 Hooray! We have finally made it to half term. This is always such an important half term for pupils, as they settle into their new classes, and I am so proud of our pupils for their growth in all areas since September.
We very much hope you enjoyed hearing about their development, strengths and targets with their teachers this week at Parents evening. It has been lovely to see so many of you face to face this time and to be able to show you the classrooms where your children are thriving. Thank you to our team of super teachers who have worked hard to prepare and respond to your parent feedback forms and completed long hours this week to ensure everyone had an appointment.
This week teachers have posted on Seesaw and Tapestry to let you see what has been going on in school;
Year R – lots of photos from our CMSports session this week
Year 1 – photos from our 'play with someone different' session on Monday
Year 2 – photos of our Van Gogh style artwork
Year 3 – lots of photos about our exciting trip to the Gordon Brown Centre for the Teddy Bears' picnic
Year 4 – lots of photos of our fantastic sewing work in DT
Year 5 – enjoying the last day after working so hard this half term
Year 6 – pictures from our visit to Eggar's
Just a highlight to a couple of things I know you will not want to overlook at the end of term! Below you can read about The Vigil of Hope, School Lunches update and the Bentley Bonfire competition.
I wish you all a wonderful holiday and look forward to seeing everyone back, refreshed, on the 2nd November ready for another super half-term of learning.
Mrs Katy Pinchess, Headteacher
Thank you to…
…the Stanley Family for the books and raffle donations. We say a very fond farewell to the Stanley family today who are starting a new adventure on the East coast. They have made such a huge impact on the school in the last seven years – most noticeably Sarah's tireless work on the PTFA, in particular as our former Chair, and Olivia's short, but great stint as our Head Girl. The whole family will be missed and we wish them all the very best on their exciting new journey.
Covid updates
Cases have been surging in schools more locally and you will have seen the news about the national picture. Please keep an eye on the news and we will update our risk assessments and arrangements at the start of November and share any changes with you.
What to do if your child develops symptoms of coronavirus (COVID-19) or tests positive for COVID-19
The main three symptoms remain;
a high temperature
a new, continuous cough
a loss or change to your sense of smell or taste
A reminder that if your child develops symptoms of coronavirus (COVID-19), you should get them booked in for a PCR test and remain at home at least until the result is known. If negative, the child can end self-isolation; if positive, the child should isolate until at least 10 days after their symptoms appeared.
If the child has a positive test result but do not have symptoms, they should stay at home and self-isolate for 10 days from the date the positive test was taken. This isolation period will be extended if they go on to develop symptoms by counting 10 full days from the day following the onset of symptoms. Anyone with symptoms will be eligible for a PCR test (the normally available test type) and this can be arranged via Get a free PCR test to check if you have coronavirus (COVID-19) - GOV.UK (www.gov.uk) or by calling 119.
If you think your child is a close contact but has not been contacted directly by NHS Test and Trace please follow the guidance here.
School Uniform and Black shoes
As we are now at the first half-term all school PE kit has been sent home for a good wash and sort out. Please could we remind all parents to check sizes and relabel school uniform. Our super Year 6 helpers sort through this, but we cannot return items which have no name. All lunch boxes and pots should also be named too. Please encourage children to be able to recognise their name tags and to take responsibility for their belongings.
We have mysteriously collected a huge number of socks over the term, so please name these too!
If you find you have inherited someone else's uniform please use your WhatsApp group to relocate it to the right owner, or you can send it washed back into school, and we will try and help by asking the children.
Finally, please check shoe sizes and replace shoes as required. Our school uniform is black shoes (not trainers) and we would recommend shoes rather than boots, even in winter, as children do need to sit on the carpet or hall floor at times and boots can be uncomfortable for them.
We appreciate children grow fast and keeping up with shoes is costly. If you require some financial support for school uniform please do not hesitate to get in touch. All emails are dealt with in confidence via the school office.
Supporting Brooke
Thank you to everyone for being so supportive of our first charity event for Brooke today. We saw some super horse and donkey related outfits and our pop-up shop selling animal magazines and audio books was a huge success! Thank you to our super Year 6 children who set it up and were excellent sales people! The alone raised almost £70 from their sales. Added to all the donations for coming to school in comfy home clothes, we raised over £330 for this lovely charity. Thank you!
School Lunches Updates from HC3S
There will be a new school menu after half-term - you can download it from the foot of the page.
The HC3S management team have taken the decision that it is in the best interests of our schools and academies to only offer our two-course classics menu after half-term. This is in principle because they are struggling to recruit staff at this time. Focussing on the core offer of two options will ensure the service can continue.
The main change for Bentley will be that there is no picnic option for next half-term. We do not have any control over this, and we know a few children may not be as keen on some menu options, so please do review these with your children at home and send in a packed lunch if they are going to refuse the red or green choices. All special diet menus will continue, so please do not worry about this.
As you are aware, we are extremely fortunate in having a brilliant kitchen team here at Bentley who cater for an extremely wide range of dietary needs. Our kitchen also cooks for another local school and we think the quality of the food is excellent and encourage all children to have a hot dinner where possible. This matter is out of the team's hands so please direct any concerns to me and I will raise these with HC3S.
See Facebook page @hc3seducation for more updates and information.
Sports lessons
After half-term, CMSports will be teaching the first of two blocks of hockey for this year. Hockey has increasingly been our favourite team sport at Bentley with a huge interest from all pupils. In the Juniors children do require a gum shield and would benefit from shin pads and long socks too. These will be required for the Wednesday after half-term. Please dig out and try on both items for size. Gum shields can be reshaped to cope with new or missing teeth but need soaking in very hot water to remould. Remember all gum shields need to be shaped to fit children comfortably and children do need a named box or bag to keep their gum shield in safely.
Bonfire, Fireworks and BBQ – 5th November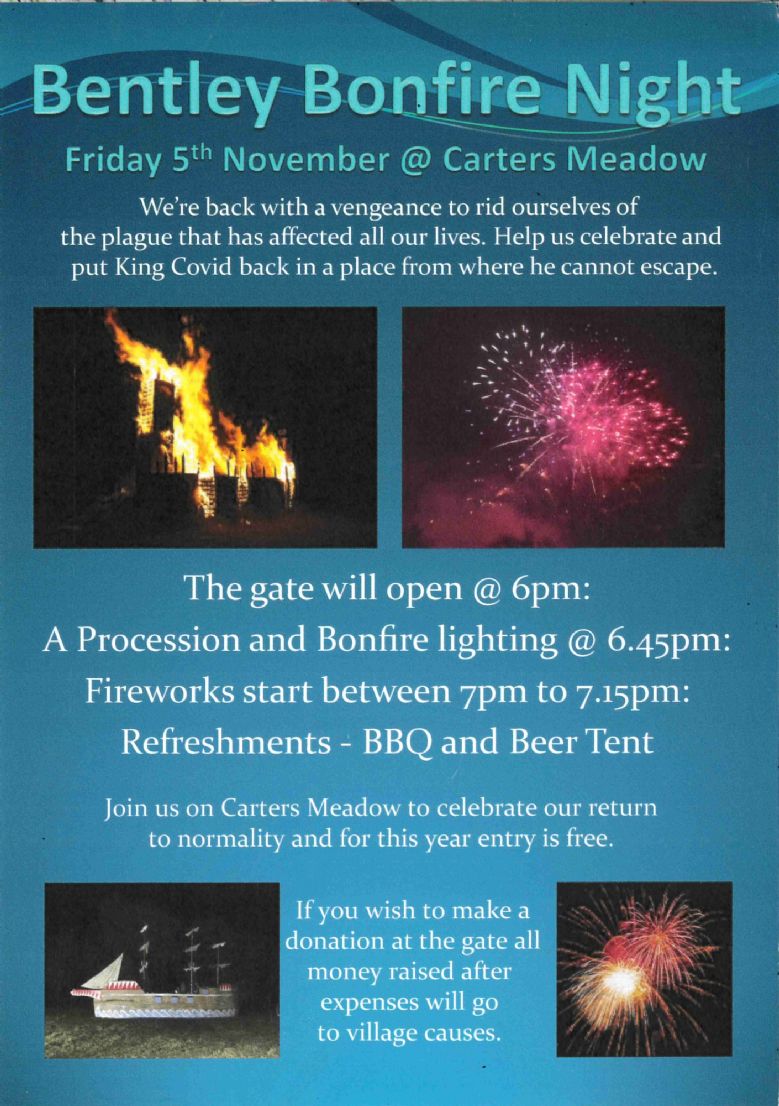 We are all very much looking forward to the return of the Bentley Bonfire which is actually on November 5th this year. A big thank you to everyone who has already signed up to help, but we still need more helpers for the bar, cooking on the BBQ, serving food and selling refreshments.
As our fantastic PTFA we need YOUR help please to make this amazing community event a success. It is one of the biggest events of our year and a great way to support the school. If you are coming please spare half an hour to support us by working on the PTFA! It is a lot of fun to get involved with the fantastic 'PTFA Bonfire crew'. Please email our super PTFA Chair, Kathleen Proud on k30proud@gmail.com to sign up.
This year there is another grand plan with an Egyptian pyramid bonfire! We need 14 children to help at the event and there is a competition to take part on the day. Click here for the competition details.
On the night, the gates to Carter's Field open at 6pm. The child procession will be at 6.30pm to get the bonfire started and the fireworks are planned for 7pm. Please be aware this busy public event attracts a lot of visitors and children must have close adult supervision. Some people take younger children home before the fireworks and we would recommend a babysitter for pre-school children if you are coming along to volunteer and enjoy the fun! If you are volunteering, ensure a 'back up team' of adults as children may not come into the PTFA fenced area with the BBQs and alcohol.
X-Factor
We were delighted to have our traditional X-Factor event on today for the first time in two years. We had a bumper crop of singers taking part and the whole school were wowed by the talent on stage. Keep your eye on the website for all the news of the competition.
Tree planting updates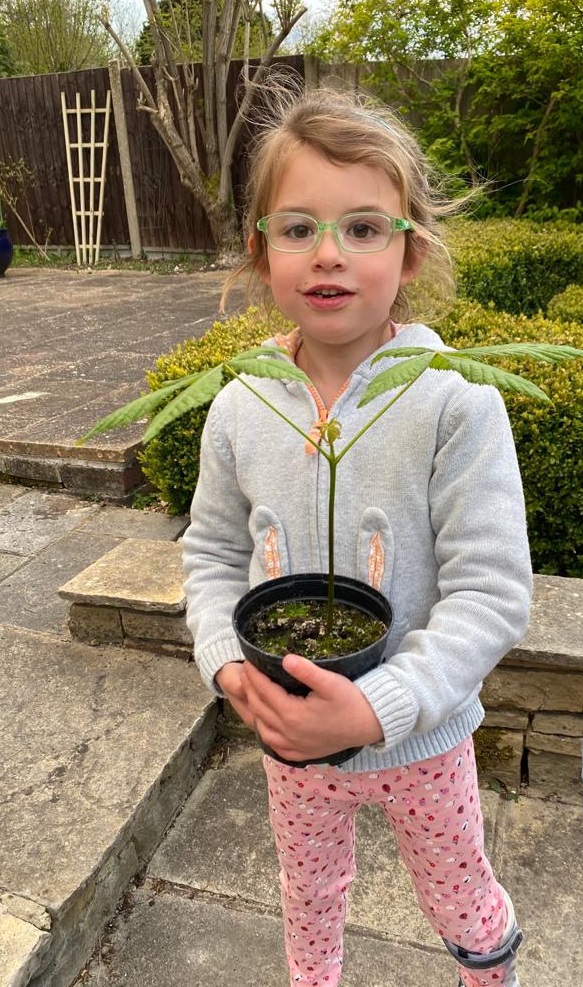 Our PTFA Chair, Mrs Proud, was also thinking about planting trees last week and she has sent in this helpful link with a great way to help children see the shoots and roots growing. We would very much appreciate any conker collections (no strings or pickling for these ones please!) or acorns donated to the gardening club to do some more planting at school. Please hand them into the office collection box, or straight to Mrs Drew on a Friday morning when she is outside on the playground, and we will ensure they are passed on to the gardening team.
Keep sending in your tree planting photos to adminoffice@bentley.hants.sch.uk
Vigil of Hope
Year 6 have created some eye-catching posters to raise awareness about climate change at the Vigil of Hope which takes place on the 30th-31st October. Please take a look at the ACAN newsletter for more details - click here to find it. Year 6 have submitted some posters, which will be on display during the whole of the weekend. They will be inspiring visitors to create their own posters.
Did you know? We also collect and recycle...Plastic lids from milk, batteries, stamps, foreign coins and notes, and any currency withdrawn from circulation, printer ink cartridges, clothing, and shoes.
Competition corner
Did you know there are always current competitions posted on our website for your children to take part in? It is always worth a look here, especially on a rainy afternoon or an 'I'm bored' moment in the holidays! Having a go is the first chance to win!
It is often worth a look at a recent Blue Peter episode in the holidays and we thoroughly recommend submitting and entry to try and earn a Blue Peter badge (or two!) which may be proudly worn to school every day. Good luck!
Mrs Pinchess shared some exciting news about the Bentley bonfire with children at assembly today. If your child would like to take part they need to take part in the competition and bring in their entry on Tuesday 2nd November. All Bentley CE Primary School children may take part but they will need to be able to attend the bonfire on Friday 5th November, plus either have a scientist outfit (Year 5 and 6 only) or an Egyptian outfit!
As ever, there is no need to buy something, making your own outfit would be absolutely fine and Year 5 have often been tasked with making amazing Egyptian masks so they may be some on hand at a friend or neighbours should your child be lucky enough to be selected. We will let parents and children know on the 2nd to allow time for outfit preparations!
You can find all the details here.
Click here to find out what's happening next week and
here to get more information about what's going on in the local area