The last week of term at Bentley...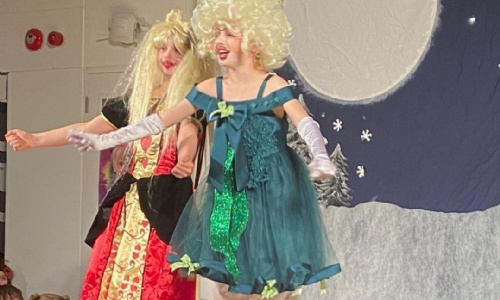 A huge thank you for all the many lovely messages of thanks for all the staff for all the Christmas performances over the last two weeks; the joy of our pupils, the pride of staff and the love of parents and relatives has made the Covid tracking and hard work involved all worthwhile. We have been truly blessed here at Bentley this term in so many ways and December has been the cherry on the top! Please click here for some 'memorable moments'.
Highlights for me this week have included…
The enthusiasm of our Year R performers at their Nativity at church yesterday (you can check on Tapestry parents to enjoy it this holiday! Thanks Mrs Blake and Miss Pidden!)
The super progress of our KS1 children with their phonics checks going on this week
Beautiful singing from the Year 3 and 4 children around the Christmas tree (the 'ding-dongs' were in my head all evening!
The fantastic 'Cinderella and Rockerfella' performance by Year 5 and 6. It was funny, with super singing and they worked so well together as a team to pull it off. Five stars from me!
Our children voting to pass the unclaimed Toy raffle prize to the Food Bank to help children less fortunate than themselves
December has been so busy that it feels like a term in itself! I hope you are all able to enjoy a healthy and happy Christmas this year and a super New Year. I recommend some time with your children to take a look at the Kaira Konko Christmas campaign on Facebook. Our school has a special link with the pupils at Sitahuma school and any donations towards the charity will be very welcome. Remember to write 'from Bentley' next to your posts and comments when you make them to send our love!
We look forward to seeing you all back to school on Wednesday 5th January 2022!
Mrs Katy Pinchess, Headteacher
Covid
Please follow Government advice over the Christmas break. We will be in touch on Tuesday 4th January if we need to make any changes to our current Risk Assessments.
A thank you for your support to help us all keep safe this term, especially in wearing facemasks and for adults at home doing regular Lateral Flow tests. It is hugely appreciated. Our staff have been absolute superstars in following guidance to keep children in school and support them at home if required for self-isolation. I know you will join Governors in passing on huge thanks to staff for their advice, hard work and sensible approach to the added raft of Covid requirements, on top of an already busy job!
Bentley CE Primary School is recruiting!
We are looking for someone experienced in working or volunteering with children to join our friendly, hard-working staff as a Special Needs Assistant in the Infant team. The right candidate will be child-centred, empathetic and have a 'can do' attitude to help enable our children to achieve their very best. If you believe you may have the right skills, check out the full job specification here and get in touch.
PTFA
From the Welcome BBQ to the Elf Run (and everything in between!), we have certainly had a fun-filled, but very busy term. I cannot thank you enough for all the help and support – our Class Reps have done a fabulous job helping keep everyone organised and informed about events. Thank you to everyone - to those who have generously given up their time to help organise, to everyone who has attended an event and to those who have made a donation. I am completely delighted to announce we have raised over £8,500 this term – well on the way to our target of £15,000 this year to replace a bank of laptops used every day in school. Amazing. Our Christmas raffle fundraising will go towards a brilliant music event for all the children in our 2022 Year of Music! Thank you.
Kathleen Proud, Chair
Thank you to…
…every family for the generous gifts and lovely messages in cards this festive season. It is much appreciated!
…the Forrester family and Mr Goddard for taking super photographs of the children which have been sent out over the last two days. A big thank you to Mrs Morris for collating and emailing them all
…Sophie, Toby, Sue & Bill for looking after the parents so well with refreshments at Church yesterday
…Steve and Gemma for their support with the service and to Yann for leading us in joyful worship! Don't forget to go online to book if you are going to the Christingle services – last tickets are still available for this Sunday
…Wendy and her team in the kitchen for a super Christmas lunch today – yum yum!
…the Bingham family for the super book donations
Click here to find out what's happening next week and
here to get more information about what's going on in the local area