This week at Bentley...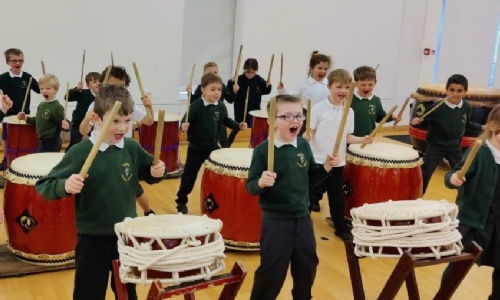 It has been wonderful to see some first signs of spring shooting up this week, as we have moved into February, and our pupils have noticed spring flowers starting to blossom, which is such a joy.
In school today we have had such a lot of fun with each class having an amazing drumming session using the steel pans and Japanese Taiko drums. There has been a lot of booming music, team work and concentration! A super day to celebrate our ongoing '2022 Year of Music at Bentley' and a big thank you to our PTFA for funding this.
I may have spoken a little too soon last week regarding our Covid peak, but perhaps the new variants are coming faster. Thank you to families for the continued support with self-isolations and sharing information to help our community. We have certainly continued to struggle this week as Covid has spread across our staff team. Thank you to everyone for their understanding and support to help us at this difficult time.
In learning news…
Year R had an amazing celebration of Chinese New Year with Dragon dances, a delicious banquet and lots of special activities to learn more about the special New Year
Year 1 have been working very hard in English to write brilliant dinosaur sentences
Year 2 have been super scientists; planning, predicting and observing their own ice melting experiments
Year 3 are extremely excited about finding a Dragon's egg in the woods!
Year 4 were working on exciting portal stories, and we can't wait to hear what happens next…
Year 5 have been learning about autobiographies and biographies. They have written their own versions and are even enjoying the editing process, to refine and correct their own work
Year 6 have had their Mock SATs week and lived to tell the tale! They impressed Mrs Miffling with their maturity and were all keen to do their best. Well done.
Enjoy spotting some signs of spring out and about this weekend with your families.
Mrs Katy Pinchess, Headteacher
Thank you …
… for the generous donation of stationery items
…to Mrs Scotton and Mrs Bingeman for volunteering and supporting much needed staff cover
…to the books and resources from the Dubreuil family
…to our super Year 6 volunteers who helped with the cleaning rota this week
Sad News
Our lovely school guinea pig, Teacake, died this week. He had been a little poorly for a week but died peacefully one evening. We have been so lucky to have Teacake as part of our school community for a long time, and he brought lots of joy to the children. He will be missed and the children have made some plans to create a special memory box with prayers.
parents evening
You are invited to make an appointment for a telephone call with your child's teacher during the week of 14th February.
Our appointment slots are set between 4.00pm - 5.15pm, Monday to Thursday. This will be a five to ten minute phone call. Timeslots may be booked from 8pm tonight - please log on to your Scopay account to select an appointment time. Bookings close at 9pm on Wednesday 9th February.
Teachers will be making the calls and will use the booked slot times. We will use the first contact home phone number we hold, unless you tell us otherwise. Please be aware we know there may be the odd timing discrepancy as we experienced this last time ringing different phone networks (the joy of modern life!) so please be patient if your call arrives a few minutes late. Calls will come from a 'Blocked Number' so please do pick up!
A short report from your child's class teacher will come home with your child at the end of next week with details on how your child is performing and current targets.
You can find a feedback form at the foot of this page for you to complete and return to us by Sunday 13th February. Alternatively, you may complete this form online by clicking here. Completing the form will ensure we can use the time well to discuss any particular matter.
In the unlikely event of no time suiting you, please send in your feedback form and highlight any particular requests and we will endeavour to arrange an alternative date after half term.
Judo kit
If your child has previously gone to Judo Club but no longer takes part, please ensure you return your Judo kit to Jason on Tuesday mornings or pass to the school office as soon as possible.
Governor Focus
I moved to Bentley in 2018 and now have children in Year 2 and Year R. I became an Associate Governor in 2019 and a Parent Governor in 2020. This is the first time I have experienced village life and I really enjoy the feeling of community that Bentley has and for me the school is at the heart of that. I decided to become a Governor because I wanted to be a part of helping to achieve the best outcomes for our children.
I am on the Resources committee and am also the Development and Training Governor. This year I have also taken on the role of Co-Vice Chair. We have an excellent team of governors with a variety of different skill sets and we work well together to fulfil the requirements set out by the government
Ensuring clarity of vision, ethos and strategic direction of the school.
Holding the Head teacher to account for the educational performance of the school and its pupils, and the performance management of staff.
Overseeing the financial performance of the school and making sure its money is well spent
In my spare time I enjoy playing tennis, watching most sports and cooking. I have recently started coaching the Binsted Under 7's football team, with a large part of the squad being Bentley Primary School pupils
Mark Desborough, Co-Deputy Chair of Governors
Football fun
Charlton Athletic FC have offered us complimentary tickets to see them in action at home against Oxford United on Saturday 19th February – kick off is at 3pm. The atmosphere at recent matches there has been terrific and they would be delighted to welcome groups of young supporters at the match.
This initiative is designed to give younger fans the opportunity to experience live football.
You would need to make your own way to and from the ground, but the tickets are completely free! If you would like tickets, please click here. The deadline to order is 14th February.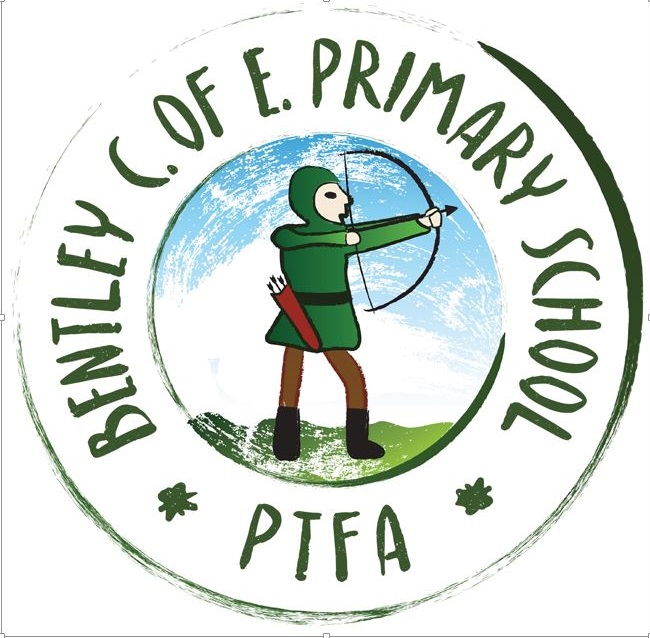 Aprons at the ready!
We are very excited to announce the date for our Bentley Bake Off will be 14th February.
The rules are simple – register online to be one of our bakers, bake five cupcakes or cookies or bread rolls at home and bring them into school on 14th February. Please remember we are nut free and your child might even want to be adventurous and bake something to suit different food intolerances. Pupils must also bring in a list of the ingredients used so we can ensure children with food allergies remain safe and don't taste these.
One of your baked goods will be saved for the official judging but the rest will go to your class for tasting! Each class will decide on the winner of their year group.
The official judges - our super cooks in the kitchen - will taste all the saved entries and decide on an overall winner.
The cost to enter is £1 per person – please click here to go online to register as a baker and pay the fee.
As an additional part of the fundraising the School Council have requested a 50p donation each to take part in the whole class tasting. We can only take cash for this part of the fundraiser, so please make sure you have your 50p in class on the 14th February.
The winning choice from each class will receive a special certificate and their bake will be put forward to the final judging! The judging panel will be made up of the School Cooks. The overall winner will receive a special rosette and there will be certificates for all the bakers for participating.
We are all very excited and looking forward to the 14th!
How is your general knowledge?
Our Quiz Night is back again this year on 4th March! The adults-only event has always been a great night out and raised lots of money for the PTFA. This year all the money raised will go towards replacing the laptops the children use in ICT lessons.
Get thinking about who you'd like on your team of eight - we will let you know as soon as you can book your table!
Film Night
There are still a few places available for our exciting film night on 11th February! Click here for more information and to book.
Click here to find out what's happening next week and
here to get more information about what's going on in the local area