Opening Ceremony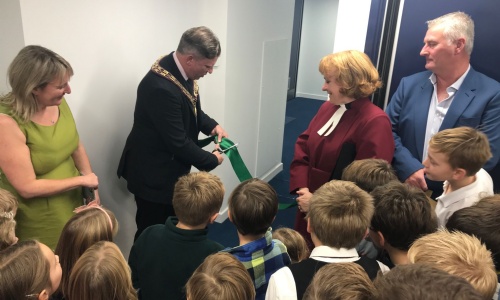 We had a wonderful time at our 'Big Build Opening Party' on Friday 20th October. It was a super event and we were so glad that so many families, neighbours and friends of the school could make it.
As you know we had invited a lot of special guests and have been delighted that so many lovely people took the time to reply to the well written letters of our pupils. Sadly we had quite a few apologies (Nick Sharratt, The Queen, Mary Berry, Greg Wallace, Phil Spencer, Prince George, Alan Titchmarsh, JK Rowling, Jonny Wilkinson, Alistair Stewart, the Bishop of Winchester, Supervet Noel, Alastair Cooke, Julia Donaldson, Mrs Staite and Yaya Toure.)
We have still been receiving letters and emails back so perhaps Taylor Swift, Blue Peter and Stormzy may still be planning their replies…we will wait and see! We are however expecting a few VIPs still as they were so impressed with their invitations that they wanted to make a new date to visit when they could not make the party event. Max Pryde, Chief Executive of the Scout Association on 1st December and also Scott from Aldershot Town Football Club and Duncan from Bright Bricks would love to come and meet us. Big Build champions Amanda Sinclair and Suzie Honey came for a special showround before the party and were WOWed by what has been achieved.
BUT! We were delighted to welcome several of our nominated VIPs and they all seemed very pleased to attend. These included…Rev Yann Dubreuil, The Very Rev Catherine Ogle, Alton Mayor Dean Paul Phillips, Councillor Glynis Watts, Councillor Ken Carter, MP Damian Hinds, Georgie Hermitage, ANoah in Year 1's monkey and Matej in Year 1 (who kindly volunteered to step in if required).
Thank you also to former pupils Rhona and Catherine, Georgina and Jess who came and served the drinks for us at the event. Thank you to Millie Powell and Sarah Stanley for organising all the bubbly and set up. It was much appreciated! Thank you to Mrs Siers, Mrs Vogel and to the super PTFA for running the other refreshments. Thank you to the PTFA for organising magician Jelly Kelly to entertain everyone.
Thank you to everyone who came along! It was a super evening and we are so proud of our lovely new classroom and toilets but were glad to hear that you agreed that the whole school is looking amazing!