This week at Bentley...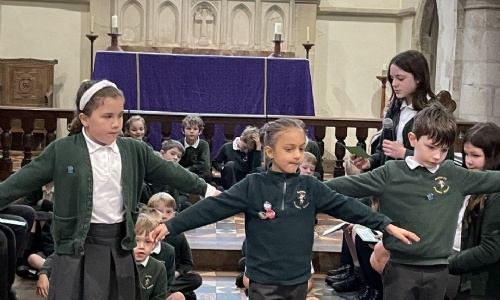 It has been lovely to come back into school after being off with Covid – it finally 'got' me! It has certainly made this term quite a challenge in staffing but I am so incredibly grateful for our amazing staff team and our regular supply staff too. Everyone has pulled together and we have somehow – miraculously – continued to be open every single day for school except for the terrible storm day just before the half term break. We have continued to offer the children a rich and engaging curriculum, hot school lunches every day, a great offer of clubs and wrap-a-round childcare was only affected once. I am not sure quite how we managed to pull this off but I do know I wish each one of the adults working in school a very restful and re-generating Easter Break!
I asked the teachers to tell me some end of term class news…
Mrs Miffling and Mr Goddard reckon they have the tallest Year 6 class ever - things look good for the basketball Hampshire final next term! The class have enjoyed cycling proficiency, undertaken the mock SATs tests and continued to uphold their leadership roles with gusto. Well done Year 6.
Mrs Ashby really enjoyed her first Calshot experience and was pleased with their geography work and teamwork – a brilliant learning experience! She says that the class have learnt a huge amount about Fairtrade in their recent topic, including links to The Gambia.
Mrs Rhodes, Mrs Rushin and Miss Hastie were really proud of the Year 3 and 4 classes for their enthusiasm in the amazing 'Ye-Hah!' production. They continue to grow in confidence, and have made great progress academically too.
Mrs Vogel was captivated by the imagination of Year as the children showed stamina for their writing as well as creative thoughts and ideas in their portal stories, and she was wowed by their first foray into fractions.
Mr Goddard and Mrs Matthews have enjoyed getting to know the Year 1 class this term. The children have particularly enjoyed their Weather topic (with a great variety of winter weather to study!) and have created super diaries to log their findings.
Mrs Blake and Miss Pidden say that Year R have thoroughly enjoyed their Space topic this half term. They have made amazing rockets with written instructions!
At church today, I have challenged all the children for some fun Easter 'homework';
Enjoy an Easter egg (or two)!
Get outside and spot changes in nature – from lambs to spring flowers
Read at least one new book
Practise a physical skill – skipping, goal scoring, hoop shooting, bike riding, running or swimming
Have a lovely time with family and friends
I hope you can enjoy all of these too, and we look forward to seeing everyone back for the summer term on Monday 25th April.
Mrs Katy Pinchess, Headteacher
Living with Covid
This term has been trickier in school with so many staff testing positive; thankfully, we have been able to remain open for all children. The Department for Education has updated its guidance to clarify what actions staff and pupils should take if feeling unwell or after testing positive for COVID-19. The latest advice is that:
adults with a positive COVID-19 test result should try to stay at home and avoid contact with other people for five days, which is when they are most infectious; for children and young people aged 18 and under, the advice is for three days, after which they may come back into school if they are well enough to do so.
children and young people who are unwell and have a high temperature should stay at home and avoid contact with other people. They can come back to school when they no longer have a high temperature, and they are well enough to attend.
adults with the symptoms of a respiratory infection, who have a high temperature or feel unwell, should try to stay at home and avoid contact with other people until they feel well enough to resume normal activities and they no longer have a high temperature.
These changes are part of the Government's Living with COVID plan, which aims to manage the virus like other respiratory infections.
All children aged 5-11 will now be eligible for their first jabs as the COVID-19 programme rolls the vaccine out across Hampshire and the Isle of Wight. The vaccine is a specially developed paediatric version for children. Parents are able to access the vaccine through vaccination centres, local pharmacies and GPs.
There has been an overwhelming response from parents who would like to vaccinate their children and teams across Hampshire and Isle of Wight are working hard to provide additional capacity.
Parents are able to find their nearest vaccination site via the NHS website, by calling 119 or by calling the Hampshire and Isle of Wight COVID-19 helpline on 0300 561 0018 which can help find and book slots or direct you to your nearest walk-in. New sites and vaccination slots are uploaded all the time so please check regularly.
Thank you to…
… the Bingham family for the lovely books
…everyone who has EASYFundraising logged for our school. We have raised another £80 this quarter which will go towards special Jubilee events planned for next half term. You can sign up by clicking here
…our Year 2 and 6 parents who donated £89.48 to the DEC Ukraine Appeal at church today. If you still wanted to donate you can do so by clicking here
Congratulations & thank you to…
…Lisa Bowler, who passed her MiDAS mini bus driving tests and joins our wonderful team of volunteers to drive the children on school visits. And to Richard Brace, James Aston, Barbs Sarling & Colin Sarling who passed their refresher training to renew their licenses and remain on our roster. We are incredibly grateful to them all for giving up their time to ensure school visits can continue without the additional expense of using coaches. If you would like to join the team of drivers, please click here for more information.
you're invited…
…to come and watch a musical assembly performance from the classes at 9.05am on the dates below. The children have been working hard on their voice, percussion, ukulele, glockenspiel and recorder skills this year and are keen to showcase their talents in a short, 20 minute assembly. We welcome parents and family to come along and enjoy the show, giving an audience to hear what has been learnt in music lessons over our '2022 Year of Music' so far!
Year R - Tuesday 24th May
Years 1 & 2 - Tuesday 10th May
Years 3 & 4 - Tuesday 17th May
Years 5 & 6 -Tuesday 3rd May
Family Breakfasts are back too!
We are delighted to invite all our parents into school next term to share breakfast. This is a lovely chance to meet other parents and carers and enjoy a relaxed family breakfast with our super Breakfast Club team. The dining hall will be open from 8am for parents to come and enjoy a continental breakfast with delicious toast, pastries, tea, coffee and juice. Tickets for the breakfast are £1.50 each - please click here to book. Places are limited to 20 so don't delay booking! Tickets are required for adults plus all children attending. Breakfast Club will run as usual from 7.45am and can be booked via Scopay.
Year R - Friday May 13th
Year 1 - Friday May 20th
Year 2 - Friday 6th May
Years 6 & 5 - Friday 27th May
Years 3 & 4 - Friday April 29th
School Lunches
The exciting new menu from HC3S, which starts on 25th April, can be downloaded from the foot of this page. Please do look through the menu with your child and encourage them to try something new this summer!
A reminder that the cost of school lunches will increase to £2.60 per meal. Infant children and those who qualify will continue to receive their school lunches for free. Please note all meals should be paid for in advance. The cost for meals for the first half of the summer term will be £62.40.
Seeds and cuttings wanted please…
If you are out in your garden or on your allotment over the Easter holidays and are able to take some cuttings, or have planted excess vegetables, our super gardening team would really appreciate some donations! Mrs Pinchess has bought some seeds, but we would always welcome more! We are keen to scatter wild flower seeds in the school grounds, along with planting vegetables in the courtyard. Thank you!
Attendance
Whilst the number of our children testing positive is very low compared to national data, Covid is still affecting our attendance rates; attendance for the school year currently stands at 96.45%. Our aim is always to improve and we hope that attendance will rise next term through our partnership work with you at home. Our governor target is 98% and there were 108 children whose attendance was over 98% this term and badges were given to them all this morning.
These children had tremendous 100% attendance and fewer than five late marks this term:
Year R - Amelie, Hannah, Rafe, and Theo
Year 1 – Ellen, Finley, and Megan
Year 2 - Emilia, Henry, Lauren K, Lauren R, Max, Rafe, and William.
Year 3 - Agnes, Alex, Ben, Eleanor, Finley, Henry, Lexi, and Willow.
Year 4 - Abigail, Annabelle, Florence, Merryn, Percival, Rose, Sam, and Sophia
Year 5 - Ella, Evie-May, Francis, George, Izzy, Nicholas, Oscar, and Phoebe
Year 6 – Annie, Chase, George, and Tristan
There were 242 times when children were brought into school late this term. Please may we remind parents the school doors open at 8.45am and all children should be in school by 8.55am at the latest. We know sometimes life throws a curve ball – roads are closed, alarms don't go off, cars won't start – and these often can't be helped but, for a child, starting the school day in class, with their peers, is so important and we appreciate your efforts to get them into school on time, every day. Thank you!
Photos
Our super photographers, Elliott and Helen Forrester from Miniclicks Photography regularly come into school to take pictures of the children; their latest visit was for the Year 3 & 4 play when they took some fantastic cast shots and individual pictures of the children in their costumes. They also braved the chill for the Elf Run back in December and took some great shots of the children running around the recreation ground. These are all available to buy online – the websites and passwords will be emailed out over the holidays. The Forresters donate a generous commission on all the pictures to the school funds to benefit all our children.
Click here to find out what's happening next week and
here to get more information about what's going on in the local area