This week at Bentley...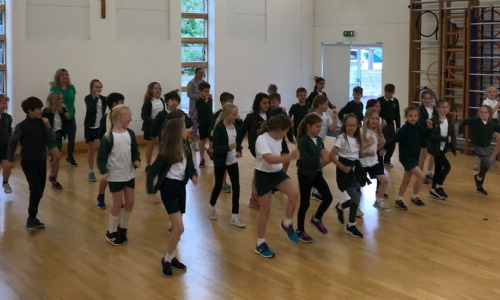 We have had a lovely start to our Jubilee festivities with an active day of dancing! A professional dancer came to teach us dance steps from different eras, funded by school PE premium money; Year R had 1950s dances, Year 1 1960s, Year 2 had 1970s, Year 3 had 1980s, Year 4 had 1990s, Year 5 had 2000s and Year 6 had 2010s. It was somewhat galling to know your 'heyday' of youthful dancing is now seen as a historic era by the primary children, but we all had a great time (and learnt some cool moves)!
In learning in the classrooms…
Year R are excited about performing next Tuesday and have been using percussion instruments to find the pulse.
Year 1 have been enjoying amazing maths. There were some real 'lightbulb moments' as they spotted connections between halving and the two times table facts they have learnt.
Year 2 thought really hard about their 'free cycle' shopping lists ready to make their Moon buggies (please help them locate the objects they need at home).
Year 3 researched then designed Roman style tools. They have started making them now using scale, precision and some creativity!
Year 4 had a brilliant morning of Computing learning to use FMSLogo.
Year 5 have made their own air powered mechanisms in Science!
Year 6 enjoyed their hands-on school visit to Southampton Art gallery, as part of their Pop Art module.
Please do read about the hard work and team effort behind the school achieving the Plastic Free School award below…thank you to everyone for helping. The children are so passionate about this topic and have totally inspired this whole project. We are really proud to have been awarded this.
We had a big clear out of the Lost Property and reunited several people with missing items. Unfortunately we were left with many unlabelled jumpers/cardigans. Please check jumpers and cardigans at home, as a couple of parents have mysteriously lost named ones. Send them back in and LABEL everything to help your child keep hold of their belongings.
The weather has continued to surprise us this week, from beautiful sunshine to thunder and lightning! Keep assessing for suntan lotion/hats and always sending in a raincoat, just in case, as it is looking mixed again for next week. Keeping my fingers crossed for a sunnier weekend for us all…
Mrs Katy Pinchess, Headteacher
Thank you …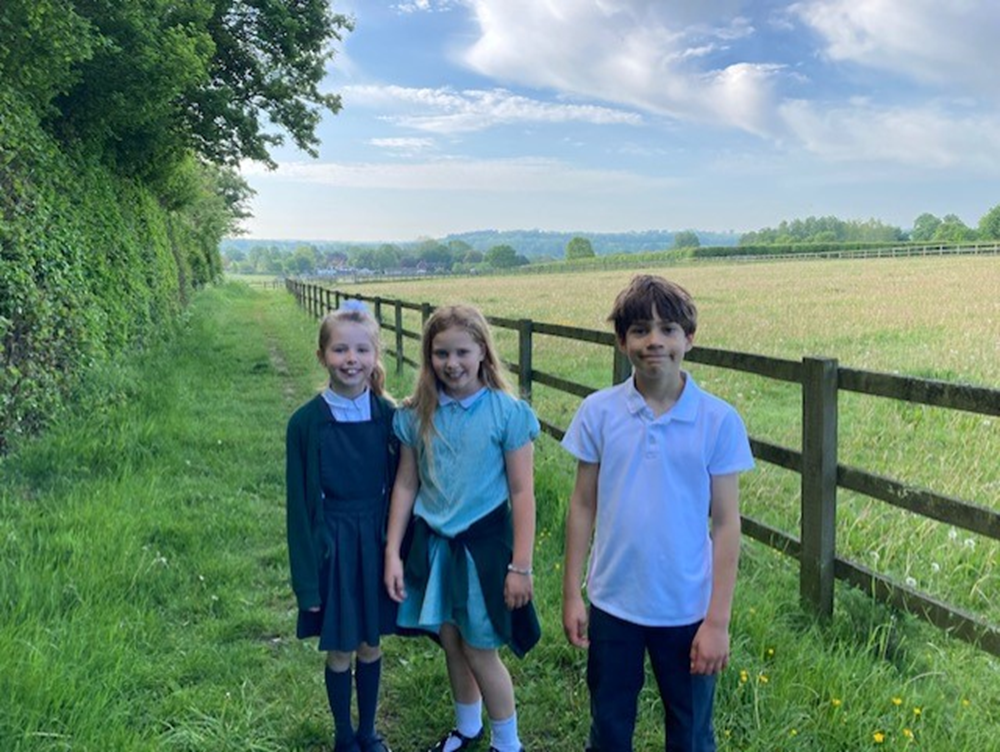 …to the Elliott family for the super books and games
...to Mr Sarling and Mr Ibbotson who drove the school minibuses for Year 6 this week, enabling them to enjoy a visit to Southampton Art Gallery.
...to everyone who took part in Walk-to-School week. The teachers were delighted to hand out certificates to participants today. We were very impressed with some of our intrepid Year 4s who made the most of the beautiful morning and walked to school from Froyle.
Do you have…
… a portable clothes rail you would be willing to donate to the PTFA for the second hand uniform? Please let the office know if you can help. Thank you
SCHOOL LUNCHES
A reminder that we are a Healthy School; please do not put chocolates and sweets into school lunchboxes.
Prayer Week
All of the children will be walking up to St Mary's Church next week to take part in Prayer Week. If you would like to walk up with your child and join them for what promises to be a lovely visit, please let the school office know as soon as possible. Days and times are listed below.
Year R – Tuesday 10.30am – 11.30am
Year 1 – Monday 1.10pm – 2pm
Year 2 – Tuesday 1.10pm – 2pm
Year 3 – Monday 9.00am – 10am
Year 4 – Monday 10.50am – midday
Year 5 – Monday 9.50am – 11am
Year 6 – Tuesday 9.50am – 11am
Wrapround Childcare and School Transport Survey
Do you currently use the school's Breakfast Club or After School Club? Are you considering using either of these in the future? Would you be interested in transport for your child to and/or from school?
If you have answered yes to any of these questions, we invite you to complete the survey at this link. This will help to inform our decisions about the school's wraparound childcare and School Transport going forwards.
We have been looking at the feasibility of running a mini-bus pick up/drop off service and are looking into whether this is financially possible to run. Even if you have not used clubs or childcare to date you may be interested in paying for a school pick up and your views on this would be very helpful. The survey is open until Sunday 29th May at 9pm.
GUINEA PIG UPDATE
We are pleased to announce the names of our new guinea pigs which the whole school voted for! There were so many great name choices ('Guinea Gaga', Waffle and Sunshine were three of Mrs Pinchess' favourites) but the winning names chosen are…
Fuzzball & Pickles
SCHOOL PLACES
At this point in the school year we are often contacted by parents and carers planning school moves for September. You will also be aware some year groups are full with waiting lists, so we carefully review these and try to keep those waiting updated. As you can imagine this can be an anxious time if you are seeking a placement. If you do know your child is leaving Bentley (and they are not in Year 6!) please can you put this in writing as soon as possible so we can plan ahead for next year. We do require contact details for their new school in order to fulfil our duties in transferring data.
If you think you may have a school move on the cards next year and are able to let us know, we would really appreciate this in order to help other families. If you would like to make an appointment to see Mrs Pinchess about this please get in touch via the office to make an appointment.
PE News
Mr Goddard took our super Year 5 and 6 basketball players to the Hampshire Games Basketball Final on Wednesday. They exhibited some fantastic teamwork and, although they didn't make it through to the final, they showed great Bentley spirit, thoroughly enjoyed playing at the Solent University and Mr G was very proud of them. Thank you to Mrs Ormond (Coach) and Mrs Boston (navigator) for accompanying the children on the trip.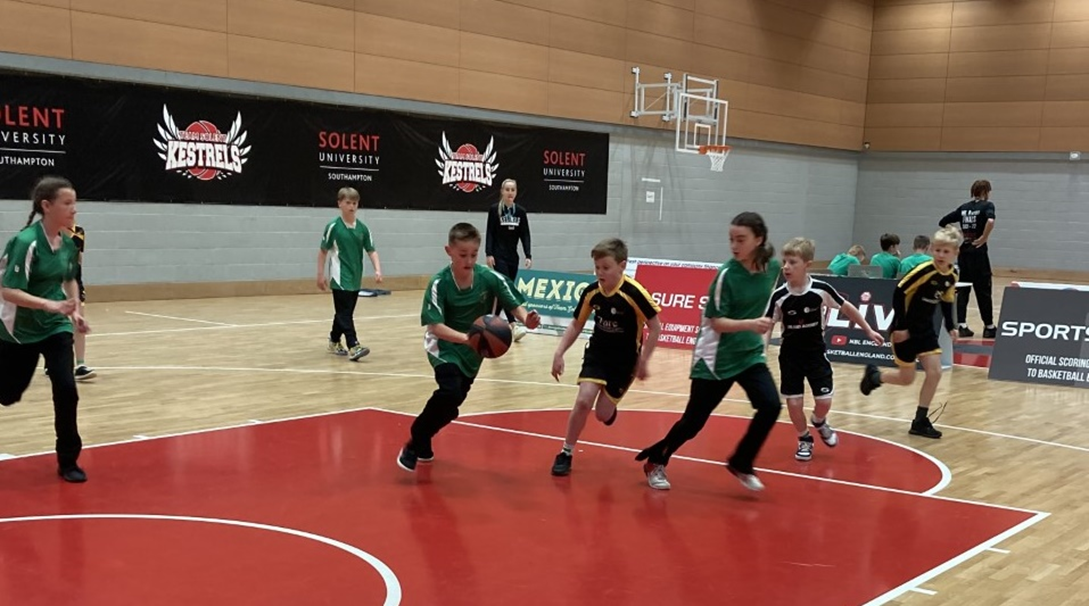 We did it! We are officially a Plastic Free School!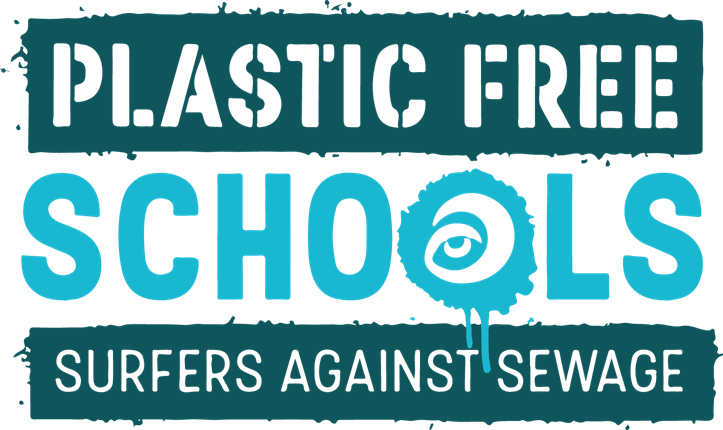 Last January the Eco-Council set out on its journey to become a Plastic Free School. Following the Surfers Against Sewage programme, with support from Madame Jones, the team of 13 children from Year 1 to Year 6, started working through the five objectives to reduce the amount of single-use plastic produced in school Activities included a litter pick called a 'Trash Mob' as well as writing and interviewing our MP, Damian Hinds, last November. Along the way, the Eco-Council have involved their classmates with an assembly, surveys and regular class updates. Last Autumn, the Eco-Council even produced a video for the East Hampshire COP26 event to inspire other schools to participate in the scheme.
For the final objective to become a Plastic Free School, we had to reduce 3 items of single-use plastic in our school. The children chose: cling film in lunch boxes which we successfully reduced by 70%; polystyrene pots for ice-creams in school lunches which were replaced by a large tub of ice-cream and a scoop and finally sweets in plastic wrappers at PTFA events which are being replaced by new plastic-free pick and mix sweets at the forthcoming Bfest!
Achieving Plastic Free School status is just the start for us as a school. Eco-Council will continue working alongside Surfers Against Sewage to reduce our reliance on single-use plastic in the school. However, right now huge congratulations must go to all the Eco-Council representatives who have participated in this award and especially Nic, Luke and Eva in Year 6! You should all be rightly proud of yourselves – Power to the Pupils!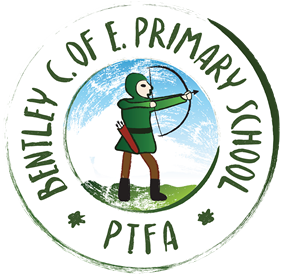 Bfest – Saturday 18th June
We are very excited to be able to hold our bi-annual music festival again this year having missed it due to COVID. The PTFA class reps are planning a fantastic event this year, and we hope all our families will be able to join us for an afternoon of music, fun and fundraising. Mrs Vogel will be holding auditions for any children who would like to perform after half-term. We would also love to hear from any teens or adults who might like to perform on our Pyramid stage - contact us at bentleyschoolptfa@gmail.com. For all our performers – anything musical goes, so you can be a solo performer, play an instrument or perform as a group. Alongside the musical performances from all the classes, there will be stalls, food, bouncy castles and lots more! More information will follow after half-term, including details of how children can sign up for an audition.
Click here to find out what's happening next week and
here to get more information about what's going on in the local area