This week at Bentley...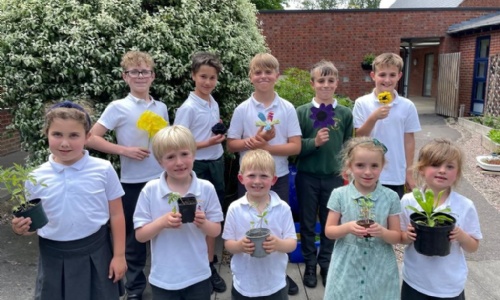 We are all in a great state of excitement for Bfest and preparations are going very well. Thank you to every parent/carer/grandparent who has signed up for a slot to help this event. WE NEED YOUR HELP to make this a successful day for all our children - so please get involved. There is really something for everyone before/during/after and no special skills are required – just like we say to the children, 'give it a go' and I promise you won't regret it.
Mrs Proud has done a huge amount of work to make this such a special day for our school community and I would like to say a personal thank you to Anthony, Fynn and Ted who have barely seen her over the last month as she has been doing PTFA business, whenever she has not been working full time! Please respect her time and do not ask her to sign you up for a slot and direct questions to your class reps, or another school parent. We have tried hard to make this as easy as possible for you and as our PTFA Chair, Mrs Proud will be very hectic this week and on the day…please help her out everyone and PLEASE find time to sleep in between all your hard work Mrs Proud, so you can enjoy Bfest as much as the rest of us!
Monday 13th is the last day to bring in a filled 'Jazzy Jar' and a big thank you to all the amazing ones we have had in already. Next Friday 17th June is a non-uniform day. In exchange, we would like donations for raffle prizes (for grown-ups only please on this occasion so no toys or children's books). These do not have to be massive, and please give whatever you can and something someone might like to win; a bottle, pamper items, gardening gifts or gourmet goodies. Every little donation adds up to make for an amazing prize in the raffle. If you do have access to a prize through work (such as a voucher or experience type prize) these would also be much appreciated. We are missing our lovely Jo Dobson, who loved a raffle collection, and no one volunteered to speak to local businesses this year – if you have an hour to spare or are out and about this weekend please think of Jo and do a tout for a prize or two!
Thank you for your continued support. I am continually delighted and inspired by your great ideas, generosity in time and donations of all types. You are such a terrific group and I know all the hard work and volunteering will make for an amazing day for us all. The children are SO excited!
Have a great weekend and let's hope the weather is perfect for both Wednesday AND Saturday next week! I am off to Scout camp with my whole family so suspect I will look forward to coming back to school on Monday for a rest.
Mrs Pinchess, Headteacher
Thank you to…
… the Phillips family for the clothes rail
… the Cavanough family for the lovely new books for the library
Sports Day – wednesday 15th June
We were all so disappointed not to be able to hold Sports Day on Wednesday – the ground was simply too wet and too dangerous for the children to be running on. On the bright side we have all had a test run on finding house colour t-shirts and everyone looked terrific. Thank you for remembering water bottles. Very few children had a hat last week and we request that everyone brings one next Wednesday and suntan lotion is applied. Even if it is overcast, the sun can burn through when we are out from 9.30am until the afternoon.
Weather permitting all the plans for last week will be in place. Here's what you need to know…
PE kits will be sent home on Tuesday evening
Children need to come into school in their PE kit, with their house colour t-shirt
No book bags in school
Water bottles are essential
Sun hats are essential
Sun cream should be applied prior to school for all children as they will be outside all morning
Children may order a cheese or ham packed lunch from school
Parents are invited to watch at any time from 9am
Field events will take place in a carousel from 9am
Children will come back into school for a break at 10.30am
Running races will start at 11am
The winning house will be announced after the races and the whole school Runtastic at approximately 12.30
Children not staying at school for the afternoon need to be signed out with the class teacher to join their family for a picnic lunch
Children may go home after they have been signed out by their class teacher, if you wish
Please let us know if your child is staying at school for the afternoon session, please click here ​
Afterschool Club will not be running
CMSports will be running after school
staff news
We have had quite a few new faces in school recently with short student placements from the local secondaries and Alton College. We have welcomed George Matthews his week who will be volunteering with us in the Juniors. We are pleased to welcome Mrs Scott-Bromley back to school this week (she got LOTS of hugs!) and have some more lovely news to share in that both Mrs Blake and Mrs Vogel are both expecting babies this autumn!
As is usual for this time of year, the Personnel Committee have been busy working on recruitment and staffing plans for next school year. This is still a work in progress and we have interviews approaching soon. If you know anyone who is interested in a support role in school, please spread the word (LSA, SNA, wrap-a-round childcare and Site Assistant/mini bus driving). We will share our staffing plans on Move Up Day.
Class photographs
Elliott and Helen Forrester, the fabulous photographers from Miniclicks Photography were in school on Tuesday morning to take the class photos. You can view them at this link using the passwords which were emailed to you earlier today. You will be able to order photos until Monday 4th July.
Parent Partnership
Thank you to everyone who has joined us for the Music Assemblies and for the class breakfasts this term. It has been super to have parents and carers back in the school building again after the last two years of Covid disruption. We have Sports day, Bfest and the Open afternoon all coming up – check the What's Happening Page for dates for your diaries - and look forward to seeing you there!
We wanted to create a more classroom based opportunity for parents and carers to come into school and get involved with pupil learning. As a parent it is a great opportunity to find out a little more about what your child is interested in and the expectations in class. Each teacher has thought of some topic work where extra adult support would be really helpful and we invite you to sign up for a slot. If you can't make it on this occasion but a grandparent or family friend can come instead, they are most welcome. We'd appreciate all hands-on deck and know the children would love to show off their learning. As we haven't got enough space for every child to have an adult in the classroom in one session, we have created slots for ongoing activities so please click below to sign up for a day/time to come in:
Year 3 – Year 4 – Year 5 – Year 6
Bfest
We are fully in the swing of our 'Year of Music' and the excitement has been building for Bfest next weekend! The children have been auditioning this week and we have been blown away by their performances! Sadly not all the children will be able to perform on the stage, but we are really proud of all of them for auditioning – there was courage galore during the auditions this week.
In addition to the individual and group performances, the iRock bands, pianists, flautists and guitar players will be showcasing their talents. Each class will also be performing over the course of the afternoon and our talented resident piano teacher, Mark, will be closing the show. The timetable for the event will be emailed out on Monday evening next week to help you plan your visit to our super music festival.
We have only had one 'grown up' act get in touch about performing next week so far - if there are any trumpet players, drummers, guitar maestros or Karaoke superstars please get in touch by MONDAY 13th June to sign yourselves up. After this, it will be too late to fit you in.
Don't forget this is a community event and we still need your help – we just need each family to do a 30-minute slot to help. There's a signup board in the playground at pick up and drop off each day – and it still has lots of slots to fill!
Summer Raffle
Raffle tickets will come home in book bags today – we will be raffling some super hampers and lots of other prizes! Tickets are £1 each and there are five tickets in each book. Please complete the ticket stubs and return them with the cash to the school office by Thursday morning next week. There is no pressure to buy – please just return any unwanted tickets as soon as possible. If you would like more, please drop us an email and we will send them home with your child. The draw will take place at Bfest next Saturday.
Ukrainian Feedback
Mrs Pinchess had the pleasure of having a catch up with our three new Ukrainian pupils this week. they told her they have felt very welcomed at Bentley and are enjoying making new friends. They say thank you to everyone for making them feel welcome. As a school, we would like to thank you all for welcoming the children and their families at such a difficult time for them. We hope you will be able to meet them in person at one of the many school events coming up – we all recommend having Google translate on your phone and one hand to help the conversation!
Click here to find out what's happening next week and
here to get more information about what's going on in the local area