This Week At Bentley...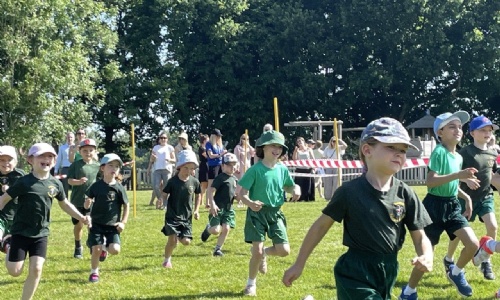 What a wonderful week we have had! The weather was perfect for Sports Day and our super athletes all wowed us with their speed, tenacity, athletics and good sportsmanship. A big well done to Nightingale House who were crowned the 2022 champions. Thank you to our amazing staff team for all their hard work, to CMSports and to all of you for coming along and cheering us all on.
There have been some great school visits, some super sporting matches and the Year R team loved meeting the parents of our 2022 new starters at their welcome event last night. Phew! What a busy week.
A big thank you for the lovely donations and generous raffle prizes. The PTFA have been working so hard behind the scenes to get everything ready for us to have an absolutely wonderful BFest music festival tomorrow. The children can't wait! We do still required some help for a small number of stalls so please volunteer to fill them so we don't have to cancel any of the stands.
There is a list below to let you know what to do/bring tomorrow. I very much look forward to seeing you there!
Mrs Pinchess, Headteacher
Thank you to…
… the Forbes family for books
…to everyone for donating for the raffle, to help us fund lanyards for the performers and for all your voluntary help
…to all the kind adults who ferried cricket players to and from their matches this week
…to Molly and Sarah who spent hours sorting the second hand uniform
…to every parent/carer who has ensured their child's hat is on, sun lotion applied and water bottles full every day to keep everyone sun safe. Keep it up please!
Important Information for BFest
Please bring:
Cash – this is a card free event so you will need CASH. Small change will be required for child stalls – 10ps, 20ps, 50ps and £1s please! We have no access to small change so please prepare. We have told children to bring money in a labelled purse/wallet/zip lock bag.
A picnic blanket or camping chairs to sit on – be mindful of where seats are placed, so everyone can see the show!
Your funky festival clothes (as bright in colour as possible!), your shades/hats and your good humour ready to have fun!
A big bag to take home all your winnings and child prizes from stalls (bags will be on sale for 20p each but we'd much prefer you to spend this money on something fun!)
Any remaining raffle tickets – the prizes are great so please do return any spares for people to buy on the day.
Remember there is a £2 entry fee for everyone who attends – including performers and volunteers.
All performers (i.e. all Bentley pupils!) need to collect their special lanyards as they check in on arrival. This will have their performance times for infants and performance and job slot for junior pupils. The Year 3 and 4 each have a short slot in the therapy tent and the Year 5 and 6 each have a slot for running their stalls.
All performers need to report to Mrs Vogel in the Green Room (the small tent beside the stage tent on the front playground) ready for their slot. It is a tight schedule so please help your child be there or time otherwise they may not be able to perform. Every child is performing at some point.
All children (and adults!) should bring a filled water bottle. There will be class trays for the children to store theirs in so they don't mislay them.
On arrival please go and have a look around to see what is going on and plan your afternoon! We hope you will want to sign up for a lovely therapy (grown-up therapists cost £5 for 15 minutes and mini therapists cost 50p for 5 minutes!). Spaces are limited so don't miss out.
There are ice creams & ice lollies, BBQ food, candy floss, scones and cream teas, fizz, a bar, child refreshments and slushies…YUM!
Our Eco council are keen to help us all make this an event with minimal waste for the planet. Grown-ups please feel free to bring your own named pint glass/wine glass with you so you can reduce unnecessary waste. We will have Eco bins (e.g. food waste, glass etc) so check the label before you throw anything away! The face glitter is Eco and we have switched from sweets in plastic bags to using paper bags. Thanks for inspiring us Mrs Proud, Madame Jones and the Eco council.
Click here to find out what's happening next week and
here to get more information about what's going on in the local area