This week at Bentley...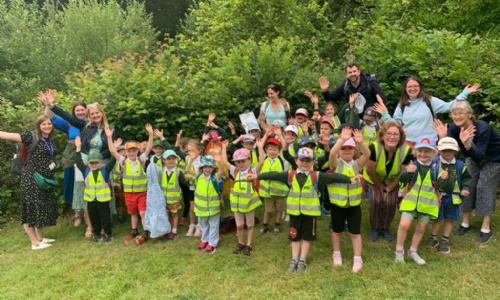 It was an emotional moment as all the children cycled the 'Bombay to Bentley' cyclists back through the school gates last Saturday! A big well done to everyone involved. We can report they have raised over six thousand pounds which is absolutely astonishing! To everyone involved thank you so much for collecting sponsorship, raising awareness of the PTFA and for all your hard work. I am absolutely delighted to say this total means we have placed the order for the new laptops and they will be with us ready to use at the start of term. All of our pupils will benefit so much from this generous donation from the PTFA, not only in their computing skills but also across many other areas of learning too.
Back in school it has been another super week of learning. I love this time of year where so much comes together and trust is so high between the class and staff. It is very special.
Next week there is a lot going on, and we can't wait for our AMAZING curriculum days with history, French and science all being chosen to star this year. Please see below if you need a reminder about the plans.
It definitely feels as though summer has arrived and is set to stay next week - please remember to apply suncream before school and all children need a sunhat and a water bottle.
Have a lovely weekend
Mrs Pinchess, Headteacher
STAFF & 2022-23 NEWS
Apologies we missed some information out from move up day. Here is the full plan!
Senior Leadership Team - Mrs Katy Pinchess – Headteacher, Mrs Rebecca Miffling – Deputy Headteacher & Junior Leader, Mrs Charlie Vogel – Infant Leader, and Mrs Liz Rhodes – Send Leader
Year R - Class Teacher - Miss Sarah Pidden, LSA - Mrs Laura Evamy
Year 1 - Class Teachers - Mrs Seonaid Scott-Bromley (M,T,Th,F) & Mr Paul Goddard (W), LSA – Mrs Sonia Siers, SNA – to be confirmed
Year 2 - Class Teacher - Miss Shannon Durrant, LSAs - Mr Toby Fay, Mrs Sue Pond & Mrs Fiona Tessendorf
Year 3 - Class Teacher - Miss Zoe Hastie, LSA – Miss Ellen Oakley
Year 4 - Class Teachers - Mrs Jenny Matthews (M,T,W,F) & Mr Paul Goddard (Th), LSA – Mrs Ingrid Phillips
Year 5 - Class Teacher - Mrs Judith Ashby, LSA – Mrs Sarina Pryce
Year 6 - Class Teachers – Mrs Rebecca Miffling (M,T,W) & Mrs Liz Rhodes (Th,F), LSA - Mrs Fran Patey
Mrs Vogel and Mrs Blake will still be in school in September; Mrs Vogel as Infant leader and team mentoring, and Mrs Blake as a support role in Year R and with Science work.
Forest Schools – Mrs Emma Jones (Monday afternoons – Years 1-6 in rotation)
Library sessions – Mrs Fiona Tessendorf (Tuesdays – all children)
French – Madame Emma Jones (Wednesdays – all children)
PE coaches – CMSports coaches (Friday mornings – classes in rotation)
PPA (Teacher planning, preparation and assessment time) – Years R-5 Mrs Wendy Perrior (Mrs P)
Office Team - Mrs Tracy Tewkesbury - Finance Officer, Mrs Natalie Drew - Admin Officer, Mrs Fiona Tessendorf - Admin Assistant
Wrap-a-round childcare – Afterschool Club - Mrs Wendy Perrior - ASC Leader, Mr Toby Fay, Miss Ellen Oakley
Wrap-a-round childcare – Breakfast Club - Mrs Ingrid Phillips, Mrs Tegan Hansen, we are still seeking a third member of staff to be appointed
Caretaking Team - Mr Craig Lucas, Caretaker & ELLACK Cleaners
As you can see we have a couple of well-known names missing from the staff list. Firstly, Mrs Potter is taking a short sabbatical but will be joining the teaching team back again as a Special Needs Assistant.
Secondly, Mrs Rushin is not on the list because she is very sadly leaving Bentley. Jo has been with us since 2014 and losing her is going to leave a big hole. Jo is an exceptional teacher who is passionate about helping every child to achieve. She has led both PE and maths in her time here at Bentley and the impact of her mentoring and leadership is evident in our very good results in maths this year across the whole school. She is dedicated, hardworking and a lot of fun. Mrs Rushin, we will miss you and hope you will keep in touch as a very special member of our Bentley team. We know you have lots of exciting plans from new adventures in education, to important time with your family and lots of sailing in between!
You can also see we have reviewed our curriculum offer for next year. Firstly, all specialists will now be spread a little more evenly across the week, so there is something going on most days, but children have less of a mix of teachers on any one day. We think this is important for our younger pupils and those who struggle with some low level anxiety about change, of which we have rising numbers since the lockdowns.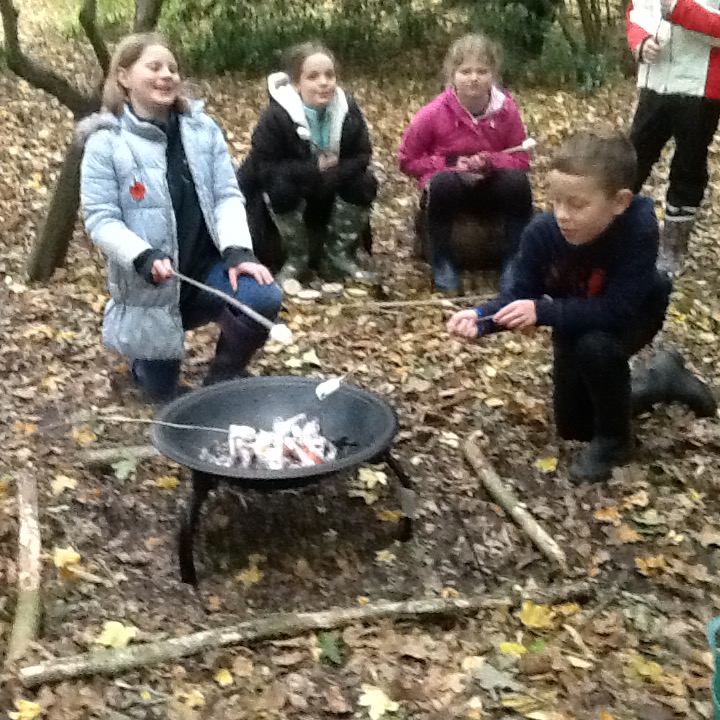 Secondly, we have reduced our external sports offer so not all classes will have CMSports provision every week, but all classes will have external and teacher led PE lessons across the year. Three classes each half-term will have CMSports.
Thirdly, we are delighted to introduce Forest schools time for all classes from Year 1-6, continuing what Year R provide already. This was piloted successfully for Year 5 this year, and we are very excited to be able to offer this outdoor education her at Bentley next year. We think it will support work in language and communication, well-being and science just to name a few benefits!
Dates for next term
We are in the process of confirming our INSET dates for the next school year and will let you know the dates next Friday, via the newsletter. We can confirm, however, the first day back in school for children in Years 1-6 will be Thursday 1st September.
BOMBAY TO BENTLEY BIKE RIDE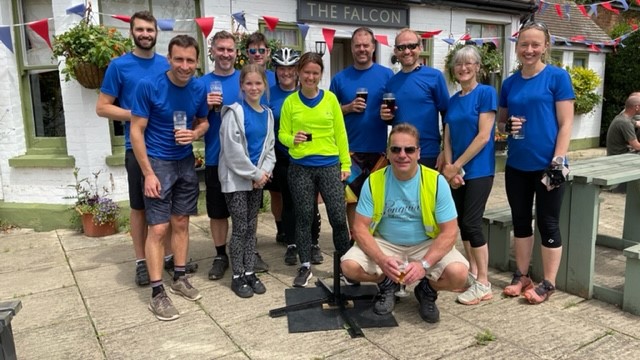 A huge thank you to…
…Ben Bingham for his amazing job taking on the leadership of this event
… the fantastic riders - Isla Anderson, Chelsee Anderson, Rob Anderson , Paul Arthur, James Aston, Ben Bingham, Amy Bingham, Jonny Boston, Cameron Boston, Jon Bowler, Andy Bowler, Gavin Brigstocke, Luke Brown, Shaun Forbes , Mike Hammerton, Adam Hannath, Iona Hunt, James Ince, Trent Kneller, Andy Nichols, Jo Phillips and our very own Sonia Siers
… Les Hunt for help with the bike rack
…Laura Wellstead and Cress Mizen for dropping the cyclists to 'Bombay'!
…Ian Cass and Robin Bingeman for their excellent cyclist support along the route.
…the staff and Mr Hawkes, Debbie, Adrian, Lisa, Sarah, Tony and Saskia who all volunteered to run the bar and BBQ to make it a fun event for all the well-wishers and returning cyclists.
…Andy Phillips for cycling up with the children and their parents to meet the grown-up cyclists for the final part of the ride.
…and a special thank you to Craig Lucas and Kathleen Proud for all their hard work.
Special Curriculum Days Next Week
Tuesday 12th July - History Day
Children are invited to come to school dressed as an historical character or from an era. If they prefer, they could do a timeline on an old t-shirt or join in as they wish. There is no obligation to dress up but as with World Book Day, the children seem pretty keen to do so! Children may reuse a previous dressing up outfit related to history or plan to be a famous person they admire. It is down to them (and you!) about how adventurous this outfit is.
The day is designed to celebrate history, and we have had this as a theme for our Monday morning assemblies; from the Egyptian era to Howard Carter's team uncovering the tomb! From Elizabeth I to Elizabeth II and much more. We have really enjoyed this theme and the pupils have certainly developed in their understanding of time as a concept.
We will start the day with a special assembly and then in class the children will be put themselves into chronological order, so ideally, they will need to be able to tell us who they are, the date/era they are representing and an interesting related fact.
Wednesday 13th July
French Day has been a long-standing tradition at Bentley, with children and adults all dressed in red, white and blue (we recommend you reuse the one from the Jubilee celebrations!).
Madame Jones will lead assembly on Wednesday, we have special French activities in class with teachers and all the children will participate in a game of pétanque. Our Year 6 pupils will be in charge of a breaktime 'cafe' where the children will each be given a croissant at breaktime, if they would like one (with suitable alternatives for those with special dietary needs). This is being funded via PTFA donations so no need for any money to be paid.
Thursday 14th July - Science Day
Science Day has been planned to complement our current science curriculum. Uniform is back to normal for today!
We will be starting the day with a very special Science Show by the company FizzPop with KS1 learning all about Friction and KS2 enjoying the wonders of chemical reactions. Throughout the day, the children will be taking part in different experiments and challenges, both with their own class and another class in their key stage. Each class will also have a focus on a famous scientist to learn about their discoveries. Again, this super day has been funded by school with a very generous donation from Science Club to inspire all of our future STEM lovers.
African Market Place
On Thursday at 3pm, you are invited to come to Year R and Year 3's African Market Place which will be on the front playground. The children will be selling the goods that they have made in partnership with their family members this term: Year R have made African animals masks and Year 3 have made a selection of jewellery. All of the profits will go to the Sitahuma School, our friends in The Gambia.
Gymnastics Club Awards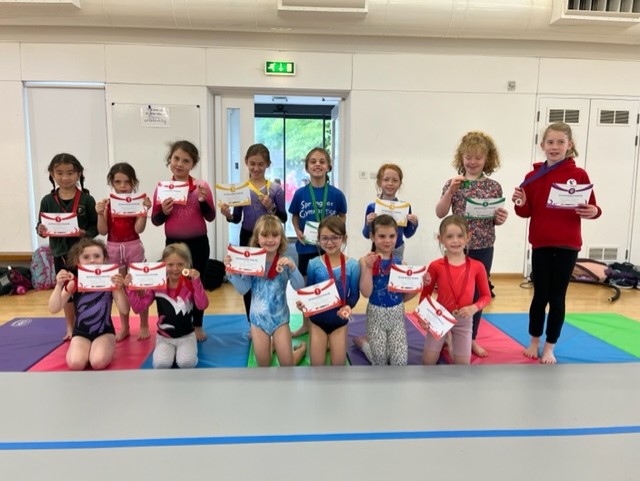 We have been really pleased to have Springbox Gymnastics running their club again this year. Mrs Ince says "I just wanted to say what a pleasure it has been teaching the Bentley children gymnastics this term. They all achieved a medal and certificate for their efforts this term and I thought you may like to see a photo of them all with their awards.
Many of them will be performing in a display at the Bentley fete on the 16th July (at 3.30pm) so I'm really looking forward to them being able to show off their polished skills that they've learned at class in front of the community".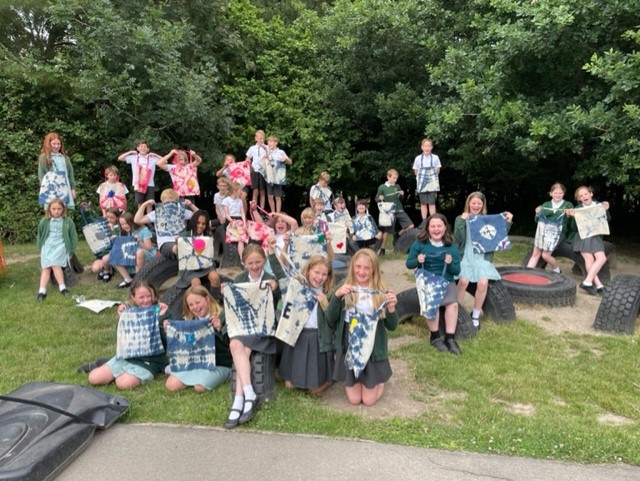 Click here to find out what's happening next week and
here to get more information about what's going on in the local area