This week at Bentley...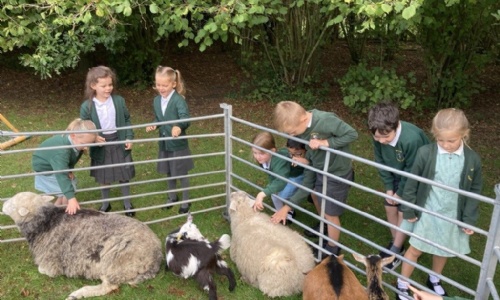 I know it has been an unusual and unsettling time for many of the staff and parents in school in this period of public mourning for Queen Elizabeth. Many people have spoken of feeling surprised about the strength of their feelings, as we come to terms with her death. As you are aware, school will be closed on the Bank holiday on Monday 19th September and on Tuesday two Year 6 pupils will sign the Book of Condolence in Alton on behalf of the school. I hope you can spend the day with family or friends.
In learning this week;
Year R have been settling in well. They have learnt their first 5 sounds!
Year 1 have been investigating the 'greater than', 'less than' and 'equal to' symbols to compare numbers in maths.
Year 2 & 3 really enjoyed their animal topic visit from Miller's Ark, which was delayed by the heatwave last term. The pigs, goats, donkeys and sheep were much admired by everyone.
Year 4 had a super apple picking day. The rain has helped make the apples even more juicy!
Year 5 have been avidly watching their class caterpillars as they study Life Cycles in action
Year 6 have really enjoyed getting stuck into forest explorers over the past two weeks. They particularly enjoyed creating forest creatures from clay.
Everyone has been enjoying their new school clubs this week!
I look forward to seeing lots of you online next Tuesday evening for the PTFA AGM at 8-9am. The link will be sent to all parents on Tuesday morning or please contact the school office if you'd like to join us.
Mrs Pinchess, Headteacher
Gardening Club…
… have requested donations of large/wide (sauce/jam) jars. Please drop them into the box outside/at the school office.
'Meet the Headteacher'
You are warmly invited to hear from Mrs Pinchess about current school priorities and how you can support your child at Bentley this year, from 8-9pm on Wednesday 5th October. The event will be in person with refreshments but will also be available to log onto live via Zoom.
Toileting
We had a couple of questions about toileting at 'Meet the Teacher' so thought it would be useful to share our expectations – you can download the document from the foot of this page. You can also find our Intimate Care policy on the website for any child with specific issues. Please always speak to the class teacher if you have any questions or concerns.
Community Page
Please visit the community board to see the latest posts, including a childcare offer for Bentley INSET days and an Eco Clothes event coming up on Friday 23rd in Alton.
Click here to find out what's happening next week and
here to get more information about what's going on in the local area