This week at Bentley...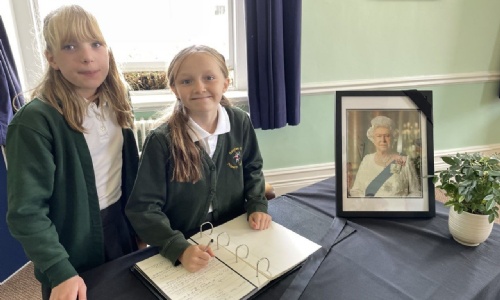 Thank you to everyone who attended the PTFA AGM this week. The powerpoint presentation is on the PTFA portal if you were unable to attend and minutes will be posted there soon. Email your class rep if you are unsure what this is or how to sign up. Tickets for PTFA events for your child will be sold through this site this year, so it is important to register in advance so you don't miss out.
A reminder it is our INSET day next Monday 26th September, so school is closed. We have a big School Development Plan push on raising reading outcomes for all pupils this year and the team will be working hard to plan exciting ways to stretch the vocabularies of our children.
In the classrooms this week…
Year R have been learning their harvest celebration song – Cauliflowers Fluffy – and singing maths songs
Year 1 have enjoyed rapping and singing their class song – Hey You!
Year 2 finished their Billy Goats Gruff stories, and tasted six different breads
Year 3 wrote amazing recipes for the best pumpkin soup
Year 4 learnt how to create an amazing marbling technique in art
Year 5 explored around the school grounds observing stages in life cycles
Year 6 have been investigating six-digit grid references using OS Maps in their rivers work.
Enjoy a super weekend.
Mrs Pinchess, Headteacher
School Lunches
We are delighted with the uptake of school lunches at Bentley, and it is great to see our new Reception children enjoying their yummy lunches. We believe it is crucial for learning for children to get a substantial and nutritious meal at lunchtime. Hampshire schools' catering is still cooking 75% of the school meals from fresh, and we highly recommend the service. Mrs Patey leads our amazing lunchtime supervisors, and we work closely with our super kitchen team of Wendy, Becky and Debbie, who always endeavour to ensure pupil tummies are full and happy every day.
If you believe your family might now be eligible for Free School Meals, you can check your eligibility at this link. If your child qualifies, additional funding comes into school. It is important to register for this to help your child and our school. If you need any help with this, please chat to Mrs Drew in the office or Mrs Pinchess. This information is always held confidentially and will really help us to support your child.
Dates this term
The website has been updated with the key dates for this term – head over to this page to update your calendars. Don't forget to check the 'What's Happening' page for any date changes.
Is your child starting school in September 2022?
We have set up our open mornings on the website – head over to this page to book a tour of the school and a chat with our headteacher, Mrs Pinchess. Please alert any friends or neighbours who may be interested.
Click here to find out what's happening next week and
here to get more information about what's going on in the local area