this week at Bentley.....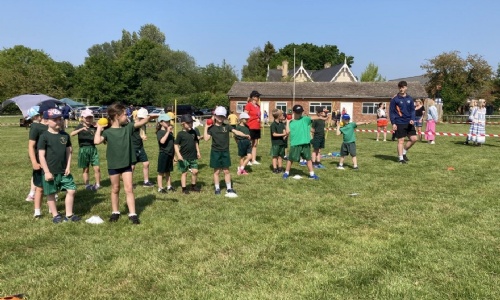 What a brilliant first week back it has been, culminating in our fantastic Sports Day today. Last night we received notification of an amber heat health alert from Hampshire County Council, which meant we had to make some changes to our regular schedule of events today. To keep everyone safe we decided to limit the long distance run to two laps only and not hold the family runtastic at the end of the morning. All the children had a fantastic time though and amazed us with their sportsmanship, determination and team spirit. Congratulations go to Nightingale House who were crowned the champions for 2023!
A huge thank you has to go to our amazing staff team for all their hard work behind the scenes and on the day, with extra thanks going to Miss Pidden, our PE leader, who organised the event. Thanks also go to CM Sports for setting up the activities and keeping us all on time; the PTFA for keeping everyone cool with ice-creams and drinks; and to all of you for coming along and cheering us all on.
We are now starting to look forward to our Summer Fair after school on the 23rd June. In preparation for this, next Friday (16th June) will be a non-uniform day in exchange for donations for raffle prizes (for grown-ups only please on this occasion, so no toys or children's books). These do not have to be huge. Please just give whatever you can and something you think someone else might like to win e.g. a bottle, pamper items, gardening gifts or gourmet goodies. Every little donation adds up to make for an amazing prize in the raffle.
The sun is set to carry on shining next week, so please remember to send your child to school with a water bottle and sun hat each day.
I hope you all have a fantastic weekend and get to enjoy the weather (fingers crossed the predicted thunderstorms don't happen).
Mrs Miffling
Acting Headteacher
Raffle Tickets
Summer Fair raffle tickets went home yesterday in the children's book bags. Please promote them to family and friends. We will need sold tickets stubs returned with the money and any remaining unused tickets by next Friday (16th) please.
Jacobs Race Night
Jacob (a former Bentley pupil) is going to Kairo Konko in the Gambia with Hampshire Explorer Scouts this August. They plan to carry out several projects including building a staff room for the school, decorating a nursery, and helping the local children with bike maintenance so that they can get to school.
A Race Night is being held at school on the 24th June to fundraise for Jacob to participate in the expedition (with any surplus funds being donated to the local projects). Please come along and help us, it promises to be a fun evening whilst also supporting a very worthy cause.
On the night, the evening will be hosted by two of the leaders of the Gambia expedition. They will be showing horse races on the big screen, with everyone able to have a (small) flutter on the races for excitement, and a drink from the bar run by the Bentley scout leaders.
Tables seat up to 8 people and tickets are £5 each.
Please see the flyer below for booking details.
COMMUNITY NOTICES
For information on available clubs and to find out what is going on in the local area please Click here.

PTFA – upcoming events
⭐️Father's Day Planting - Please can every child bring in a tin can, with a hole in the bottom, to plant their Father's Day present in. These need to be in by TUESDAY (13th June) to allow the classes enough time to plant them before Friday. Year 1s do not need to bring in a can, as they have done their own gardening this year.
⭐️Non-Uniform day - Friday 16th June
Children can wear non-school uniform this day if they'd like to, in return for a raffle prize for our summer fair! Thank you!
There is also an Ice Cream Sale this day! After school, cash or card accepted.
⭐️ Summer fair - Friday 23rd June 3:15-6pm
This event is open to everyone. Please invite extended family and friends.
We are in the search for teddies and soft toys for the teddy tombola! Time for a clear out? The yellow tub will be out after half term to put them in!
Please support your reps by signing up to help on the day - we can't do it without you!
⭐️ Ice Cream Sale - after school, Friday 30th June
⭐️ Bentley bike ride - Saturday 1st July
Do you have any keen cyclists in your family? This year it is a family friendly route of 30km, aimed at teens around 10 years old and upwards. Sponsorship is per family. We need lots of Bentley families and friends to get involved and enjoy a (hopefully sunny!) ride through the countryside. Return back to the school with a bbq and bar ready for you!
Please watch the video all about it here: https://youtu.be/R74MPKKnpOQ
⭐️ Ice Cream Sale - after school, Friday 7th July
⭐️ Ice Cream Sale - after school, Friday 13th July
⭐️ Ice Cream Sale - after school, Friday 21st July
⭐️ Camping Night on Froyle Rec - Saturday 22nd - Sunday 23rd July.
Each pitch is £25 and includes breakfast Sunday morning.
Please book via PTFA website.
http://www.pta-events.co.uk/bentley
THERE ARE ONLY 5 PITCHES LEFT!
Please see the PTFA page for more information