this week at Bentley.....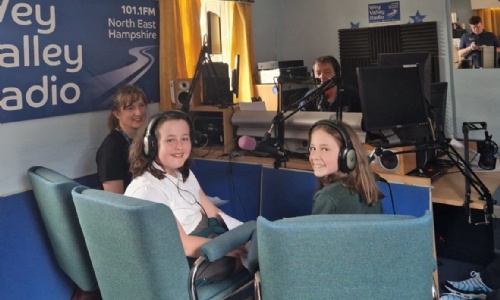 As I write this, the final preparations are being made for the Summer Fair this afternoon. The PTFA have been working very hard behind the scenes to make this a fantastic, enjoyable event, with lots of fun activities, tasty food and terrific games to play to keep the whole family entertained. A big thank you in advance to everyone who has volunteered to help – we can't run these events without your support.
In school the children have been very busy working on their end of year assessments and the teachers have been writing the children's individual reports ready for the end of term. All the staff have been very proud of how the children have approached these assessments, especially as it has been a very warm week!
Did you catch Madame Jones, Kate and Poppy talking about our school's Eco-council and Nature Reserve on Wey Valley radio yesterday? Their interview was a great success and I am extremely proud of how passionately they spoke about our wonderful school and everything we have achieved. Well done Kate and Poppy for representing our school so well and thank you Madame Jones for organising the interview and giving our young ambassadors the chance to have a voice. If you didn't manage to catch it, please click on the link to listen
Bentley Primary School (1).wav
Mrs Miffling
Acting Headteacher
Reminder from the PTFA - Bentley Bike Ride - Saturday 1st July
Our next big event is the Bentley Bike Ride next Saturday, 1st July. 31 riders will be setting off from school to ride along The Shipwright's Way from Petersfield to Bentley, a distance of 30km! The Bentley bike ride has been very successful in the past and we are aiming to match the amount raised for the school by last year's bike ride. If you are not taking part in the event, perhaps you could support the school by sponsoring one of our riders. Please visit https://gofund.me/578e8e82 if you would like to donate. The riders and support crew are due to arrive back at school around 12.30 p.m. All are welcome to come along to welcome them back and celebrate their achievement. There will be a bar and delicious barbecue for you to enjoy at school too!
Lost Property and School Uniform
There has been a mountain of jumpers and cardigans in the lost property cupboard this week, most of which have not been named which makes returning clothing to the right person incredibly difficult. Please make sure all items of clothing (including shoes) are named and your child has everything with them when they leave school for the day.
We still have four weeks left of the summer term and it's important that our children are continuing to look smart in their Bentley school uniform, especially as we still have many events planned over the next few weeks where our children will be representing our school. Please make sure your child is wearing the correct school uniform, including shoes, for the remainder of this term. We have lots of good quality, second hand uniform for sale in school if you require new uniform before the end of term
Schools For Nature Celebration Event
Last week, Nature Reserve Club welcomed local naturalists and their parents into our lovely school Nature Reserve for a peek at what they have been up to. The celebration event was part of Schools for Nature week which had been organised by the RSPB and WWF, following the success of the latest Sir David Attenborough series, Wild Isles.
After some refreshments, the visitors were taken on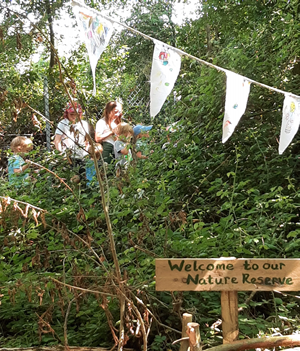 a guided tour of the Nature Reserve by pupils from Nature reserve Club. They were shown the different areas which make up the reserve, including Bugingham Palace and Hedgehog hideout. Also in attendance were various local naturalists who helped with our bioblitz in April. Barry from Froyle Wildlife even brought in his bee hotel to show us Red Mason Bee larvae which was very cool to see.
Thank yous!
Continued thanks go to the pupils and parents of Nature Reserve Club as well as the local naturalists who are supporting us; Ben Hamlin (EHDC Tree Warden), Dr June Chatfield OBE, Sue and Barry Clark (Froyle Wildlife) and Ian Chisholm (Bentley Wildlife). In addition, many thanks go to Mr Flanighan for the donation and delivery of wood chippings, and Mr Lucas for helping spread the wood chippings on our paths, making the Nature Reserve signs and bug hotel!
And also thank you to…
The Meagher family for their donation of the rugby posts. They will be enjoyed during break times and PE lessons.
COMMUNITY NOTICES
For information on available clubs and to find out what is going on in the local area please Click here.

PTFA – upcoming events
⭐️ Ice Cream Sale - after school, Friday 30th June
⭐️ Bentley bike ride - Saturday 1st July
The route is planned, riders are trained, snacks are ready and marshals are prepared… it's nearly time for the 30km bike ride for Bentley!
Next Saturday, 1st July, 31 riders will set off to ride along The Shipwrights Way, from Petersfield to Bentley. This ride will be a big achievement for all 31 riders. If you can't join them, would you consider sponsoring them? The Bentley bike ride is one of our biggest fundraisers for the PTFA, and we aim to raise a lot again this year. Amy Bingham's work have promised to match her fundraising, so please consider donating to https://gofund.me/578e8e82
We'd love a big welcome back to our riders at the school! Return time is expected to be 12:30. There will be a bbq and bar available. Please come along and join us to celebrate our wonderful riders and support crew.
⭐️ Ice Cream Sale - after school, Friday 7th July
⭐️ Ice Cream Sale - after school, Thursday 13th July
⭐️ Ice Cream Sale - after school, Friday 21st July
⭐️ Camping Night on Froyle Rec - Saturday 22nd-Sunday 23rd July.
Pitches are almost sold out, so book on asap if you would like to join! Each pitch is £25 and includes breakfast on Sunday morning. Book via the PTFA website http://www.pta-events.co.uk/bentley
Please see the PTFA page for more information