this week at Bentley.....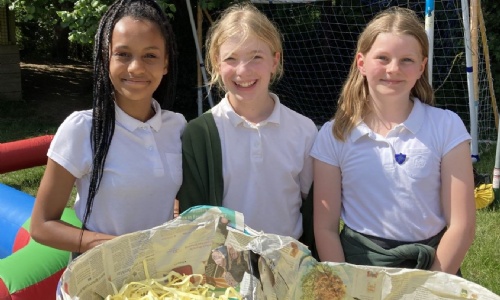 It was great to see so many of you at the Summer Fair last week. It was a fantastic afternoon with perfect weather and an excellent range of activities to keep everyone busy and having fun. Just over £2000 was raised for the school, which is incredible! Events like these take a huge amount of planning and organisation and would not be possible without the support of our school community; from chopping onions, to putting up gazebos, to cooking burgers on the barbecue – the list goes on! A massive thank you must go to our wonderful PTFA chairs, Molly Scotton, Sarah Cordina and Sarah Forbes who coordinated the event. Please see the thank you list at the end of the newsletter for further thanks.
Lots of other things have been happening in school this week too!
The new Year R class have been visiting school this week and are feeling very excited about joining our school community in September.
Year R have been impressing their teachers with their knowledge of number bonds to 10.
Year 1 have been learning about place value to 100 in their maths lessons.
Year 2 have thought of some rules for how to be a pirate and have turned them into rhyming instructions.
Year 3 had a Roman adventure at Fishbourne Roman Palace on Monday but were very surprised to find there is no longer an actual palace on the site.
Year 4 have begun to make their Viking longships and have been enjoying the Beowulf stories.
Year 5 are enjoying learning about Ancient Egypt in history and have been busy creating their Egyptian death masks.
Year 6 have been away on their residential visit to Calshot Activities Centre and have had a fantastic time. Have a look at their blog on our website to see what they have been doing. A huge thank you to Mrs Rhodes, Mrs Patey and Mr Goddard for putting their lives on hold for a week, giving up their own families, pets and hobbies to support the children on their visit. I know there will be a mountainous pile of washing for you to get through and some very tired children this weekend, but lifelong memories will have been made, new skills developed and new friendships formed during their time away.
Tomorrow is our annual bike ride. This year the route will travel 30km along the Shipwright's Way. A big thank you to Ben Bingham for leading this event and to the team supporting him to do this. If you are not cycling, you can show your support for the event by sponsoring the cyclists https://gofund.me/578e8a82 or coming to school to welcome them back from 12.30. There will be a BBQ for you to enjoy at school as well. Good luck to all the cyclists! I hope you get a good night's sleep tonight ready for all the pedal power you will need tomorrow.
Mrs Miffling
Acting Headteacher
Thank you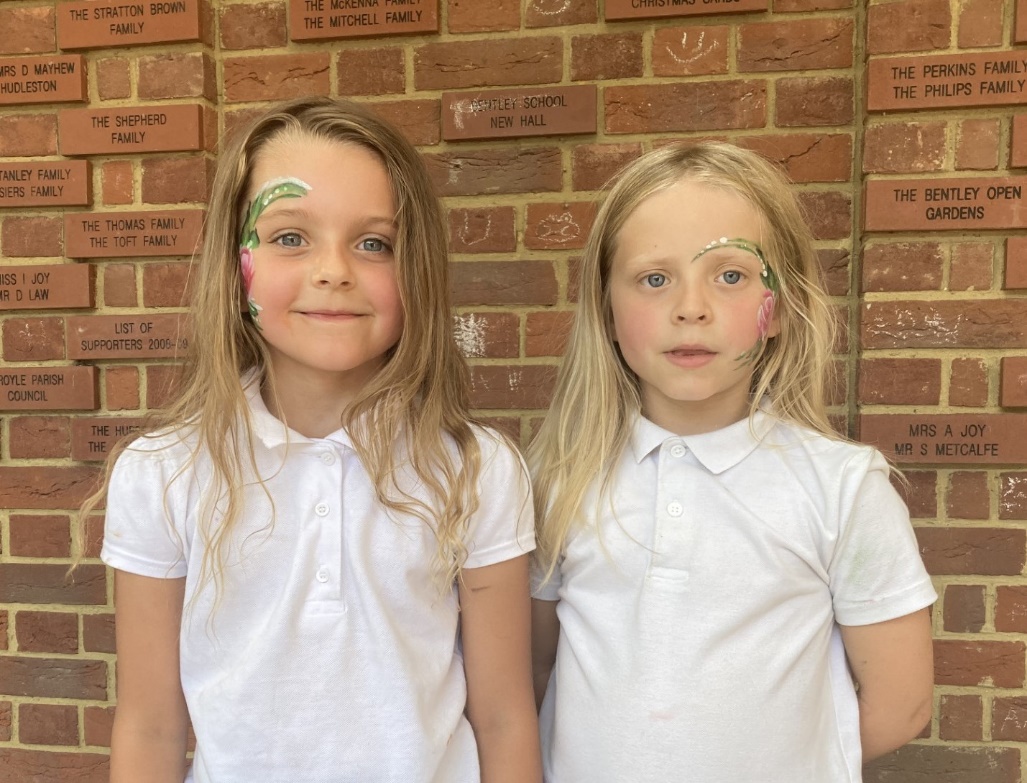 To all the people who volunteered at the Summer Fair…
Vanessa M, Sophie R, Molly M, Alexandra O, Trent K, Shaun F, Ben B, Elise C, Laura W, Sara W, Rosie P, Claire A, Gill B, Mrs P, Kelly D, Chelsee A, Jane A, Tamsin E, Tammy C, Miss Pidden, Mrs Matthews, Natalie R, Emily S, Kathleen P, Murray H, Rob T, Mr Goddard, Rob A, Steve H, Helen C, Trudi D, Mrs Siers, Sue R, Andy P, Georgie T, Andy N, Shelly F, Lucie H, Alex D, George T, Jade P, Pippa B, Mrs Hamid, Tamryn E, Oksana B, Kelly-Marie C, Lucinda E, Lucie M, Lindsay H, Charlotte H, Emma H, Katherine B, Nancy S-B, Sarah L, Lisa B, Mrs Hansen, Sylvie N, Ryan D, Cat O, Lisa H, Cress M, Kate G, Amy B, Maria S, Barbs S, Ruth T, Mr Lucas, Mrs Tewkesbury, Mrs Perring.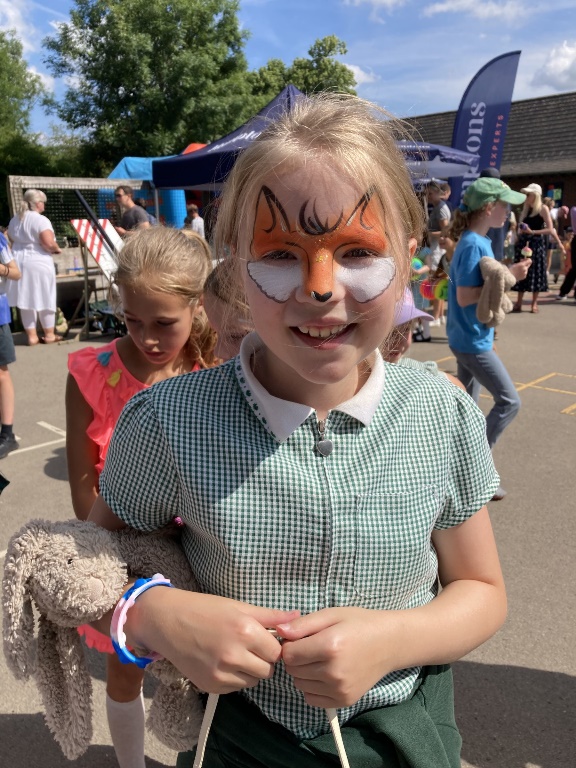 and to…
Pauline H and Elise C for spending the whole of Monday morning in school counting the money!
Thank you so much to all of you for your hard work in volunteering to make the Summer Fair happen. Apologies in advance if we accidentally missed anyone off our thank you list!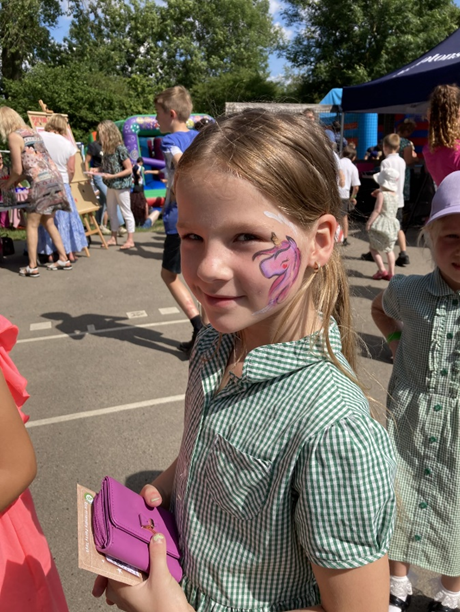 General Reminders
We still have a few weeks left in school until the summer holidays. Here are a few reminders about what our school expectations are as we begin to look forward to the break.
Uniform
Children are not permitted to wear jewellery to school unless for religious or medical reasons.
Children are allowed to wear a small pair of stud earrings if they have their ears pierced. No hoops or large earrings please. Children must remove their earrings or cover them with tape when they have PE. This is for health and safety reasons.
Children are allowed to wear a watch but this must not be internet enabled or have the ability to take photographs.
Black school shoes only (no sandals with open toes, as this is not safe for playing in the wood).
Children are not allowed to wear nail varnish to school.
Snacks
Infant children are given a fruit or vegetable snack at morning break.
If you are providing your child with a snack this must only be fruit or vegetables. Plain, dried fruit such as raisins is fine. Children are not allowed to have biscuits, cakes, cereal bars, fruit winders, crisps etc at break time. They are allowed to have these in their lunch box for lunchtime.
Plain water only in water bottles to keep your child hydrated throughout the day.
No nut products please.
Eco Council Update
It is with great excitement that I can announce, following a very busy and fun year of environmental action, that we have just been awarded an Eco Schools Green Flag with a merit! This year the Eco Council set out to work on three projects: litter picker backpacks, an alternative to traditional glue sticks and our Nature Reserve. Undoubtedly, the Nature Reserve has been the most exciting project, which has involved every child in our school as well as parents, teachers and members of the wider community. However, we also achieved the award for working on our litter picker backpacks, as well as researching new types of glue ready for September!
The judges were really impressed with our application. They loved our Eco Code and our variety of projects which included indoor and outdoor activities. The report concluded as follows: "I hope you and your Eco-Committee take great pride in your achievements, when listed it's surprising how many there are – however, the improvements to your school environment with the litter reducing and biodiversity initiatives and, most of all, your really superb community work (we loved those) all nicely stand out!"
Litter Picker Backpacks
To support our work, we are still collecting pre-loved backpacks to become litter picker backpacks! We would love to start hiring these out in September and just need the backpacks to make it happen. Please have a rummage through your cupboards. They need to home a foldable litter picker as well as a reusable sack and gloves! Each class needs two! Thank you so much in advance!
Madame Jones, Miss Durrant, Eco Council and Nature Reserve Club

PTFA – upcoming events
⭐️ Bentley bike ride - Saturday 1st July
Last chance to sponsor our amazing riders! https://gofund.me/578e8a82
A massive thank you to Ben and Amy for all your work with this event. It's greatly appreciated!
⭐️ Bentley Fete - 15th July. Are you going to be visiting the fete? Could you help man our stall? Even just 15 minutes would help! Please let us know if you're able to help. Thank you.
⭐️ Camping Night on Froyle Rec - Saturday 22nd-Sunday 23rd July.
Pitches are almost sold out, so book on asap if you would like to join! Each pitch is £25 and includes breakfast on Sunday morning. Book via the PTFA website http://www.pta-events.co.uk/bentley
Please see the PTFA page for more information