THE 4TH ANNUAL BENTLEY BIKE RIDE AND BBQ - 29th June 2019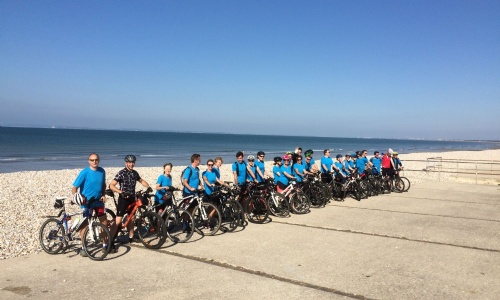 This year it's ....BBBB............ Boats to Bentley!!!!!
A beautiful off-road (mostly) 50 miler through the Hampshire Countryside from the Marina at Warsash on the Solent to our very own Bentley Primary School. The route includes some coast, some lovely disused railway paths and some more hidden bridlepaths.
This year for the first time whilst the adult riders are completing the route, we will be holding a series of exciting cycling activities for primary school aged children back on the Rec in the village in the run up to the BBQ Finale in the school. You will need to supervise your own children whilst they take part though.
So now you have eaten the Easter chocolate and the weather is warming up its time to dust off your helmet, and oil your chain. Training rides are starting! They will typically take place on Wednesday mornings, Wednesday evenings (followed by a beer!), and Sunday mornings. We'll use the Bentley Bike Ride Whatsapp group to organise these, so if you want to join it, simply email gill.ormond@icloud.com with your mobile number.
Riders will be required to raise £65 in sponsorship. In return you will get a T-Shirt, free transport to the start point, a route fully planned and martialled by our wonderful Routemasters, vehicle support, refreshments (maybe a flapjack or two!), and the opportunity to be part of something really special. As a PTFA event the ride is open not just to Parents and Teachers at Bentley School, but Friends of the school as well, so if you know ANYONE who would like to join us, please ask them to get in touch.
Full details of how to register will follow shortly. But in the meantime, please register an initial interest by emailing Gill Ormond on gill.ormond@icloud.com.
Even if you don't plan to ride, this is a great event to be a part of. Could you drive the mini-bus to the start point (it's an early start, but you get the rest of the day off!), could you help with the BBQ or the Bar later in the afternoon? Could you help with the cycling activities on the Rec? Or could you join us during the day and be one of the support vehicles accompanying the riders? We need lots of volunteer helpers - the more help we get the more fun it is for everyone, so please contact gill.ormond@icloud.com to be a part of something special at Bentley Primary School.
And if you would like to support our fantastic volunteers by sponsoring them, visit our sponsorship page at Wonderful.org by clicking here.