Big Bike Ride & 'CycleMania'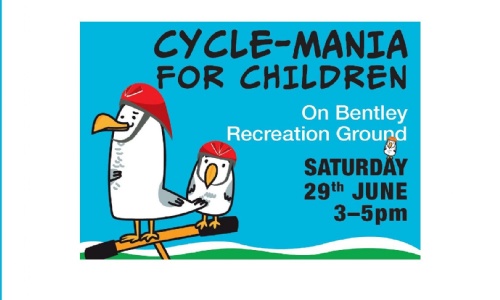 This Saturday 29th June 40 intrepid riders will forge their way across country from Warsash on the Solent all the way back to Bentley Primary School.
It's not too late to sponsor our terrific riders - James Aston, Dom and Eliza Bell, Ben Bingham, Georgia and Jonny Boston, Ian and Sophie Cass, Briony Cavell, Marc Dando, Morgan Dixon, Sophie Handa, Natalie Hurst, James Ince, Frankie Jordan, Mike Kennett, Daisy, John and Syreeta Mansfield, Sacha Moore, Richard Myers, John Ormond, John Owen, Claire Pengilley, Andy Phillips, Martin Pratt, Andrew Rae, Chris Schafer, Jenny Shaylor, James and Sarah Stanley, Susie Stredder, Amy Wolfe, Sara Wood and our lovely Staff – Miss Smith, Miss Kirby, Mrs Rushin, Mrs Siers and Miss Wiggins - click here to send them a good luck message with your donation!
But for everyone else, the party is right here! From 3.00pm we will be running
Cycle Mania!
on the Recreation Ground. Children, bring your own bikes, and for just £2 you can cycle the marked out route as many times as you like. Why not get your grandparents to sponsor you? Who can manage 100 laps? Cyclists of all ability and none are welcome, whatever age, but all must wear a helmet, and must be supervised by an adult for the entire time they are on the route. No noggin-top, no ride. Big bikes, small bikes, balance bikes and stabilisers are all welcome on this off-road cycling extravaganza. Earn an amazing certificate for taking part!
And at the same time, we will be running a bar, BBQ and children's drink and snack stall in the school grounds. Plenty to eat and drink until the grand finale when the riders return, tired and hungry for a well-earned drink and a burger.
The weather looks amazing so join us for the celebrations!
But of course, this doesn't all just happen on it's own, we need your help! This will be a great cycling focused party for all the family, and it will be even more fun if you offer to help for just half an hour. Mike and Lucie need helpers to register the riders, to set up and clear up the cycle Mania. Sophie on the bar needs people to pull pints. Hafsa on the snack stand needs people to help count out the Haribos, and Ed on the BBQ needs – well, lots and lots of help. You can sign up by clicking here.