Quiz night 2021 - 4th March 2021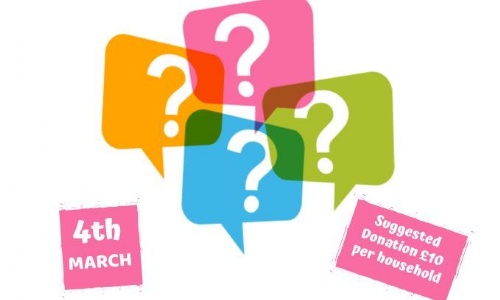 Spring Term would usually see the PTFA host their grown-ups only quiz at school, complete with silly games, a pudding auction and some rather hard questions from Mr Goddard (not to mention lots of wine and laughter).
As we are not able to be together in person this year, Year 4 will be hosting a virtual quiz and we would love you to join us. The quiz will take place on Thursday 4th March at 8.00pm.
We are suggesting a donation of £10 per household to play, but you could donate more if you wish. Perhaps you'd like to donate the amount you would have spent at the bar or on the pudding auction?! We would usually raise in excess of £1,500 on quiz night, so every pound you donate will make a difference. All of the money raised goes straight to the PTFA - and benefits EVERY child at the school - and you could win the super hamper of goodies, kindly donated by the Year 4 parents. You can make your donation via www.scopay.com and we will send you the joining instructions to you next week.
We look forward to seeing you there.
EVENT UPDATE
What a super evening! Many thanks to Sue Riches, Sarah Stanley and Cress Mizen for spearheading this great online event - and we raised over £400 - fantastic :)