Christmas Events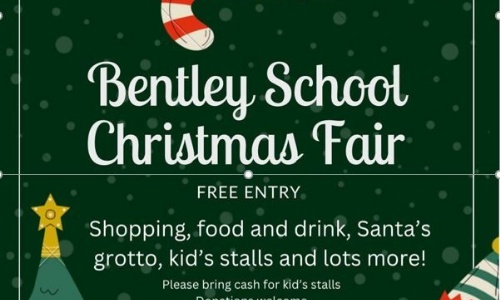 The PTFA elves have been busy! Please see below for what is going on in the last few weeks of term!
RAFFLE TICKETS have been put in the children's bookbags this week. Please return to the office box at drop off by Wednesday 30th November. Return either your money and stubs or, if you don't want to purchase tickets, the whole book. The prizes are already looking brilliant! You won't want to miss out! If you would like extra raffle tickets for yourself or friends or family, please let one of us or a staff member know and we will get them to you.
NON-UNIFORM DAY will be on Tuesday 29th November. This is in return for children bringing something lovely to add to the raffle hampers, e.g. a bottle, pamper product, gourmet treats (in date!), chocolates or sweets. Think about what you or your child would like in a special raffle prize and that would be ideal to send in. Thank you in advance.
CHRISTMAS FAIR is on Friday 2nd December. We are so excited! Please join us between 3-7pm for craft stalls, food and drink, children's stalls, music and merriment. There may even be a visit from the big guy himself… Children's stalls will be running between 3-5pm, and then please stay to enjoy the food and drink available (a few of which include: pizzas from Doe kitchen, burgers from Posh Scoff, mulled wine from a mobile bar and coffees from the Coffee Can!)
Please note that your class reps will be asking you for your help for the class stalls soon. Please volunteer – even if it's just for 15 minutes – it all helps. We can't run these events for the children and school community without YOU wonderful people volunteering.
We need donations from ALL classes please! Drop off at school. We need the following:
Teddies and soft toys
Small toys/craft bits/hair bits/toy cars etc. for a lucky dip
Fairy lights
You will need to bring cash for the kids stalls but the external stalls and food/drink should take card.
Please spread the word and invite family, prospective new pupils and their families, neighbours and friends. It's going to be a brilliant community event and the more the merrier!
XMAS MINGLE at the Hen and Chicken Barn: Sat 10th Dec, 7pm onwards. Tickets are £10, which includes a mince pie and mulled wine (or non-alcoholic alternative). Please invite friends, grandparents etc.! We need to know numbers soon, so please buy your tickets ASAP. It should be a lovely evening. To buy a ticket click here
APPLE JUICE is also now on sale on the website! Please click here to order and we can get it to you via children's book bags. £2.50 per bottle or 5 for £10. It's delicious! To find out more about our apple picking please click here
FAMILY PHOTOSHOOT will be held in our school hall on Saturday 3rd of December by our amazing school photographers, Mr and Mrs Forrester, who have kindly volunteered. You can book your 15 min slot for £10, by clicking here photos will then be able to be ordered online.
Well behaved pets, children and grandparents are all welcome. You can bring props, wear a Christmas jumper, be casual, funky or your best outfits to make it special for you.
Please note your time slot in your diary and make sure you arrive in plenty of time so you can use your time wisely.
And finally,
CHRISTMAS TREES are for sale on the website! Please click here to order. Collection at the school fair. They're beautiful quality and last a long time.
4-5ft: £38
5-6ft: £45
6-7ft: £50
7-8ft: £55