International
Let your Light Shine - The Gambia 2019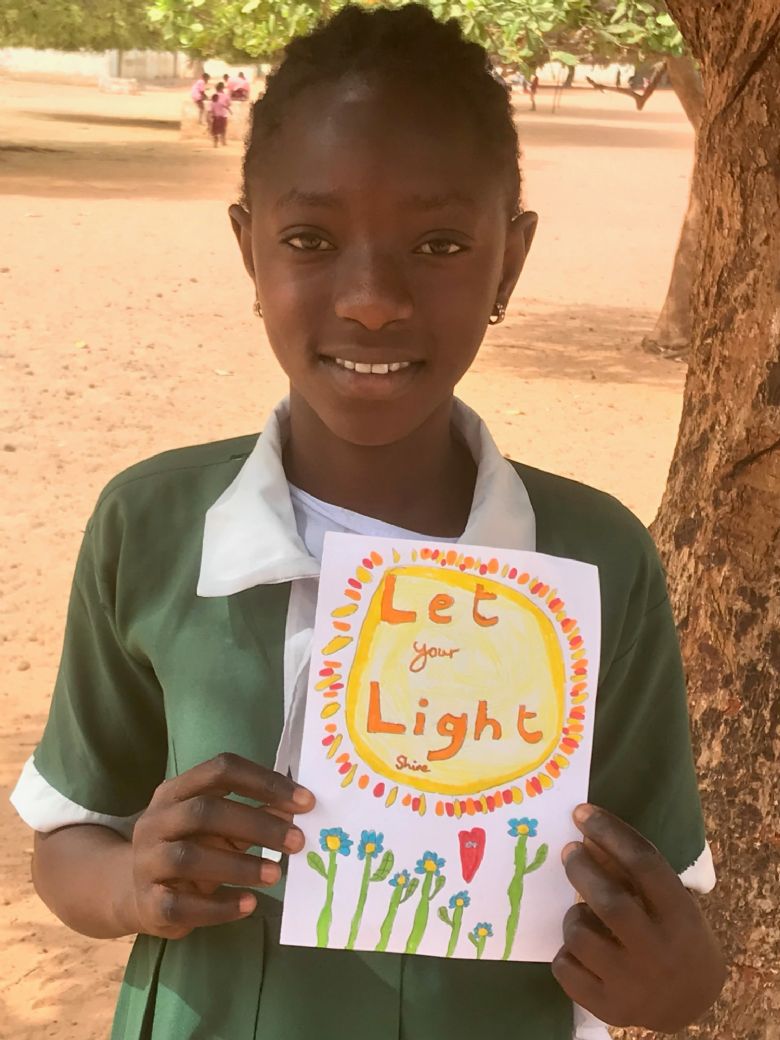 This February half term I was incredibly lucky to be invited to take part in a school exchange visit to The Gambia in Western Africa. This was a self-funded trip where I went as an ambassador for our school to work for the Kaira Konko charity for the week. We had heard about the charity last summer when it was nominated by governor, Sara Crane. Our pupils thought that it sounded really interesting to support other schools overseas and the charity was chosen for a fundraiser event this year. In January, Marion Christmas MBE and Trish Slater came to talk to our pupils about Soma and the work that was going on there. They suggested I might like to get involved and join the visit in February. As this was just a few weeks away I did not believe it would be possible but, having been very inspired by the projects going on and being very interested in developing links for Bentley across the world, I had a big think and decided that I should try and go!
I was very grateful to the school staff and governors for backing this visit and to my family for supporting me too.
After a few weeks of whirlwind of inoculations and bookings I was going to The Gambia! The reality impending trip noticeably interested and changed how our pupils thought about the other school. Suddenly they were interested in knowing more about the children in The Gambia and how they lived. They were keen to make links, send postcards and photos as well as donating pencils and money for school lunches. They were really thoughtful in how they approached writing postcards to the other children and were hugely supportive to me personally as I was preparing to go on my 'adventure'!
14th February 2019
We awoke early to a frosty day in England and I got up to attack my school email box before leaving home. Having dropped off my children at breakfast club, my husband dropped me at Gatwick for the flight. I checked in and met up with the group of people I would be travelling with; mainly educators from three different schools with some being very experienced Gambia travellers, led by All Saints Junior School in Hampshire. A brilliant group of positive 'can do' people, including a few who had never been to Africa before, which was reassuring for me!
The flight took six hours but there was no need to change our watches as we flew – more or less – straight down to Africa and the time was the same in The Gambia! It was packed full of travellers; some returning home, others going on holiday from the UK. As well as our group, there was a big group of older teenagers from a school who were also going out to work in a school over half term.
It was dusk when we arrived and I immediately noticed how nice and warm it was when we walked out of the plane! The airport was not too busy and we quickly located all of our suitcases, which loaded up with knitted baby clothes, donations, stationery and teaching materials ready for the week ahead. We were met by the Kaira Konko manager, Lamin Kinteh, and, as it was so late, we planned to stay for one night in the capital city of Banjul. We piled into two vehicles for the short journey to a hotel. Despite it being quite dark there was still a lot to notice.
15th February 2019
When I woke up I was excited to take a walk along the seashore right outside the hotel gates. The first thing I noticed was how beautiful the shoreline was and the second was to notice how many shells there were on the beach! Mr Goddard had given me a shell picture with a prayer to wish me well on my travels, like other pilgrim travellers, so I found a real Gambian shell for him in return!
We had the morning to settle into the heat (very hot - about 39oC!) and the pace of The Gambia. We all exchanged money, bought water to drink and did a big food shop for the week ahead and then set off to Soma. We got an immediate lesson in 'Gambian time', which is quite relaxed on schedules – rather different for us UK teachers who are usually governed by school timetables to the minute!
It was a long, hot journey out of the busy city but there was so much to see! Lots of shops and businesses; people bustling in the most fantastic array of colours; an abbatoir full of waiting goats and cows; children in school uniform going to and from school. As we left the city we went through lots of police checks on the road to Soma and went through smaller towns and villages as our bus made its way Eastwards.
When we neared Soma we were met by lots and lots of children and Scouts. It was an amazing welcome and made me think of our school and pupils at Bentley as children took our hands and we followed the super Scout band into the Scout Compound at Kaira Konko!
16th February 2019
I slept very well after all the travelling of the previous two days but woke up at 5.50am with Call to Prayer from the Mosque. The Gambia is a predominantly Muslim country and it was clear that faith is very important part of everyday life.
We spent our day at the Soma Lower Basic School, which is a big 4-form entry primary school. Some Grade 3 children were in school, despite it being a Saturday morning, as they have national tests (NATs) coming up and they were having extra lessons in preparation. A bit different to our Year 2 or 6 who have their SATs this year! We toured the classrooms, the school garden, the flourishing Women's garden and met our link teacher for the trip, Mr Baldar, plus the acting headteacher of the school. In the afternoon we worked with the Peace Club children to tidy and paint their Peace Garden. Gardens are key for the schools as the food is used in school lunches. As in the UK many children rely on the free school meal provided for every pupil. The children were so welcoming and lots of them wanted to get involved and help with the work. We also saw lots of children helping in the gardens by pulling up heavy buckets of water from the wells or watering the crops. I learnt a new watering technique from some children which involved flicking the water from a bucket to make it sprinkle out as we did not have a water can or hose pipe. In all the gardens we visited we saw how important it is to have good walls or fences in preparation for the hot, rainy season when everything will be washed away otherwise. Without a fence the roaming animals will eat all your crops.
It was an early night for me after the heat and all our walking and meeting so many new people.
17th February 2019
The next day we headed to the market first thing to buy the paint and some equipment for the library mural we were going to paint that week. Shopping in The Gambia was a very different experience for us with bartering but also in working out what was available and what we would need. No B&Q or online next day delivery! The town and shops were also really different with so much to look at; donkey carts, goats and sheep wandering in the main roads in between highly loaded gelly buses (like a minibus loaded up with lots of passengers and piled high with luggage and even sometimes animals on top!). As well as lots of busy shop fronts and a covered market behind the streets are lined with stalls and sellers with lots to see from bread stalls to orange sellers, children with bundles of mint and others selling ice 'lollies' in bags. There was so much going on that we had to be very careful crossing the road!
We headed out in three taxis to visit a village school in Sitahuma, which is about 30 minutes from Soma. As it was a holiday weekend most of the teachers were visiting their families but the deputy head showed us around. Situhuma is a school with about the same number of children as we have here at Bentley. It has no wall to keep out the village animals and the building seemed rather run down in comparison to the Soma school, with holes in the roof of several classrooms. As a small rural school the deputy told us that it is hard to recruit and retain staff. The village can get cut off in rainy season and there are fewer modern 'necessities' in the countryside, for example there is no electricity at the school. Having been to the busy town school the day before we could immediately understand some of the concerns being raised by the staff, who want the best for the pupils. The teacher accomodation in particular is not very nice and the teachers were worried about snakes coming into their bedrooms.
We immediately got to work on our main project for the week – to decorate the school library. This room is important as every pupil in the school uses it regularly and having an attractive room and resources will ensure that every child has access to reading books. Gambian children speak at least two languages. They speak, read and write in English and also speak a home, tribal language. In Soma this is Mandinka and in Sitahuma this is Pulaar.
We had a lunch break at 1.30pm and tried to have a short rest before we returned to our work in the heat of the day in the late afternoon. Sometimes in the morning it was actually a little cool with sunrise at about 7.15am. My favourite time (and heat!) of the day was dusk, but we had to make sure that we had bug spray on to try and stop the mosquitoes eating us!
Whilst we worked at Sitahuma over the week some of the team took on a project to create disabled access to the library building, to make it accessible for all children and family members. We also needed to fill in decorative holes around the windows so that when the shutters were closed rain and dust would not come in. One of the British teachers had raised money for the Kaira Konko charity by having his head shaved and it was decided to spend some of this to extend a water pipe to allow the school garden to be watered much more easily. It was exciting how quickly everyone got to work and it was wonderful to be working in partnership with the local community to plan how to improve the school for the pupils.
After a hot and hardworking day it was lovely to have a shower to cool off!
18th February 2019
I had woken up very early that morning and went with one of the older Scouts to collect the bread for our group's breakfast. The food provided by the super housekeeping team at Kaira Konko certainly kept us all going through our busy days of activity. The local bread was a staple of our meals and it is made in small 'baguettes' which are extremely yummy. That morning the power had gone off across the town, but as the bakery uses no electricity this had not stopped their work and the bread was stacked up and still warm for us to buy.
Monday was a national holiday so it was still quiet at school when we arrived back in the village. As our yellow taxis bumped down the dusty track to Sitahuma the children soon spotted us and waved from their work or ran out to shout hello. We started work on drawing out Gambian trees and birds for the library mural.
In the afternoon we worked with the Peace Club children from Soma in the afternoon for a project around Prayer Spaces. It was a real treat to work with the children who were incredibly open minded to take part in our learning. They were interested and engaged for the whole afternoon as we all worked together, making me aware of so many similarities in the ideas of the Gambian pupils and those of our UK pupils. The theme of our teaching was around 'Letting your light shine' and the pupils reflected on what that meant for them specifically; being a good sister or brother, a good son or daughter; being a friend or being there to support friends; having faith; being the best you can be; working hard at school; helping family and trying hard. A joyful session and I felt very lucky to work with the pupils, who had chosen to come into school on a day off.
19th February 2019
Tuesday was an exciting day as a school excursion had been planned for the afternoon to bring the Soma Peace Club children over to Sitahuma! The children and their teacher were really looking forward to the trip and they had been working on a play to share with the village school community. I spent the morning with two others teaching at Soma Basic but we went to buy banana plants on the way back for lunch. When the Soma children arrived that afternoon they arrived with great excitement, bringing the banana plants on the roof of the gelly bus ready to plant in the Sitahuma school garden. Just like Bentley pupils the Soma pupils were excited to be representing their school and they were also excited and a bit nervous a bit performing their play in public!
They need not have worried – it was a huge success and the Sitahuma pupils, parents and important village community members who had come to watch all enjoyed it very much. The acting and performances were very good and they got lots of applause at the end. Once the play was over the Chief of the village and the Leader of the Mother's Club group accepted some baby clothes brought for the local families. It was lovely to see how adults and children from Soma and Sitahuma, the Gambia and the UK all came together and enjoyed a school play together.
20th February 2019
On Wednesday we had a break from painting and teaching in the morning and went to visit two smaller schools outside of Soma. We passed by a market day in a town on the way and from the money which we had helped to raise, we were able to pick up several huge sacks of rice, giant bags of onions and other supplies to take to the schools. The first school has just 50 pupils on roll at Sinchu. Sadly they had a leaking water tank and it was very emotional to be able to tell them that money had been raised to fix this. There were big celebrations from the local Mothers Club who quickly spread the word to their friends who all came to say thank you to the Kaira Konko charity. This involved lots of singing, clapping and dancing and we all got involved which was a lot of fun! As parents it was humbling to me to see how happy they were in knowing that their children would benefit in their health and education from this kindness and support. We also observed lessons and watched the way in which the children are taught to read using lots of repetition and rote learning.
The second school which we visited was quite different again. Jabisa school has about 130 pupils and is a flourishing village school. The headteacher and his team have worked really hard to build to support which has been given over previous years and it had a great sense of purpose and well being. They also have the tallest Infant teacher I have ever met in any school who clearly has a great sense of fun which we saw as he taught children through nursery rhymes and fun clapping beats.
There was lots to think and talk about education as we returned back to Soma. In the afternoon we returned to teach again at Sitahuma. It was a lovely opportunity to work with some more classes and to talk to the teachers. I was lucky enough to get to visit the Infant classes, as well as see the Juniors Grades in action too. In all the Gambian schools we visited pupils go to school for about 2½ - 3 hours a day, either in the morning or in the afternoon with a lunch meal in the middle as long as the school can still afford to supply this. The rest of the day was taken up with chores at home but also play too. I saw one computer in my entire week and certainly no children using an digital devices! Having a shorter day also left time for lots of time with family, friends and playing.
I also observed lots of more adult and child interaction and time to talk. The responsibilities for many children are very different to our UK expectations. Children were outside and without adult supervision much, much more and from a very young age. They often looked after little siblings and babies as well as looking after one another as friends. We got to meet and watch many children playing every day around the Scout centre and schools and I noted a sense of community and kindness, but also that they also argued, play fought and made up funny stories just like our children do at playtime here at school or at home – the only difference being that in Africa the children sorted out their own issues and apart form one nasty fall I did not see a child seek out adult support apart from for a hug or a chat.
I was really pleased to have a bag of balloons, which had been given to me by a Bentley pupil to share out at the Scout Centre for children and at playtimes for pupils to enjoy – they had a lot of fun with them I can certainly attest!
21st February 2019
Thursday was our last day in Soma and there was lots left to complete on the project work. One of the All Saints teachers Gemma and I completed the Bentley postcard exchanges. Our teachers had also sent class photos over and the children were all curious to know which child from Bentley had written to them! They wrote and drew their own postcards for Bentley pupils which I have brought back to share at school. Not all children start Grade 1 at the same time so there is quite a range of ages in each class and certainly in Sitahuma I noticed a bigger age range with some pupils being 15 years old in the Grade 6 class and ranging down to 11 years. The buildings in Sitahuma also lead to lots of dust coming in so it was really hard for the children to keep their work and exercise books clean. They all worked hard and were very engaged with the activities in the lessons and in creating replies to our cards. Again, I was really honoured that the teachers allowed me to get involved and I very much enjoyed getting to meet all the pupils and to work with them. They were a lovely group of children and the school is certainly keen to ensure that they achieve well.
The end to this last day was another special celebration as the library was officially opened and we then all streamed out to the gardens to see the new banana plants and the watering taps in action! It was absolutely amazing to see how much had been achieved and the community was absolutely delighted. It was a wonderful way to end our work and it felt very sad to be saying a big goodbye to the village and people of Sitahuma as we left that evening.
We enjoyed a last dinner altogether back at Kaira Konko and reflected on all the many positives for us all over the week. We had worked hard but our amazing African experience gave each of us so much to take home. For me the utter joyfulness of the youngest children, the resilience of the older pupils and the determination of the adults working and bringing up the children will stick with me for a long time. We can learn an awful lot from one another across the globe and being grateful, hopeful and enjoying our wonderful world are key things I have learnt this spring from the Gambia.
Thank you for reading this. The School Council have already given me some great suggestions for how we might work and learn more together with Sitahuma School and we are keen to deepen our friendship and find out more about our new Gambian friends. I would love to hear your suggestions and ideas too, so please do get in touch.
We have already got a small next step in action at the upcoming Bentley Ball when we hope to gather some donations in order to buy some relevant new books for the lovely new Sitahuma library.
In Spring 2019 our Charity day raised xxx which supported the projects which were worked on. We collected in xxx pencils which I distributed to the children at the five schools we visited.
If you would like to know more about the Kaira Konko charity you can read more at;